Why must you call it a crap shack?  In the last year people have gotten extremely sensitive when it comes to calling certain homes crap shacks.  Maybe Taco Tuesday baby boomers should drink a few more shots of tequila before jumping on the internet and being angry that they live in a $1 million crap shack.  In reality, they live on expensive dirt with a poorly designed and built property.  In the heat of a mania like the darkness of a posh L.A. club as 2AM nears, things might look better than they really are in full sunlit reality.  But this real estate pig has more makeup than a clown and it is starting to show.  The market has hyperventilated with over exuberance and some people are now cashing in their chips.  2017 is going to be an interesting year for crap shacks across America.
Pasadena love
Pasadena is a dynamic gem of a city.  But gems have blemishes too.  There is an interesting halo effect when it comes to real estate.  Dirt gets magically more expensive by zip code.  Not a shocker here.  But what is interesting is how perception changes in manias.  The public goes mad in a herd.
Take a look at this place: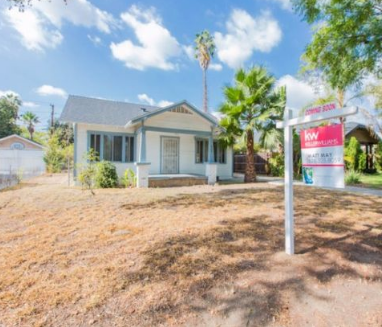 425 N Carmelo Ave, Pasadena, CA 91107
2 beds 1 bath 672 sqft
This home is tiny.  672 square feet is small.  What is telling here is that this home had a last sale transaction back in 1967.  That is a long time ago.  Although not as long as the age of this home when it was built in 1923 and having "talking" in a movie was seen as revolutionary.  Let us look at sales history here: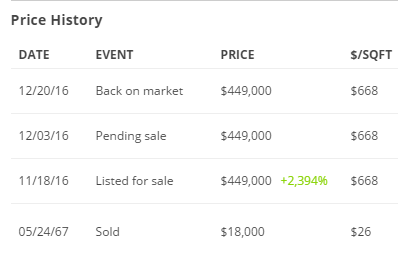 This is interesting.  Someone nearly bought this place in December but it fell through.  The original sales price was $18,000.  The current owners took out six figures in equity back in 2011.  There is plenty of room to play with here and the seller is going to do fine regardless of the final sales price.
Now where exactly is this home located?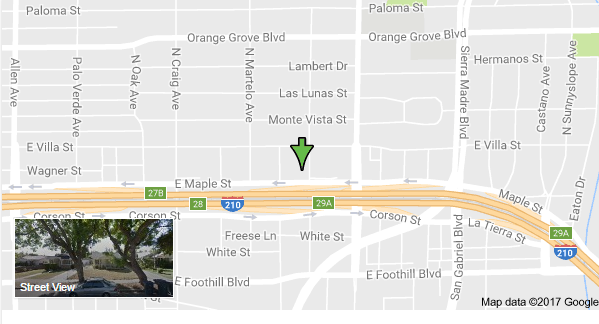 Enjoy the sound of the 210 freeway as it sings you a muffler inspired lullaby and you inhale wonderful exhaust pipe fumes.  And you are paying nearly half a million dollars for this "privilege" and a 672 square foot home.  You have to think back to the original builders of 1923.  Clearly this place was a basic property for a blue collar worker.   If you told that builder that nearly 100 years later that people would be close to paying half a million dollars for it he would have laughed at you right in your face.
This property is merely one example of many others on the market.  House horny buyers are still out in force but slowing down because interest rates did this: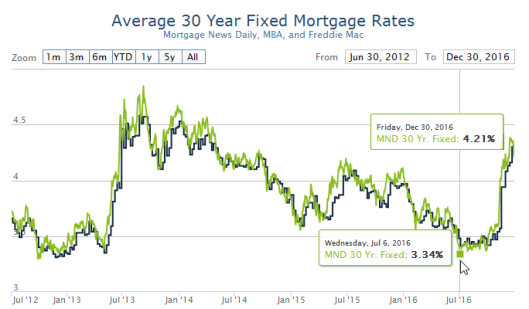 Those equity "gainz" are slowing down as well and might need a bit of steroids to go up again in 2017.  Yet the current market is only sustained by appreciation moving forward.  Even if prices stall or reverse a tiny bit the entire narrative changes.  Then again, we have 2.3 million young adults living with parents in California so maybe these crap shacks seem like paradise compared to living with mom and dad into your 30s and 40s.
If you have a crap shack home that needs a little TLC you'd like to share, please post it in the comments.

Did You Enjoy The Post? Subscribe to Dr. Housing Bubble's Blog to get updated housing commentary, analysis, and information.