The last year homes were this unaffordable to American families was back in 2008.  If you remember in 2008 the market was in full on implosion mode.  Of course that is now a distant memory and those 7,000,000+ foreclosures are simply a distant nightmare.  The nightmare now turned dream of purchasing a $750,000 or $1 million crap shack is the ultimate goal in this manic market.  While this is a dream for most the housing market is incredibly unaffordable.  Housing affordability has dropped to an 8-year low because first, home prices are surging without wages keeping up and mortgage rates recently surged.  Many families had been leveraging up in this low inventory market and locking into mega mortgages for a piece of the crap shack pie.  With rates going up getting a piece of that action is now more expensive.
The unaffordable housing market
The housing market is unaffordable relative to what people make.  In Los Angeles the majority of households rent and we're talking about a county with 10+ million people.  Those that are buying crap shacks are leveraging up with large down payments in many cases.
Here is some interesting information: 38% of US households spend more than they make: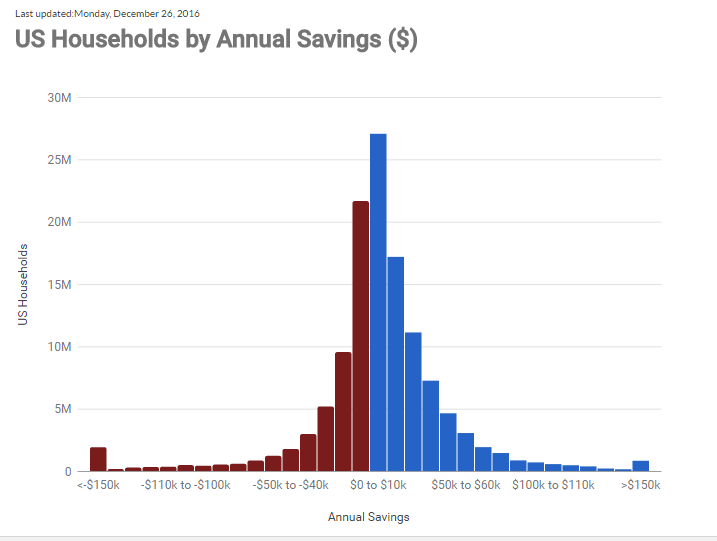 You see this in California all the time.  Everything is leveraged to the maximum degree.  Leased foreign cars, massive mortgaged home, student debt, and credit cards that get used like dirty napkins on a daily basis.  People are living beyond their means.  All of this is contingent on things moving up and up.  That is the crap shack ladder dream.  What shattered the dream last time?  The first ever drop in home prices on a national scale.  That shook the psyche of the population and the invincibility of real estate as a no lose bet.
In California, people now assume that home prices are only going to go up.  Of course housing affordability is horrific: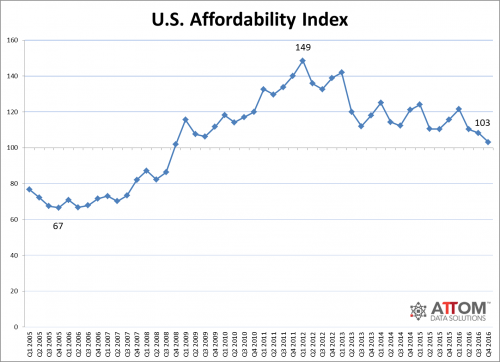 You need to go back to 2008 to find these numbers when the market was fully starting to adjust.  People simply cannot afford homes with their current incomes.  So debt becomes the vehicle to leverage into more expensive assets.  All is well so long as things continue to rise.  But as we painfully know, there is always the inevitable correction especially when it is clear we are in a mania.
Take for example the South Bay.  We did an in-depth analysis of Torrance in the past. There is a blogger that is covering the El Segundo bubble.  Take a look at this example: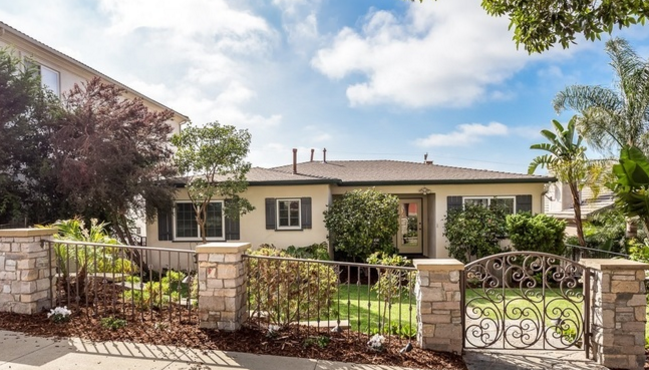 "(El Segundo Bubble) Well, well, well. WTF?!

Remember when I wrote about 605 Sheldon? A great rental going for $4850? Well it's now for sale at $1.47 million. I guess they didn't pick up a renter but here's where you can really see the gross disparity on how fucking stupid real estate prices are right now.

Let's play it simple. First it takes a buyer that makes ~$270k/year to qualify for this house. That person also needs a nice nest-egg for a down payment. It will take roughly $300k to put 20% down and cover some closing costs.

You now have a $1.18 mil note. at 3.875% for 30 years you are writing a check for PMIT of ~$7350.

A person with half a brain and any semblance of common sense would say to them self, even at a 5% return I can earn $15K/year if I invest my $300K. plus I am saving at least $2450/month by renting this house. That's cost savings equals another $29K/year.  So by renting I have $3750/month in extra cash flow PLUS I still have $300K in the bank.

If you buy this house you are an idiot and get what you deserve."
This is the analysis that many smart people are doing with current prices.  It should be noted that the above home sold for $832,000 back in 2012.  Now the asking price is $1.47 million.
And you wonder why you have a record number of adults living with adults in California?  Or the fact that the homeownership rate is at generational lows.  Housing is incredibly unaffordable to most at this point.

Did You Enjoy The Post? Subscribe to Dr. Housing Bubble's Blog to get updated housing commentary, analysis, and information.