It is hard to believe but home values in San Francisco have doubled in a matter of four years.  Since 2012 the typical San Francisco home went from $600,000 to $1,200,000.  The Bay Area is under a tech based hypnotic spell and foreign money just can't get enough of million dollar crap shacks in San Francisco.  As we all know trees do not grow to the sky with unlimited potential and at a certain point the laws of reality have to hit.  Only 11 percent of households in San Francisco can actually afford to purchase the typical $1.2 million crap shack.  And that is why home prices in San Francisco have been waffling for the past year.  It looks like an interim peak has been reached.  Of course this also has to do with the stock market moving sideways and people digging deeper into all the venture capital money chasing unicorn tech companies.  It seems like people are denying a bubble because we just had a bubble.  The bubble was in real estate.  The bubble hit California.  So of course it can't happen twice in the same place.  But this definitely feels like an echo bubble brought on by foreign money, investors, tech money, and a stock market that has only gone up for 7 years now.
Bay Area delusion
I was up in the Bay Area a few months ago and all people could talk about is "real estate prices are crazy" and "tech values are crazy."  When you hear locals speaking like this you know something is up.  But you also realize even smart people get suckered into financial manias.
You also have to use common sense.  Just look at what you can buy for one million dollars.  It is basically teardown crap shacks.  But this "crazy" talk is based in reality because most people can't afford to buy: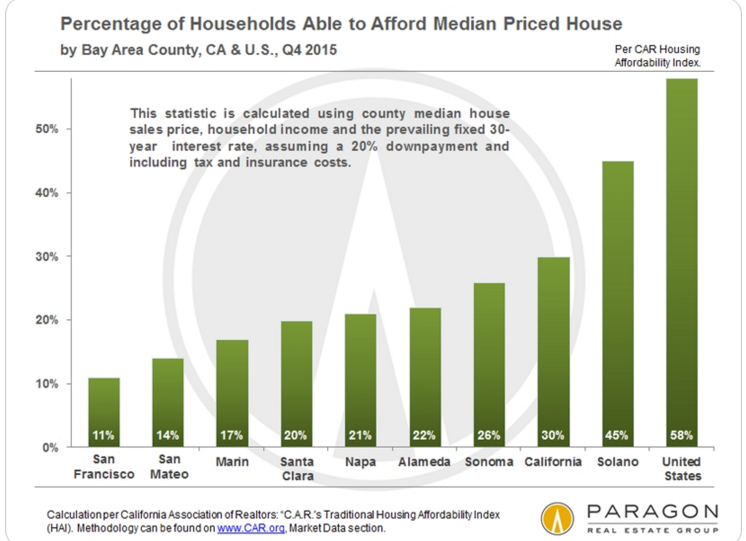 California is already unaffordable with only 1 out of 3 households able to buy homes at current prices.  Then again, we have 2.3 million adults living at home and many more millions living the new American Dream in rentals.  Who can purchase a $1.2 million crap shack?  Not many and inventory is tight.  So those playing the game now are foreign buyers and investors.  Big money U.S. investors started pulling back in 2014.  In San Francisco it is only 11 percent of households that can afford to buy.  Therefore, a large part of buying is coming from outside money on the tight inventory in the market (aka China).
Home prices in San Francisco went up in dramatic fashion: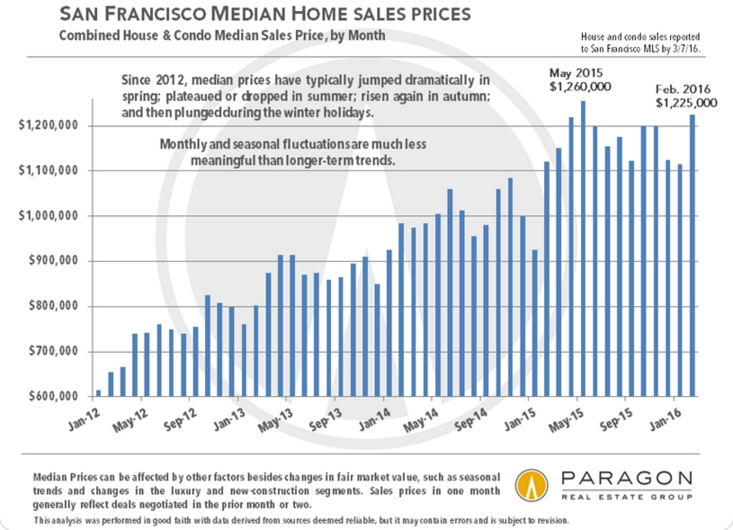 From 2012 to 2015 prices went up in mania like fashion.  But you'll notice over the last 12 months something has been shifting.  Call if reality coming into play or cold water being thrown on this house lusting euphoria. 
The market is just nuts in San Francisco.  And the real estate market also reflects the valuations that are done with tech companies.  Many are still blowing through money with no real profits in sight but investors are willing to make a big bet on the promise.  The same goes for San Francisco real estate.  If the last four year pace kept up, by 2020 the median home would cost $2.4 million!  Yeah, makes total sense.
But let us say you are a real estate horny household looking to buy today.  What can we buy in San Francisco today?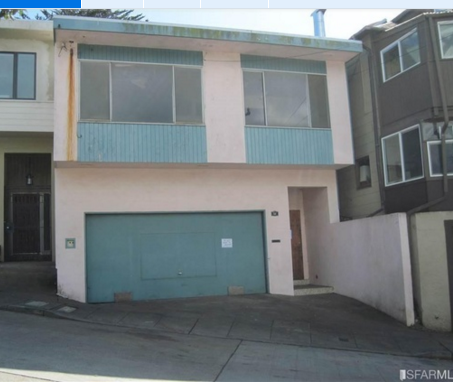 57 Martha Ave, San Francisco, CA 94131
3 beds, 2 baths listed at 1,325 square feet
And of course, thanks to housing porn on HGTV people are revved up for this kind of marketing:
"Contractor's Special! Bring all your tools to rehab this Fixer Upper and make it your pride and joy! This sweat equity potential is the investment opportunity you have been waiting for! This home has 3BED/2BA all in the same level, Living Room, Dining Area & Kitchen plus Huge 2 Car Garage (side by side). This is a Diamond in the rough w/ lots of potential in quaint street and in Great Glen Park neighborhood. Only a few minutes away from BART Station. SOLD AS IS. Opportunity knocks only once! Don't Miss it!"
Yes, bring your tools since this "fixer" is only $875,000.  I love terms like sweat equity because it implies you are really working hard when you go to Home Depot and buy some overpriced appliances, granite countertops, and hardwood floors and suddenly the home is worth hundreds of thousands of dollars more.  It totally makes sense that with one or two weeks of work you can increase the value of a home by what a nurse, teacher, or programmer can make.  Welcome to San Francisco real estate.  Of course the language here is very much #YoLo focused and as expected, we will get someone coming back in a few weeks/months saying "but it sold" – as if this is confirmation of the price being reasonable.  Sheep usually huddle together as well.
Thanks to Prop 13 the current owner is paying taxes at the assessed value of $67,238.  But hey, they are doing you a favor by giving you the chance to own a piece of the Bay Area pie.  Buy now or be priced out forever!

Did You Enjoy The Post? Subscribe to Dr. Housing Bubble's Blog to get updated housing commentary, analysis, and information.