People may think there is an elaborate system when it comes to pricing real estate.  For many companies, we can look at earnings, potential for growth, management, and also dive into the balance sheet to examine the nuts and bolts of the operation.  Even with all of this data, markets fluctuate.  But with real estate, the appraisal data is as rudimentary as it gets especially for single family homes.  Basically most systems use the comp method of pricing homes.  That is, an appraiser will use three homes in the nearby vicinity that have recently sold and that will be the basis for price.  It doesn't matter that the home would rent for $2,400 but end up costing you $600,000.  Crap shacks all across the Southland exhibit this behavior.  More to the point, you have many older owners living in homes that they would have no chance of affording today.  Does it make sense that only a handful of sales determine the price of current listings?  Maybe it does but few bother to examine this assumption.  After all, you can't fault a seller for trying to get as much as they can.  I'm surprised I haven't seen this analysis conducted but why not examine all home sales for a block of housing?  Today we'll dig deep into the data for an entire block of homes built in 1953 and 1954 in Torrance.
One sale does not come close to representing a neighborhood
Torrance has some nice areas but most of the city is basic post-World War II housing.  Housing built for basic functionality and affordability, at least when it was designed in the 1950s for many sections of the city.  You would think that some of these places have full upgrades but most have the same bones from when they were built back in 1953 and 1954.
I wanted to examine data for a block with at least 10 homes.  This block has 16 homes.  What is useful is we have standard sizes as well to compare.  Let us look at our block:

Nothing special here.  The average home on this block is 1,297 square feet.  5 of the homes are listed at 985 square feet.  Most have 3 bedrooms.  5 of the 16 homes have purchase prices of $400,000 or higher (2 with $500,000+ sales prices).  The rest have sales prices under $227,500 and many were bought for much lower many decades ago.  You will also notice that many are old school owners based on tax assessment data.  Take a look at the above city block broken down by sales data: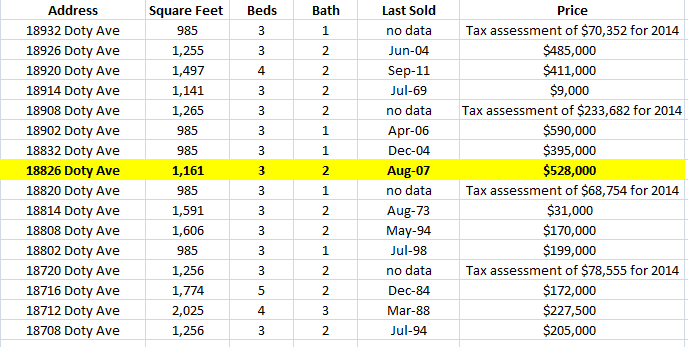 The ability to pull data like this really puts knowledge into the hands of buyers.  Not too long ago, if you really wanted to find sales data like this, you would spend an entire day at the county clerk office.  Not worth it so most just went with the simple comp method of pricing a home.  But just take a look at the data above.  How many of these current owners would be able to afford to buy their home once again?  Or would they even have the ability to afford the market rent of their current home?  You can see one sale of a 985 square foot home going for $590,000 back in April 2006.    The neighbor 1.5 years prior paid $395,000 (nearly $200,000 less) for the same build of a 985 square foot home.
It is also important to look at tax assessment data.  Someone is paying taxes as if the home was valued at $68,754 thanks to Prop 13.  Yet the other person that paid $590,000 is paying nearly 9 times the amount in annual taxes for basically living on the same street and utilizing the same level of government services.  We are looking at the same street here and homes built very similar to one another.
There is one home for sale on the street currently: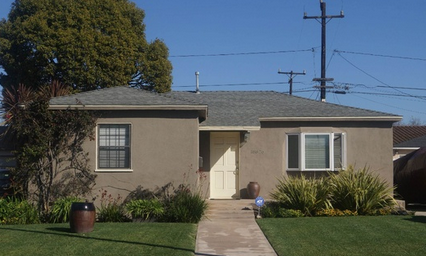 18826 Doty Ave, Torrance, CA 90504
3 beds, 2 baths, 1,161 square feet
Take a look at the ad:
"Coming soon. Beautiful 3 bedroom, 2 bath home, almost completely remodeled. Great family neighborhood, shopping, El Camino College, frwy's, and Mall. This is a must see home."
I hope people realize that community colleges are within a close distance to all areas in California given there are 112 across the state.  You can also "shop" in most cities from what I have read on the inter-webs.  The size of this home is below average compared to the average square footage of the other homes on the street.  Someone bought this place at the last peak in August 2007 for $528,000.  The home is listed for $609,000.  This would be the most expensive sale on this block ever and there are larger homes as well.  Zillow has its own algorithm of pricing homes.  Hard to tell if it uses a comp model but it has to use some derivative of this to give Zestimates for all homes in the country.  Just like the basic appraisal method, it will fail to catch booms and bust (similar to what we saw in 2007 through 2009).  Zestimates and appraisals are great for steady housing markets.  Not boom and bust prone areas.
The list price of $609,000 is not even remotely close to the Zestimate of $505,000.  Looking at the entire sales data of the block, it is hard to say how they are arriving at this price point.  We can look at a rental a couple of streets over:

The rental is slightly smaller with one less bathroom.  So we can assume this place would rent for $2,400 to $2,500.  Is any investor really going to pay $609,000 for a rental stream of $2,500 per month?  20 percent down here would mean throwing down $121,800.  This is where those trying to use rent comparisons miss the mark and why sales volume is pathetic.  The average adjusted gross income for a household in this zip code is $56,486.  How long will it take for someone to save $121,800 with that income level?  Very long.  So supposedly, you are looking at higher income folks as your pool of potential buyers.  But look at this place.  Even after the $121,800 is put down you have a hefty mortgage for years to come.
The data should be sobering.  Take the example again of the two neighbors with the 985 square foot homes.  One paid $395,000 in 2004 and one paid $590,000 in 2006.  Close to a $200,000 difference for basically the same structure, size, and build of a home.  Boom and bust baby.  Now someone is looking to set the record for this block.  But seeing the history of the block puts it all into context.  The recent sales history shows a history of market mania in California.  And with this home listed at $609,000 someone might set a price record on a fairly nondescript street in Torrance.

Did You Enjoy The Post? Subscribe to Dr. Housing Bubble's Blog to get updated housing commentary, analysis, and information.