One thing you can bet on is the unexpected.  The big bet was that nearly a decade after the housing bubble peaked and then imploded, that young buyers would suddenly enter the real estate market in force.  Instead, many are living with parents or are part of the renting revolution.  Of course the housing cheerleaders continue to champion a bubble in real estate yet somehow scratch their heads at the political ramifications that are hitting our country.  Just like in politics, we are living in a massively divided real estate market.  The difference in real estate however is the group of people that can afford current home prices grows smaller and smaller.  Millennials, the next wave of supposed buyers never materialized.  What you had is low inventory, investors, artificially low interest rates, and foreign buying taking up the slack.  Even in California, we have 2.3 million young adults living at home with their parents.  The latest data shows that instead of taking on mortgage debt, Millennials are racking up large amounts of student debt.
Trading mortgage debt for student debt
There is now an estimated $1.4 trillion in student debt outstanding in the U.S.  This is the largest debt sector only trailing the mortgage debt segment of the economy.  But there is a big difference here since most of the mortgage debt is in the hands of Taco Tuesday baby boomers, most of the student debt that is out there is in the hands of Millennials.
We are living in the land of cognitive dissonance.  I've heard countless times baby boomers bemoaning high real estate prices since their offspring can't afford to buy in their neighborhood.  Yet in the same rant, they are more than happy to talk about their Zillow Zestimate on their property and actually feel that it is "worth" more.  Some people are myopic and have a hard time understanding the random luck they have in purchasing their home when they did.  They want a time in history that never existed to come back so their children can live a life of leisure and job security.  But guess what?  The internet and the global economy has changed everything.  The world is incredibly hungry for the best app, the fastest laptop, the best movie, the lightest shoes, and the sleekest Smartphone.  In other words, this is a hyper competitive world and Millennials are first focused on their careers versus buying a crap shack.  This is easily seen by Millennial home ownership and total student debt: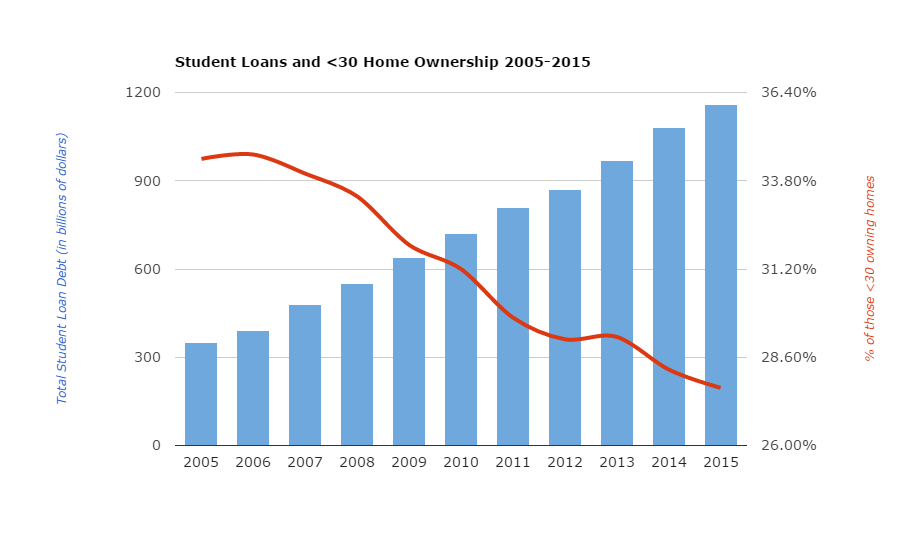 This isn't a bad bet in my opinion.  The vast majority of good paying jobs require a set of specific training or expertise.  I know many people that work in tech and their skill set is in high demand.  Engineers are doing well and this goes for many other fields like nursing, health care, accounting, and professions that require a tailored set of knowledge that feeds into this hyper competitive system.  Does this make for a "happy" workforce?  Probably not but here we are.  But the days of blue collar workers buying a "prime" property with one income are long gone.  And what is "prime" shifts as well.  The new environment favors those that can change and move with the waves of transformation – 30 year careers in one company seem old fashioned like staying in one place for 30 years with a fixed mortgage. It exists but is getting rarer.
So put yourself in the shoes of Millennials looking to buy a crap shack in many metro areas.  Going to college would seem almost mandatory to even having a chance at buying a place.  Because you are competing with investors, foreign money, and those that got in before prices inflated your income needs to be high, even with a sizable down payment.
Look at how many degrees were awarded in 2013-14 in various fields: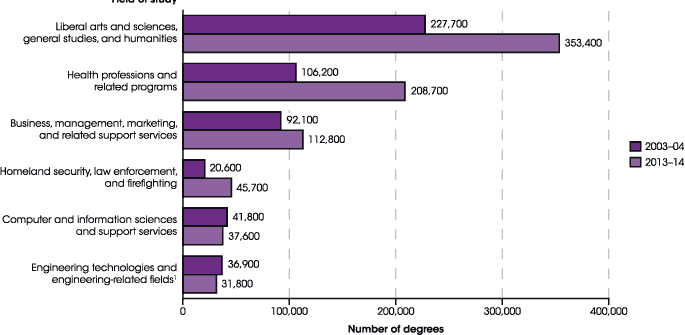 You had more than 353,000 degrees awarded in the "liberal arts and sciences, general studies, and humanities" while having 37,000 degrees in computer science and 31,000 in engineering related fields being awarded.  This isn't to denigrate one degree over another but to buy a $700,000 crap shack you are going to need some serious earnings potential.  And what we see is that more degrees are being awarded in fields that pay less while student debt is increasing.  So yes, student debt is keeping Millennials from buying but also earnings potential.  As we've noted many Millennials now live at home because they can't even afford higher rents, let alone purchase a home.
This isn't a problem that is likely to go away.  Sure, people can make promises but you either have housing prices correct or incomes turning sharply higher.  People always want to believe in simple solutions but this market is complex and Black Swans are bound to happen.  Even in the tech happy Bay Area things are slightly changing.

Did You Enjoy The Post? Subscribe to Dr. Housing Bubble's Blog to get updated housing commentary, analysis, and information.