The last decade has added 10 million renter households.  This has happened at the same time that the homeownership rate has fallen to a generational low.  Since builders realize that broke Millennials are not going to save the housing market certain markets went into housing mania 2.0.  Many people are unable to buy given prices and in many markets home prices are above their pre-market bubble peaks.  So with investors and foreigners crowding out the market, we are now left with the current predicament.  High home prices and high rents.  Rents in many markets seem to be softening.  This might be a summer lull or a slight turning point.  It is amazing to hear people talk about "stability" but look at this election year!  Would you call this predictable?  So let us take a look at some rental data.
Rents soften in many markets
Rents are paid with after tax income.  What they don't tell naïve future landlords about rents is that sure, rents are stickier on the way down but vacancies can eat deep into profits.  And normally when business cycles turn, people realize how weak or strong their cash reserves are.
So I saw this report highlighting rents from Zumber looking at 1 million active listings: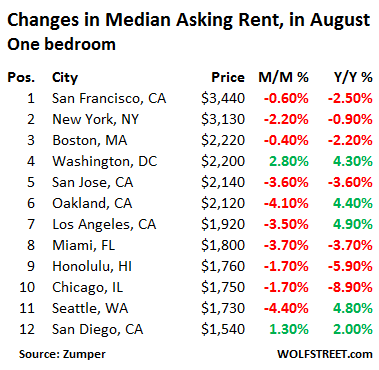 Source:  Wolf Street, Zumber
This is actually interesting.  You see some big monthly dips in places like San Jose, Oakland, and Los Angeles.  The biggest monthly drop is in Seattle.  Many markets are now in year-over-year down territory like Chicago and Miami.  This is the more telling sign that something is going on in their local markets.  Rents have gotten out of control just like housing prices.  This is why in California you have 2.3 million adults living at home with their parents.  Can't buy a home.  Can't afford the rent.  Moving back into the childhood room.
The one bedroom market is probably a better indicator of individual income performance.  However, if you look at the two bedroom market, rents seem more resilient: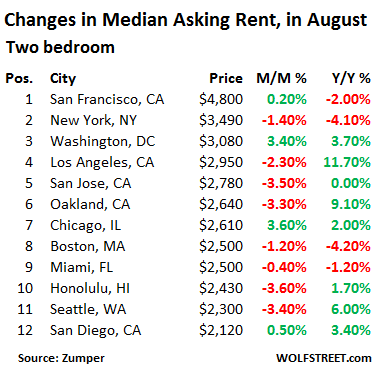 The difference?  You can get roommates or have multiple streams of income supporting the rent here.  It is crazy to look at San Francisco and see that the median rent on a 2 bedroom is $4,800.  Even manic Los Angeles is $2,950 and we're in the most unaffordable rental market in the country.  Well shouldn't San Francisco clearly be more unaffordable than Los Angeles?  No.  Because people make more in San Francisco.  Two tech workers can swing the monthly rent easily.  But in Los Angeles you have lower incomes even though "entertainment" is a big industry.  $2,950 is hard to swing on an Uber income.
There is also an interesting trend going on in California.  Many decades ago saying you worked at a start-up was code for being unemployed.  Today there are many that say they are "consultants" which in many cases, means people are not working.  I've ran into a few of these consultants and they live at home with their parents.  Why this matters is that when you look at income data, it really doesn't support current prices unless you enjoy living with multiple roommates or buying a crap shack in the hood hoping your market gentrifies quickly.
Rental Armageddon seems to be taking a tiny breather for the election.  What an odd year.  I look at articles from 2015 and probably less than 2 percent would have seen this current scenario play out.  Yet you look at what people say for housing, and you would think that they have a better crystal ball than the Fed (a Fed that pumped up and allowed this last bubble to pop!).  The fact that rents turned down in many big markets does say something.

Did You Enjoy The Post? Subscribe to Dr. Housing Bubble's Blog to get updated housing commentary, analysis, and information.