One of the biggest pitches about buying real estate is the inevitable buildup of equity overtime.  Of course the data usually used shows people staying put for 30 years instead of the real world figure of an average of 13 years.  Lives change.  People move.  Jobs come and go.  Millennials are largely staying with parents and there must be a way to get them out.  In the Bay Area, you always hear politicians saying something like "it is hard for a teacher or fire fighter to buy a home" but rarely mentions that the typical crap shack will cost you $1.2 million.  Since when did "middle class" jobs demand living like a millionaire?  But never fear.  The wonderful ideas of a mania are now popping up left and right like incredibly low down payment loans and a new one, crowd funding your down payment.
Investors can replace mom and dad
One of the easiest house humping marketing ploys is when the numbers are crunched with a 20 percent down payment.  "Sure, look how great things are when you put 20 percent down."  However, for a Bay Area crap shack costing $1.2 million that means $240,000.  A small caveat.  They provide fantastic numbers on the purchase of the house but fail to crunch the numbers of how one is going to get that $240,000 without a generous gift from the bank of mom and dad.  Well God bless tech startups because there is now a company looking to help educators purchase that tiny Bay Area home which costs something like this: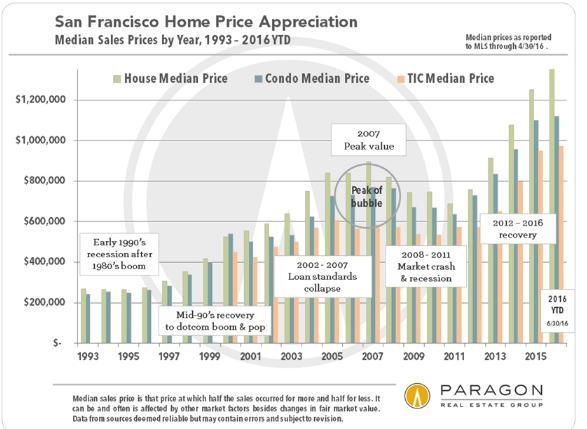 The typical home is now over $1.2 million.
"(Mercury News) Their solution: Get investors to pay for half of a standard 20 percent down payment in exchange for some of the house's future appreciation — or depreciation — in value when eventually the house is sold or refinanced. In the case of the Bay Area, investors' share is 25 percent. For example, investors would collectively get $250,000 if a house that originally cost $1 million doubled in value by the time it changed hands. If homeowners aren't ready to sell or refinance within seven to 10 years, Landed helps them enter a similar agreement with a new set of investors who can pay back the old ones."
Now this is an interesting position.  We all know with everyone horny on HGTV shows that buying is largely emotional for most.  Just watch a couple of hours of that station and you realize people ignore budgets on virtually every other segment.  "Sure, our budget can only afford this rat infested dump but this gorgeously redone home with Ikea furniture is $100,000 over budget but what the heck, we are on TV!"  I'm sure that budget took longer to come up with than that spur of the moment decision.
So this new startup, Landed seeks to help people like teachers purchase a home by crowd funding the down payment.  One tiny caveat: you know that big pitch about equity?  Unlike mom and dad, they want a piece of that upside.  So that is a big deal.  But given how much house lust there is out there and the crash of 2007 is now a distant memory of financial history, people are ready to dive in assuming they can use OPM (other people's money).
Well we don't have no money down loans right?

The Poppy Loan takes care of that!  And of course this is all happening in the tech crazy Bay Area where of course valuations on tech companies are reasonable.  After all, the NASDAQ has never faced a correction right?

Did You Enjoy The Post? Subscribe to Dr. Housing Bubble's Blog to get updated housing commentary, analysis, and information.