California is a high cost of living state.  That goes without saying.  Yet the level of affordability oscillates up and down with the whims of the bubble economy.  As of today the state faces a rental Armageddon trend where many families simply cannot afford to purchase a gorgeous, sturdy, and well-designed home (just kidding, most can't buy a 700 square foot funky looking crap shack).  Whenever people even hint at the expensive nature of California the yelling begins with "then move out!" or "buying always makes sense!" which seems interesting since the housing market really got out of control in many metro areas starting in the late 1990s as Wall Street injected its casino antics into the industry.  And many of those that protest the loudest are usually Taco Tuesday baby boomers living in granite countertop paradise that wouldn't have a chance affording their home today if they had to pay current prices.  But in reality, many are moving out.  From 2000 to 2015 more people left California than moved in from other states.  The biggest destination is Texas.
The Grand Migration
The math on the grand migration out of California is interesting.  Here is the data from 2005 to 2015:
-2.5 million people living close to the poverty line left the state

-1.7 million moved in from other states near the poverty line

This equates to a net loss of 800,000 people.

-Net gain of about 20,000 residents earning $100,000 or more
The exodus is very clear on a map: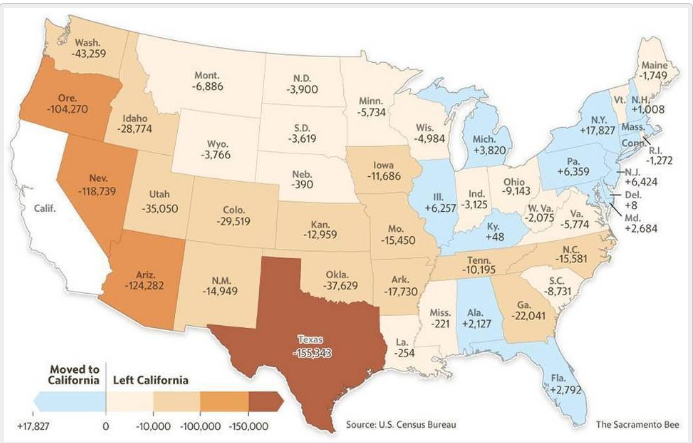 "(SacBee) Not surprisingly, the state's exodus of poor people is notable in Los Angeles and San Francisco counties, which combined experienced a net loss of 250,000 such residents from 2005 through 2015.

The leading destination for those leaving California is Texas, with about 293,000 economically disadvantaged residents leaving and about 137,000 coming for a net loss of 156,000 from 2005 through 2015. Next up are states surrounding California; in order, Arizona, Nevada and Oregon."
It should be no shock that the biggest line item on any household budget is housing (rent or a mortgage payment).  And in Los Angeles, you have a ridiculous number of people paying nearly half of their income just on rent or a mortgage payment.  That is a big problem especially when you want to plan for other expenses or want to put something away for retirement.
The map above is rather clear in how the trend is unfolding.  While those lower income families have no chance of owning a place in California or the rent is eating away at their income, in Texas these families have a chance not only to save some money but to potentially own a home.  I've talked with older families here in California where that opportunity once existed (not too long ago) so this is their frame of reference and many are angry that their adult "children" cannot afford a home without them gifting a giant down payment (which cuts into their Taco Tuesday outings and ability to booze it up on happy hour).  So the current environment is really new.
You also have the option of doing mega commutes:
"The choices facing millions of low-income workers trying to rent in California's urban centers are stark, Hershey and others said. They can commute from far-away locales.

"People are having to move so far away from their jobs – driving two or three hours," Hershey said."
I know of many that take on these mega commutes into LA and OC just for work.  The fact that you are wasting away days of your life in a car is difficult to stomach and isn't good for your overall health.  So the choice for many especially those with lower incomes is to leave the state.  The data is very clear.  People do vote with their feet.
So the question many have to wrestle with is what is that crap shack worth to you?  For a large number leaving the state is an option, for some it is mega commutes, and for others it is to mortgage yourself to the hilt.

Did You Enjoy The Post? Subscribe to Dr. Housing Bubble's Blog to get updated housing commentary, analysis, and information.