Historically low interest rates and artificially low inventory has helped to boost home prices but the homeownership rate is in perpetual decline it would seem.  There is a tendency to forget that the rise in home values was largely driven by uncharacteristic investor demand for many years.  This multi-year buying has resulted in many homes being taken off the market only to be turned into rental units.  The numbers are staggering but they are worth repeating: we have added 10 million renter households over the last decade while being neutral on actual homeowner households.  The math is derived from the grim reality that since the crisis unfolded we have witnessed 7 million Americans undergo the process of foreclosure.  This flies in the face of the constant drum beating that somehow buying a house is a sure bet.  With most things financial, you have this survivorship bias where those that got smoked out of the market are silent while those that got lucky or timed the market correctly constantly voice their perspective.  Yet things are good until they are not.
Housing becomes a volatile investment sector
Here is a quote from our banking top chief Ben Bernanke in 2007:
"At this juncture, however, the impact on the broader economy and financial markets of the problems in the subprime market seems likely to be contained. In particular, mortgages to prime borrowers and fixed-rate mortgages to all classes of borrowers continue to perform well, with low rates of delinquency." 
Most of the foreclosures that hit the market where in the form of prime mortgages going kaput.  Why is the homeownership rate continuing to fall despite record low mortgage rates?  The quote from Bernanke simply reflected the popular belief of the overall market.  Just a few months ago we had many drinking the perpetually inflated Kool-Aid of the market.  Now, volatility is at levels unseen for many years.
Despite the record rise in the stock market over the last six years, just look at the homeownership rate: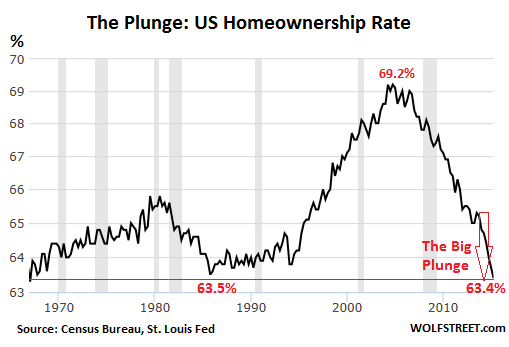 The current homeownership rate is back to where it was in 1965.  We have erased a half-century of gains in this category.  The growth in homeownership usually is pushed by young households in family forming ages.  But things have changed with Millennials being saddled with massive student loan debt and many earning much less than their parents at similar ages adjusting for inflation.  This is why we have many young adults living at home.
The trend is consistent for all age groups short of the Taco Tuesday older folks: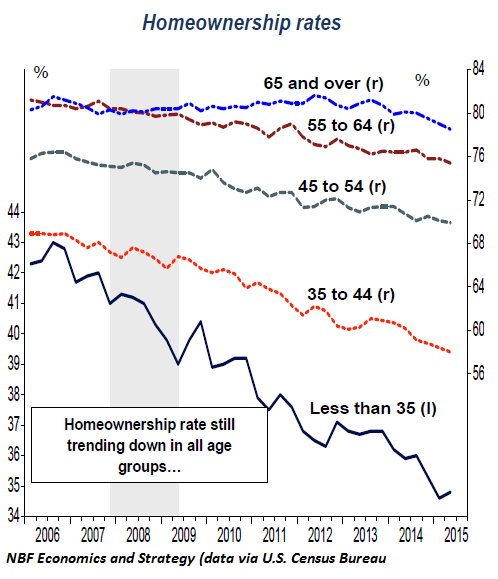 Even in the older age group, the rate has declined.  Simply inflating prices for the sake of inflating prices is not good.  I know some are laser focused on their crap shack invested hood and somehow feel that massive price mania is justified.  But I have to remind many that you don't get that equity until you sell and these people are house horny and get stuck on a certain zip code.  This is how you end up with your 99 Cents Store shoppers in million dollar homes in Pasadena.
So where do we go from here?
Just like in 2007, there has to be a shock to the system.  This time, we have plenty of things that can go bananas:
-China's massive volatility and slowdown

-Europe's economic mess (i.e., Greece meltdown)

-Oil bust (Canada now in recession officially and they have an even bigger housing bubble)

-0 percent interest rate environment pushing central banks into dangerous and unchartered waters (i.e., Japans infinite QE and the Fed's QE)

-US demographic shifts (Millennials not house hunting like mom and dad)

-Cracks in financially backed political structure
There are many other things and the global markets are simply waking up to this.  The trends from the charts above are clear.  The homeownership rate dropping seems to be a trend that will continue short of the economy bouncing back.  Of course you have your late lemmings buying homes at top price only to realize they've locked into a 30 year commitment for a crap shack.  L.A. County is home to the most unaffordable real estate market in the world and some people pretend this is happening because of some sacred financial blessing.  These people like Bernanke in 2007 act as if things can't change quickly.  I think global markets are showing that things can and will.  We are now in a global boom and bust system where the booms and busts seem to happen at more regular intervals.

Did You Enjoy The Post? Subscribe to Dr. Housing Bubble's Blog to get updated housing commentary, analysis, and information.