One of the memes that continues to spew out of the mouth of the Taco Tuesday crowd is that owning a home is the ultimate goal in life because that is how they grew up.  You buy a home that stretches your budget to the extreme, work on the beer belly during the weekends, and slave away for 30 years hoping no curve ball comes during that time.  And you wonder why mobile Millennials are saying "no way" to that vision.  They also assume the past is going to reflect the future.  Even in San Francisco with a well educated tech crowd, many are going down the renting path because owning a home is financially insane.  What many fail to factor in is that California's population is going to become much more wrinkly and old while our younger workforce is getting paid much less in inflation adjusted terms.  So it should come as no shock that 2.3 million grown adults are now living back home with mom and dad.  We also have a roommate trend where people crowd into homes like sardines to split the rent.  In many gentrifying hipster zip codes the neighborhood looks like a car lot because of the number of people living in one house.  If we are throwing labels around like the "war on drugs" then there is a war on the middle class in California.
The war on the middle class in California
First, housing matters because it is the biggest expense of the vast majority of households.  Some seem to think it is logical to buy a $700,000 piece of crap and lock in expenses leveraged with a massive mortgage.  Yet this is a simpleton analysis.  Leverage cuts bought ways.  Just ask the 1,000,000+ California households that lost their homes through the foreclosure process in the last decade.  You also have selling and buying costs, maintenance, infinite taxes, and insurance.  Also, your home is not an investment!  Just ask the Purina Dog Chow eating boomers in paid off homes.  Even a mortgage free home still carries annual taxes, insurance, and maintenance.  There is no income check coming in from simply owning a home.  The only way to get cash flow is by selling.  Look, buying throughout most of the US makes financial sense.  In California?  It doesn't right now and even if people wanted to buy, their incomes would be stretched like a rubber band just to squeeze in.
What is certain is that most in California do not earn high incomes: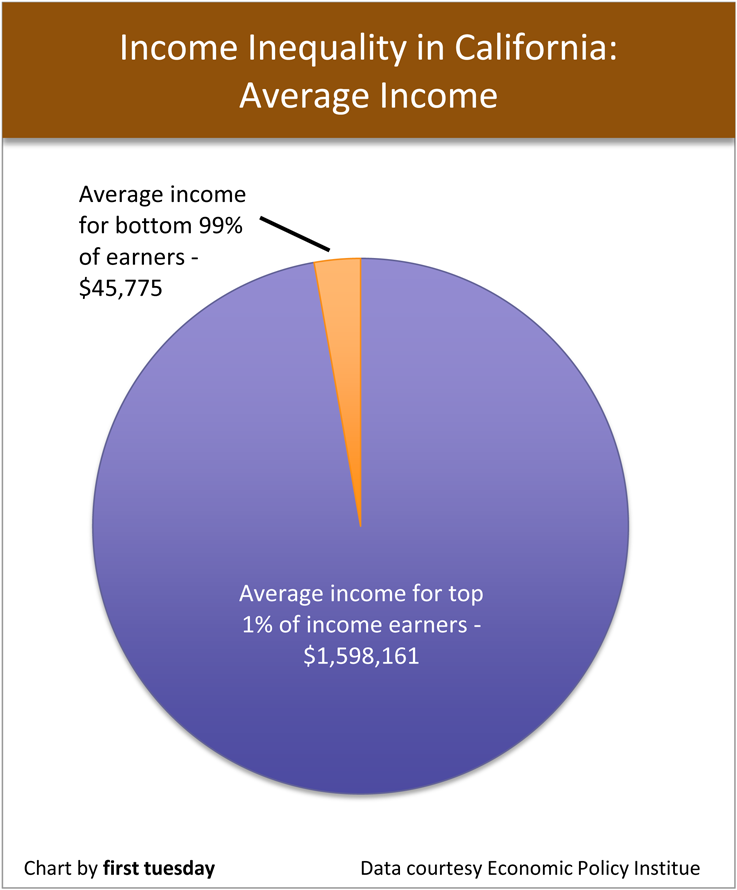 So the average income of the bottom 99% of earners is $45,775 while the top 1% have an average income of $1,598,161.  Yet home prices are expensive even in inland areas that basically look like Arizona or Nevada.  California has been labeled as one of the toughest states to get by on: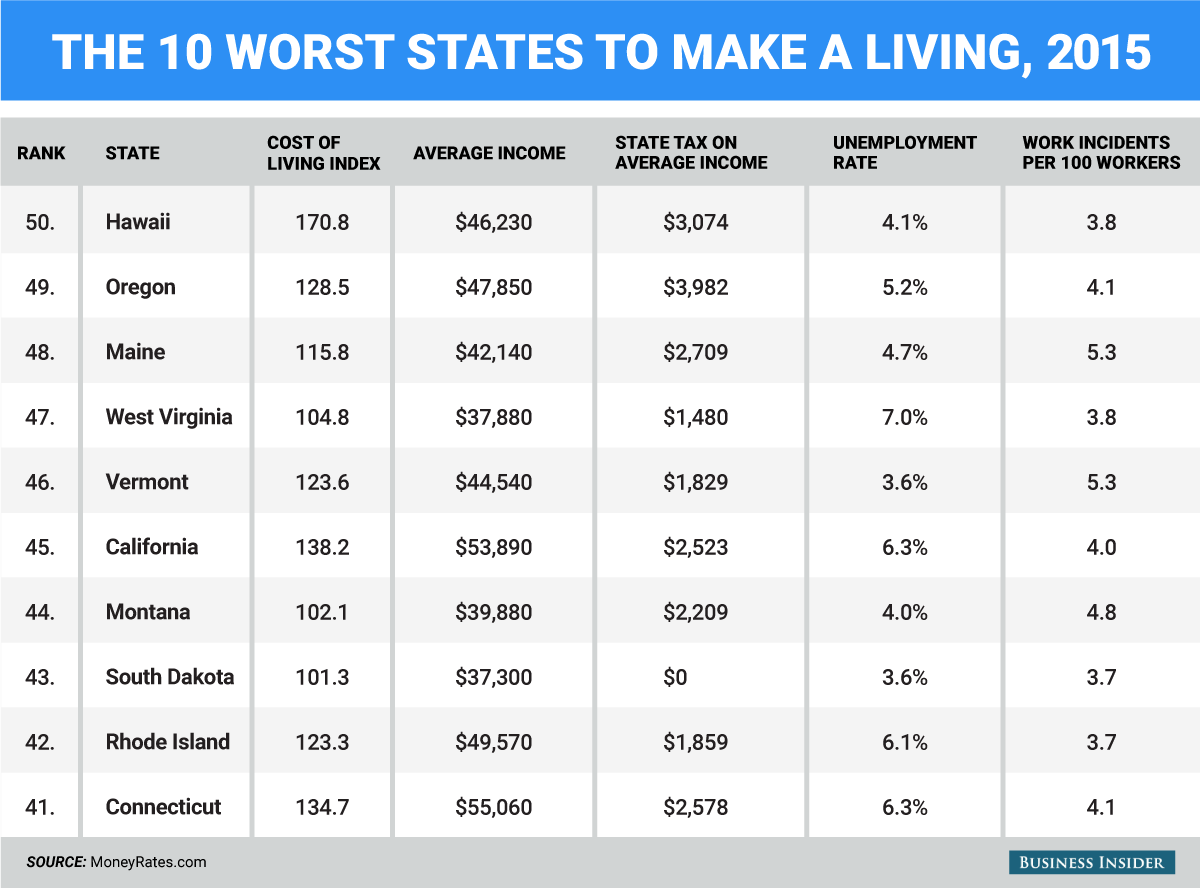 Our tax burden, income, and cost of living all combine to make the state very difficult for the middle class.  Yet some want to pretend their crap shack is the diamond in the rough.  In the end given the massive liabilities facing the state, the tax burden is only going to increase and with more households becoming renters, voting will shift.  In California over the last half decade, a large amount of properties bought went to big investors to turn into rentals.  We see this in the pool of single family homes that have become rentals: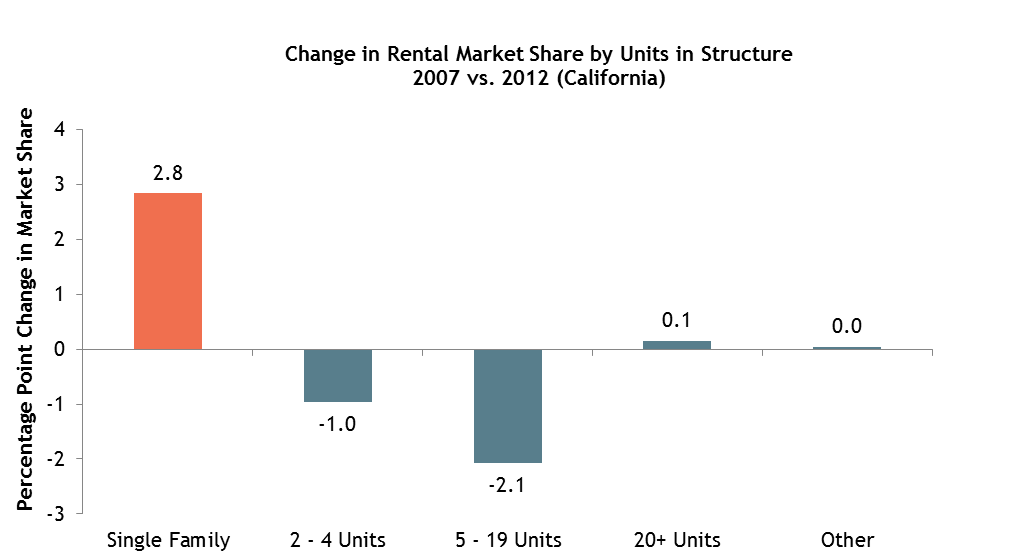 This is a big change in terms of single family homes become rental units.  You also see the pressure on multi-unit properties given our lack of affordable home building.  Why would renters vote to keep Prop 13 in for example?  Why would the upcoming young workforce with major problems affording rentals keep this locked in?  The only argument that seems to go around is from the Taco Tuesday crowd saying "well when you join the club, you are going to enjoy this lotto ticket as well."  That works when homeownership is increasing, not declining.  Plus, no one feels sorry when grandma can sell her crap shack for $700,000 to some large faceless hedge fund or foreign buyer.
In SoCal, the proof is clear to see.  There is a big jump in rental households:
The biggest jump has happened in the Inland Empire.  And keep in mind all of this is happening on the back of a raging stock market, booming home values, and higher property taxes.  The state is flush right now.  Yet somehow, the homeownership rate is plummeting.  How sane are things?  Take a look at this 280 square foot shack in Venice with an asking price of $1.3 million: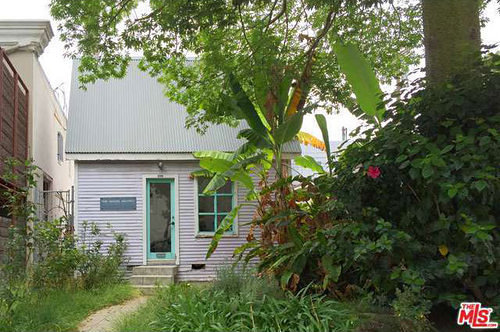 The place has no kitchen.  Of course this place needs a rehab as in "tear me down."  Now maybe they go commercial to sell $50 tacos to the new hipster crowd and the numbers pencil out.  But the middle class in California is being pushed inland or out-of-state.  This really hasn't been a recovery for the middle class in California.  Those that think buying is a simple decision right now fail to look at history and conveniently ignore the headwinds coming down the road.  I've even gotten a few e-mails saying how the potential El Niño this year is going to push home values up!  Yes, even "bad" weather is good for home values now.  Rain or shine, lack of income, crowded spaces, crap shacks galore, high taxes, and ridiculous home prices seem to be all part of the plan to push home values even higher.  I'm sure this is why inventory is soaring and prices have hit a trough as reality sets in.

Did You Enjoy The Post? Subscribe to Dr. Housing Bubble's Blog to get updated housing commentary, analysis, and information.