The current homeownership rate has fallen to where it was two decades ago.  The demand for home buying from traditional buyers is simply not there.  Recent surveys find that the majority of Millennials would rather rent than buy.  This is the group that will need to pick up the slack moving forward should the housing market return to any normal environment.  But what is truly normal at this point?  Over the last decade we have added 10 million renter households while actually losing 1 million owner occupied properties.  The recent buying spree of 2013 and 2014 came in the form of investor demand.  Real estate has become simply another speculative silo for Wall Street to speculate on.  And many buy it up.  Across the nation, home prices with current interest rates seem reasonable with the median priced home running close to $200,000.  So why is the trend still pushing towards more people renting?  Is this simply a nationwide trend or is this also impacting high cost states?
The growth of rental nation
People are hardwired to look forward.  History is for nostalgia and past financial events are for economics classes.  It doesn't surprise me when you look at credit repair forums and people that lost their home to foreclosure during housing bubble 1.0 are eager to jump on the bandwagon once again.  Yet the habits that caused the problems back then still exist.  One dirty secret that is rarely discussed is the bulk of the 7,000,000+ foreclosures came in the form of vanilla flavored 30-year fixed rate mortgages.  People just leveraged too much for the income coming in.  A recession was enough to tip the scales.  And that is why we now have 1 million fewer homeowners than we did a decade ago: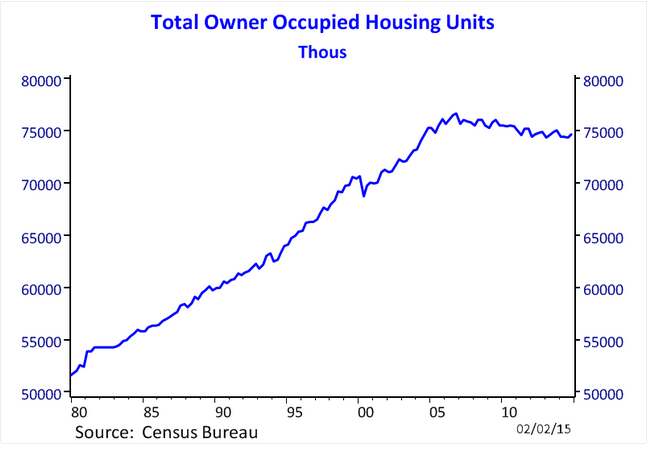 Of course the population continues to grow but this is hardly an argument for pent up demand.  You have millions of young adults living at home with parents because financially, they are unable to form new households.  Many are unable to pay rent let alone take on a mortgage.  Some seem angry that they missed out on buying a crap shack for $500,000 instead of $700,000.  But if you are planning on staying put for 30 years you are merely trying to time the market then.  You might as well time the S&P 500 which is up close to 200 percent since 2009.  A much better return.  Also, you will only unlock that equity when you actually sell and close on escrow which people seem to forget.
Large macro data speaks better and the trend is unmistakable.  The nation has been on a massive trend to renting: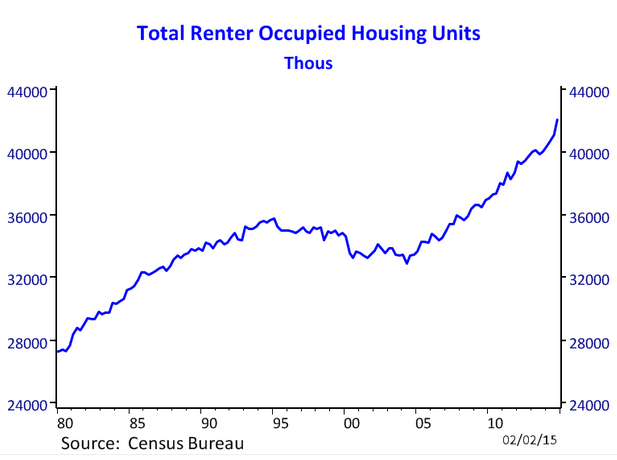 We've added over 10 million renter households over the last decade.  Wall Street and big investors were busy buying up properties starting in 2008 up until last year turning many single family homes into rentals.  This has contributed to the big drop in supply especially in areas where new building is hard to come by.
California has seen a big jump in rental households as well: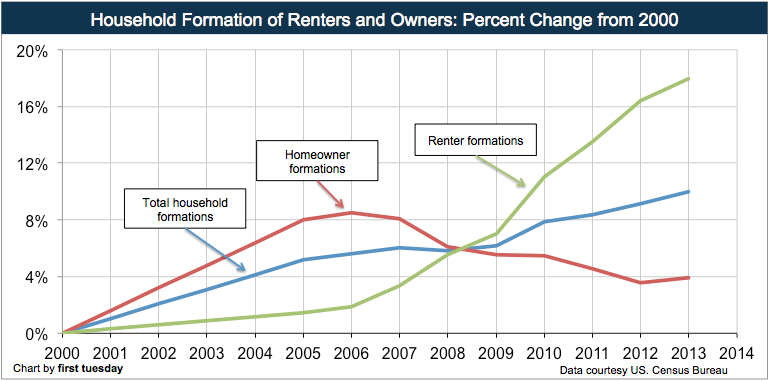 Most of the household formation since 2000 in California has come in the form of renters.  18% more households rent in California in 2015 versus 2000.  Compare this to a 4% growth rate in homeowner households.  And where is the big rise coming from?  Single family homes being turned into rentals (this accounts for two-thirds of the growth looking at a report from Zillow).
I can see how we may see some growth nationwide but in high priced states like California it is hard to see the homeownership rate trending higher anytime soon.  Net score over the last 10 years: 10 million plus renter households versus -1 million owner occupied households.

Did You Enjoy The Post? Subscribe to Dr. Housing Bubble's Blog to get updated housing commentary, analysis, and information.