It is now official that the United States has turned into a renter's paradise.  Think that is hyperbole?  Fifty-two of the 100 largest cities in the U.S. are now majority renter in terms of household composition.  And there is no clear pattern here.  You have places with incredibly affordable housing like Detroit tipping over into the renter majority category at the same time places like affluent Irvine have tipped over as well.  Bottom line, more renter households are forming at a time when real estate values are once again peaking.  And where did all of these renter households come from?  Well between 2007 and 2016 nearly 7.8 million people lost their homes to foreclosure.  Of course this flies in the face of the #YoLo real estate movement and the mantra of "always be buying" real estate because heck, even our current president is a real estate mogul, therefore buy.  People have massively short-term memories when it comes to financial spankings.
The renterfication of the U.S.
We have discussed the unrelenting trend of renter household formation for years largely because younger households are having a tougher time paying inflated prices for crap shacks.  The flood of Millennials buying households just did not materialize.  What did happen is that inventory remained tight, investors stepped in, foreign money hit, and a mania took place.  Basically an artificially constrained market made crap shacks look attractive.  Look, even old hardened bread must appear like paradise to the starving person.  Still doesn't change the fact that the bread is old and stale.
Many cities have tipped into the renting majority category only in the last few years: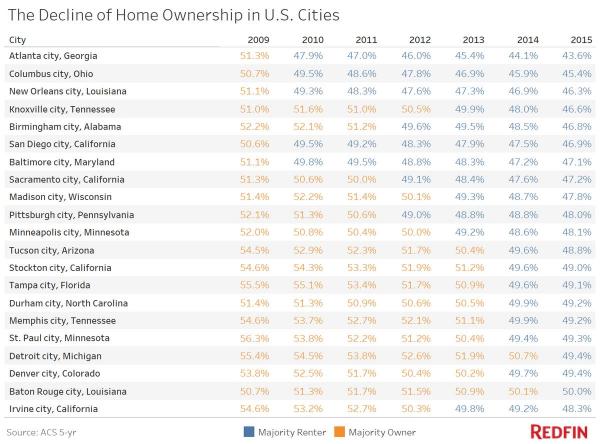 Look at how many cities tipped into the renting majority category since 2009.  We see a few California cities here like San Diego, Sacramento, Stockton, and Irvine.  This will definitely shift the political perception as we saw with local SoCal measures being slammed down that favored current homeowners.  Many people including professional couple households are balking at paying ridiculous prices for dumpy old shacks just so they can say they own and "hey, now I can paint my wall magenta."
The McMansion dream has probably also soured for all of those people that lost homes via foreclosures.  Just look at the nearly 7.8 million completed foreclosures since 2007: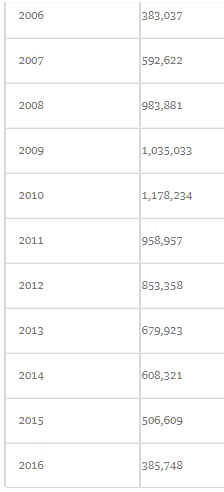 1 million of those foreclosures happened here in California alone and yet you still have people saying:
"Never a bad time to buy!"
"As long as it is near rent, you are always a winner!"
"Nothing beats real estate!"
Yet you have hard facts showing millions got royally screwed betting on housing and this odd mythology built into a deep cognitive dissonance that fails to acknowledge the blind luck of their situation.  And many today can't buy because they simply do not have the money saved for a crap shack down payment.  So you have more renter households being formed versus homeowner households.  That is how you now have 52 of the largest 100 cities being renter dominated.
We've now turned into a renter's paradise.  Many that bought want to own a home and live in a Leave It to Beaver make believe fantasy world.  In reality, it is now a grind it out boom and bust market and most simply cannot afford.  And those that did buy are riding on a bull market that does look a bit frothy.  Many that "own" a home forget that you are basically paying a fixed rent payment to the bank for 30 years.  "But once I'm paid, it is all done!"  What about taxes?  Insurance?  Maintenance?  What about being locked into a geographic location?  Most now early in their career have to pick up and leave to make big jumps.  They also play it safer at their place of employment for fear of missing a mortgage payment or angering the boss.  Everything has an element of risk but for some, owning a home is the ultimate albatross worthy of sacrificing all.  Unlike a stock portfolio or a rental home (big difference) a primary residence is a draw on your bank account.  And that equity?  You have to sell to unlock it and many Taco Tuesday baby boomers are seeing their grown adult kids moving back home and sticking around a bit longer than expected because things are just that much more expensive. Leave It to Beaver aired for roughly six years – not 35 or 40 years.  And by the way, the first two seasons were filmed at Republic Studies in Studio City in L.A. and the final four seasons were filmed at Universal Studios with facades of two houses.  In other words, it freaking was make believe with fake houses!
The proof is in the pudding and we are now living in a renter's paradise.  Enjoy!

Did You Enjoy The Post? Subscribe to Dr. Housing Bubble's Blog to get updated housing commentary, analysis, and information.