It was no surprise that for the fourth consecutive year, building of multi-family units outnumbered single family construction in California.  This is part of the renting trend that has gone on for nearly a decade now and builders are merely catching up.  One interesting finding in the data is that for Orange County.  In Orange County one city accounted for nearly half of all new homes, condos, and apartments over the last six years.  That city is Irvine.  What is interesting with Irvine is that parts of the city are being built to cater to a foreign audience.  Certain subsections are seeing 80 percent of properties sold to international buyers; we are talking about new homes that are selling for $1 million or more mostly in all cash offers.  It is an interesting trend.  But what is even more telling is that most of the construction in Irvine was for apartments and condos.  Even in an affluent market the renting revolution is occurring.
Building for the renters and the foreign money
I think the situation in Irvine encapsulates a lot of what is going on in the housing market.  The vast majority are priced out and the market now understands this.  This of course is reflected by builders building multi-family units for the renting majority.  Where single family homes are built in Irvine, it is very clear who their audience is.  In some cases agents from China will bus in potential buyers that are willing to purchase homes for all cash.  Even the way construction is occurring is to cater to this audience.  It makes sense after all from the builder's perspective.  They certainly aren't catering to domestic families.
Yet this trend in Irvine is happening at a larger scale across the state.  Look at home building by type over the last 10 years: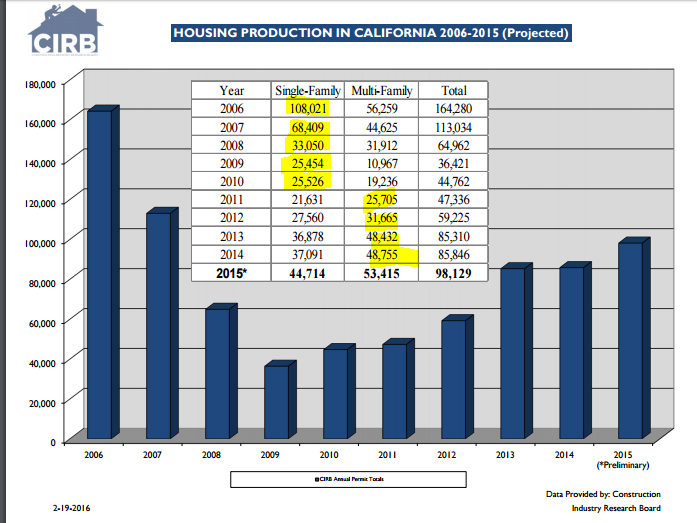 Source:  CIRB
If we go further back, the last time we had more multi-family units being added versus single family homes was in 1985 and 1986.  What is going on right now is rare at least if we look at historical records.  And all of this makes sense.  There is actually a lot of land in many parts of California away from the coast.  But builders realize that incomes in these areas are not worth the headache.  Sure, building is going on but the above chart tells you where most of the money is being placed.  Builders think that renter households will continue to expand.  When they do build single family homes, it is to cater to the affluent.
The fact that Irvine, one city accounted for nearly half of all new homes, condos, and apartments for Orange County over the last six years is astounding.  Irvine now has over 250,000 people but Orange County has roughly 3.15 million people. And like we stated before, a big target audience for these new homes being built are buyers from China.
I know house horny cheerleaders are all about diving in but even if you were to save a 20 to 30 percent down payment, good luck competing against an all cash offer for a million dollar cookie cutter box.  I've gotten emails from people over the last few years about being beat out by all cash offers.  Not a surprise.  All cash buying in certain California cities accounts for nearly one-third of all sales activity.  Buyers from China are now the largest international buyers of all groups: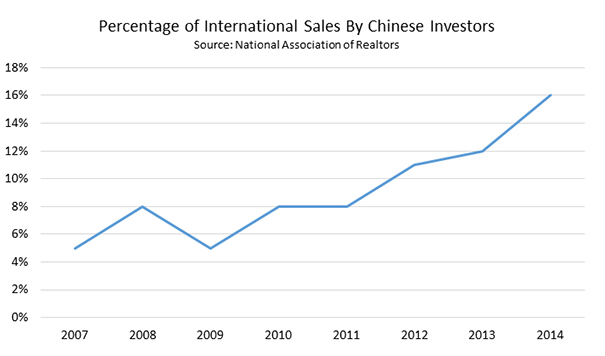 You can see the uptick in 2011.  And some areas have benefitted tremendously from this: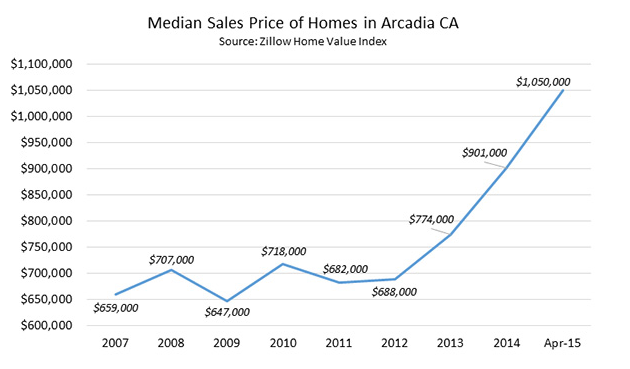 There were many people trying to buy over the years in places like Irvine and Arcadia only to be priced out by all cash buyers.  But look at the chart above and you would venture to guess that real estate only goes up.  Make sure you bring your suitcase full of cash to the next open house and make sure you waive all contingencies.

Did You Enjoy The Post? Subscribe to Dr. Housing Bubble's Blog to get updated housing commentary, analysis, and information.