You have to love the Orange County bubble.  It is fitting that Disneyland is in Anaheim and actually has some of the poorest households in the entire county.  You have a world of Princesses and fantasy and right in the same city you have topless dancing fulfilling a fantasy of a different sort.  You have cities like Irvine where most of the new homes are selling to investors or foreign buyers.  It is an interesting county.  Yet a new report continues to show that California is no place for the middle class.  The report also found that Millennials are leaving the area while Taco Tuesday baby boomers and older folks are the only cohort actually expected to grow in proportion relative to other age groups over the next 25 years.  It is also no surprise that plastic surgery and expensive leased cars dominate the crowded streets.  Unlike L.A. County that understands that there is a large struggling class of people Orange County seems to be in a fog when it comes to the deeper realities.
The growing underclass of Orange County
So let us look at some challenging trends:
"(OC Register) — To afford a median-priced, one-bedroom rental unit, an hourly wage of $27.62 is needed. Yet 68 percent of Orange County jobs pay below that.

— Orange County's cost of living is almost double the U.S. average (87% higher). Housing costs are 356% higher than the national average.

— Residents 65 and older are the only group projected to grow proportionate to other age groups in the next 25 years.

— 48 percent of children are not developmentally ready for kindergarten

–Nearly 60,000 households are on waiting lists for government rental assistance.

Michael Ruane, an affordable housing executive who was the county's project director on its first indicators report 17 years ago, said the data show "there are two Orange Counties."

"What's striking is the enormous variation. You have poverty in a prosperous region. You have a knowledge economy with high wages, and a tourism economy with lower wages."
First, let us examine costs for housing and income: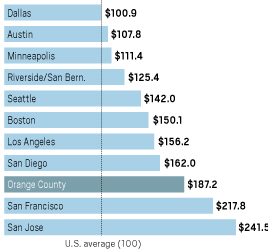 When people are spending half of their income on rent, there is little left over to save.  Plus, you need to earn roughly $28 an hour for a basic rental but many jobs in OC don't pay that (think of working at Disneyland for example).
Housing cost are 356% higher than the national average, which makes it tough for people to save to buy a home: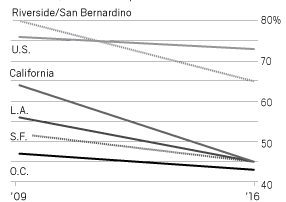 Fewer and fewer people that live here can buy so they don't.  You have old school Taco Tuesday baby boomers going gray and fragile in their homes while new buyers are dual-income professionals, investors, or foreign cash buyers.  Those Taco Tuesday baby boomers are the broke folks in their hood while the new buyers are cruising around in Teslas and BMWs.  So as the report finds, oldies are going to stay in their homes and are also welcoming back their economically struggling adult children back.
The fact that nearly half of kids are not ready for kindergarten is troubling.  This is the future.  If they are not being adequately prepared, are they going to be able to buy that $700,000 crap shack when it is their turn?
And finally, the vast majority of the new building is focusing on higher income housing: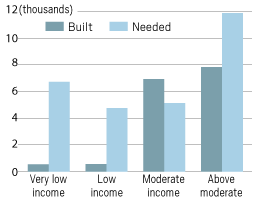 So is it any surprise that you have a larger number of people just treading water in OC?  But of course, don't let that burst your perception of the OC.

Did You Enjoy The Post? Subscribe to Dr. Housing Bubble's Blog to get updated housing commentary, analysis, and information.