California homeowners are entering into their geriatric phase.  The share of homes owned by older Californians has grown substantially since 2000.  The Taco Tuesday baby boomer crowd is dominating the ranks of homeowners.  This trend is new and because of key items like Prop 13 and Millennials living with parents, very few homes are turning over.  The first time home buyer in California is simply getting older and older contrary to the house humping cheerleaders talking about the days of "sucking it up" and having to save to buy a home.  Of course many were not contending with hot global money, limited inventory, artificially low interest rates, and a delusion of crap shack grandeur.  Now some yell from their beer belly exposed guts and a savory carne asada taco in the other hand that people should move out if they don't like it here (and many are).  The economics of course are more subtle.
California old folks home
The old dominate the homeownership ranks in California.  Fewer properties are turning over because many older homeowners are now having their grown adult children moving back in.  Which makes sense since many bought because they were itching to pop out offspring.  Now their offspring is itching to pop out offspring but many are hesitant to do that when a "starter home" is $700,000 and many times is in an area with bad schools.
Take a look at this chart of homeownership based on age cohorts: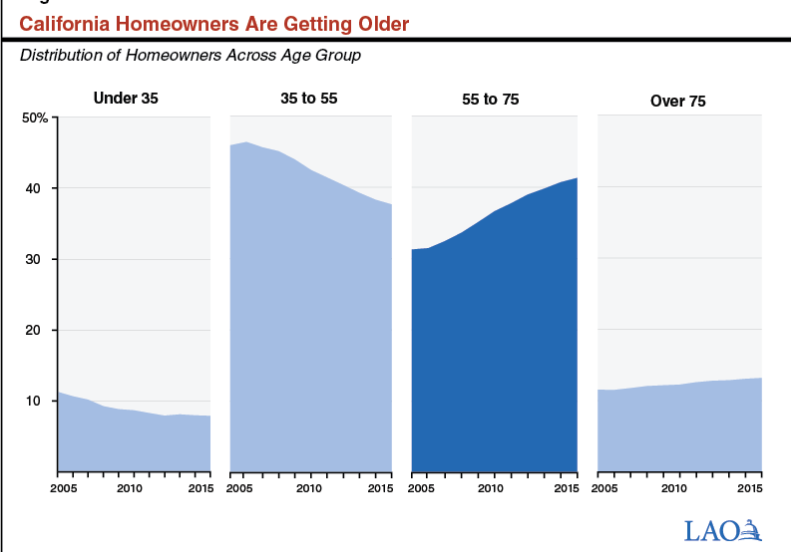 Source:  California LAO
The chart is interesting for the two groups in the middle.  You can see the homeownership percentage of all homes owned by the 35 to 55 age group decline as it is overtaken by the 55 to 75 age group.  In 2005 the 35 to 55 group dominated and now it is the 55 to 75 age group.  But that group, your typical Taco Tuesday baby boomer, is now seeing many of their adult children moving back home.
This is keeping property turnover very low: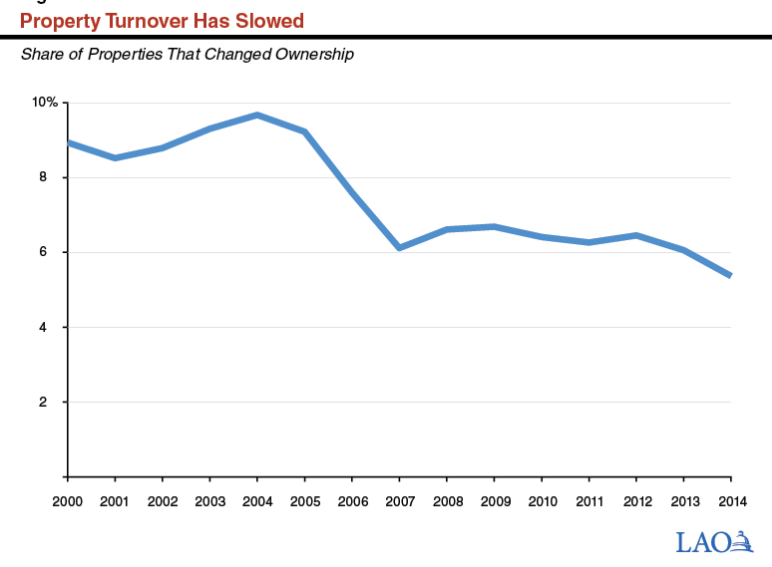 Why are people not selling if the market is so blistering hot?  The demographics should explain a lot of this change.  Older homeowners are now stuck in their stucco sarcophagus.  If they sell, many metro areas across the country are also expensive.  The only time they would maximize their wealth is if they left to a lower cost of living country.  Many will not do that – they even hesitate going to lower cost states.  They would rather shop at the 99 Cents Store and live in a million dollar crap shack than unlock that sweet tasting equity.
That is one reason but another is the fact that their kids now live at home once again.  2.3 million grown adults live at home with their parents in California.  Don't think this is common as some are preaching as if suddenly California is Italy.  This is uncommon.  It is happening because people are broke after paying the monthly bills and even rents eat up a ridiculous amount of income.
Also remember that we've been in a hot market for 8 years now.  The business cycle is bound to rear its ugly head: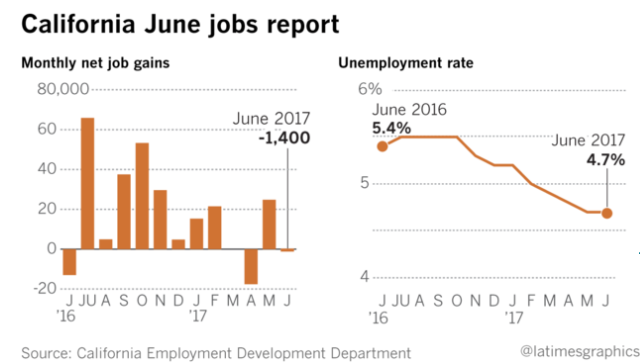 The employment market is already looking a little softer.  This can only mean that more adult children are going to be moving back home and of course this means home prices are going to go up forever because that is simply how things go in California where the tacos never run out on Tuesdays.

Did You Enjoy The Post? Subscribe to Dr. Housing Bubble's Blog to get updated housing commentary, analysis, and information.