Los Angeles now takes the award for having the lowest homeownership rate for Millennials.  As it turns out most young adults are either living at home with their Taco Tuesday baby boomer parents or are living like sardines in rentals.  The options are limited short of forking over a massive amount of money and committing to living in a crap shack.  You will have to eat rice and beans (and tacos) for a decade but at least you will own a piece of the California dream.  That dream is clearly that – an illusion for most.  The figures back this up.  Of course the audience on this site tends to lean to higher income households and those with higher levels of education but the house humping rhetoric is still intense.  Most realize that buying a home in the greater L.A. metro area is just one giant pipedream.  Less than 18 percent of young adults own a home in the greater L.A. metro area.
Living the SoCal dream
The figures are startling but not all that surprising.  You have crap shacks selling for ridiculous prices yet household incomes are still growing slowly.  So what do younger people do?  They either live at home with their parents or rent.  The results are rather clear.
Take a look at this wonderful chart: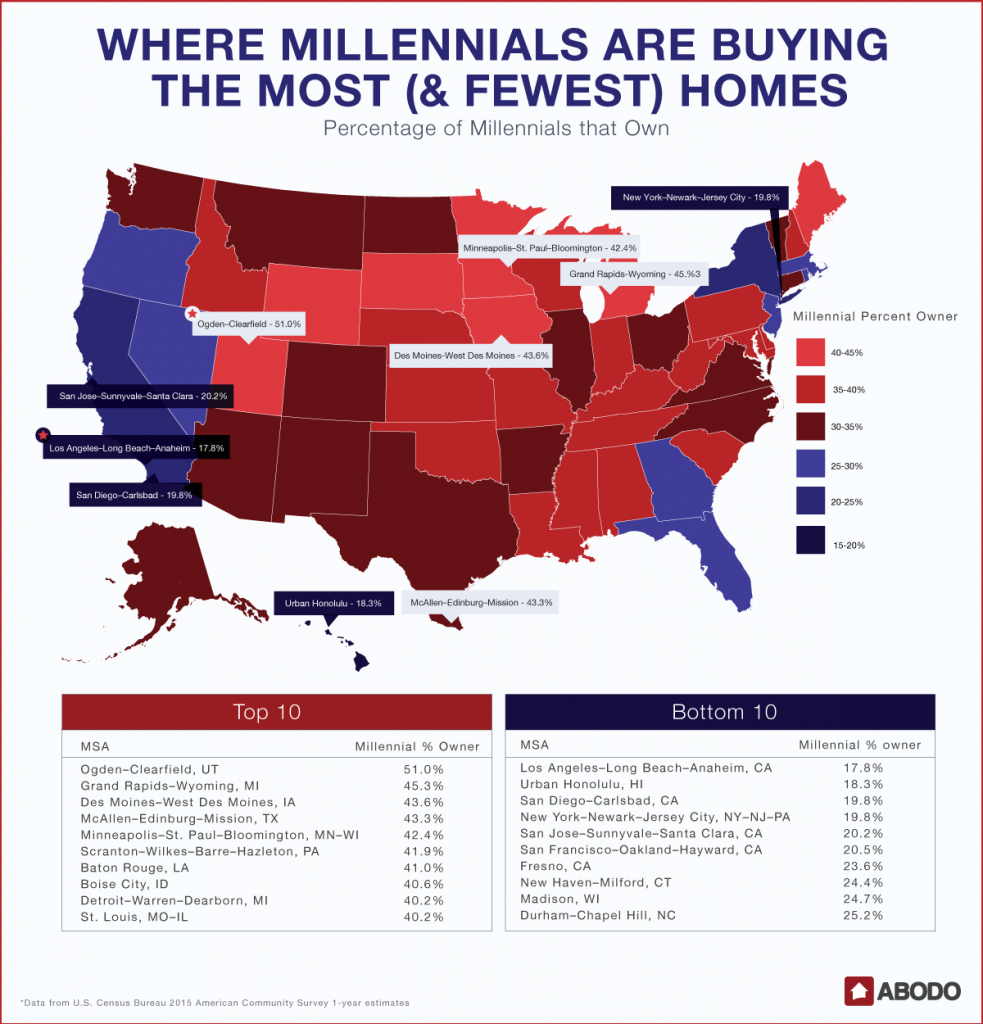 The greater L.A. area has the worst homeownership rate for younger buyers, even worse than tech drunk San Francisco.  Why?  Because in the Bay Area, even though home prices are insane so are salaries for young professionals.  So even though the Bay Area is nuts and has a massive amount of tech froth, people do earn higher incomes.  Here in SoCal especially in the greater L.A. metro area people don't make high enough incomes to justify current home prices.  Thus the low rate of ownership from younger buyers.
The data dug deeper and examined how long it would take to save for a down payment sans mom and dad loaning you all the money they saved from those Taco Tuesday blowouts:

According to the analysis, it would take the typical young L.A. couple 32 years to save for the standard 20 percent down payment.  Hey, if you start at 30 you can buy when you are 62!  Just around the time you can collect on your Social Security benefits.
So you have this weird trend going on where people are critiquing young people for eating avocado toast and other nonsense and that is the reason they can't afford a crap shack that looks like a rundown property in Detroit.  So that is the reason they can't buy a $700,000 dilapidated box?
We've discussed in detail that Millennials were not going to save the housing market.  What you have right now is a massive amount of NIMBYism, grandfathered in older buyers, and foreign money flowing into certain areas.  That is keeping the market afloat but what has made the housing market healthier in other areas is actually allowing for young professionals to buy without going into insane levels of debt for World War II built stucco boxes.
So this data which is based on reality (not fake news) is showing the true nature of our housing market.  I know house humpers will say "lay off the lattes!" to save for that down payment but it is more complicated than that.
Take a look at this:
2000
LA Median Home Price:                 $226,000
Median Household Income:        $42,189
Price-to-income ratio:                    5.35
Today
LA Median Home Price:                 $585,000
Median Household Income:        $56,196
Price-to-income ratio:                    10.4
Even with lower interest rates, the bottom line is you are still paying a much higher amount for a home relative to household income.  And that is why it is no surprise that you have a record low in terms of young households owning property in L.A.  Now you have Taco Tuesday baby boomers confined to their gold plated granite countertop HGTV inspired sarcophagus with locked in low property taxes and their offspring moving in at record levels as young adults.  On the bright side, that means more income under one roof for delicious gourmet tacos!

Did You Enjoy The Post? Subscribe to Dr. Housing Bubble's Blog to get updated housing commentary, analysis, and information.