There is no doubt that San Francisco is in a deep housing mania.  When you take a look at the junk you can buy with $1 million you realize something is amiss.  Bubbles are hard to assess when you are in them.  You have continuing momentum pushing prices higher and the constant rhetoric that "this time is different" although history tends to serve as a better guide.  But San Francisco is in another dimension.  The median home price is now $1.25 million and the typical condo is selling for $1.1 million.  You have tech professionals earning good money struggling to afford basic rundown rentals.  All of this is being spurred by hot money in the tech sector and foreign money flooding the market.  In a place like San Francisco even a professional couple with a solid down payment will have a tough time competing with all cash offers over asking price.  As we noted, last month we saw a large portion of the market being taken over by all cash offers yet again as regular buyers are priced out.  San Francisco is now more unaffordable than at the peak of the last bubble.
The mania in San Francisco housing
Home prices in San Francisco seem to defy gravity.  It is an interesting market and that seems to be all people can talk about in The City.  It is either conversations of insane rental prices or ridiculous home values.  Yet rarely do you hear about people talking about the derived value of real estate in San Francisco like you would of price-to-earnings ratios for a stock.  Of course you will have house humping cheerleaders saying "you can't live in a stock" but then again, you probably should ask a few more questions before paying $1.25 million for a rundown piece of crap box with little to no parking space.  And by the way, most can't afford to pay these prices.  That is why families are either being pushed out or struggling to hold on in high priced rentals.
Here is a chart showing home and condo prices in San Francisco: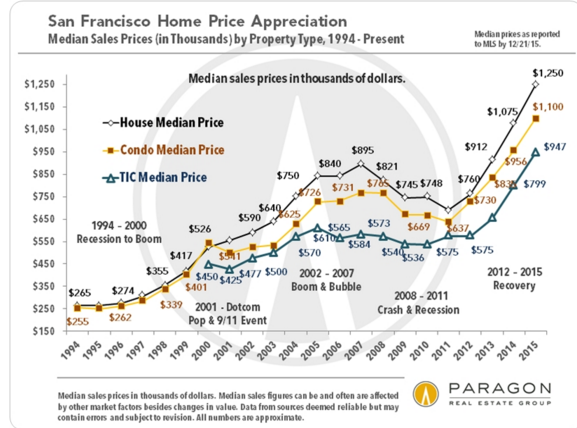 Housing prices are up over 65 percent from 2012 alone.  The typical home went from $750,000 to $1,250,000.  Reasonable or not, that is an insane jump in prices and this of course has created a crazy rental revolution in San Francisco. Your typical 2 bedroom apartment is now over $4,000 based on last year's information: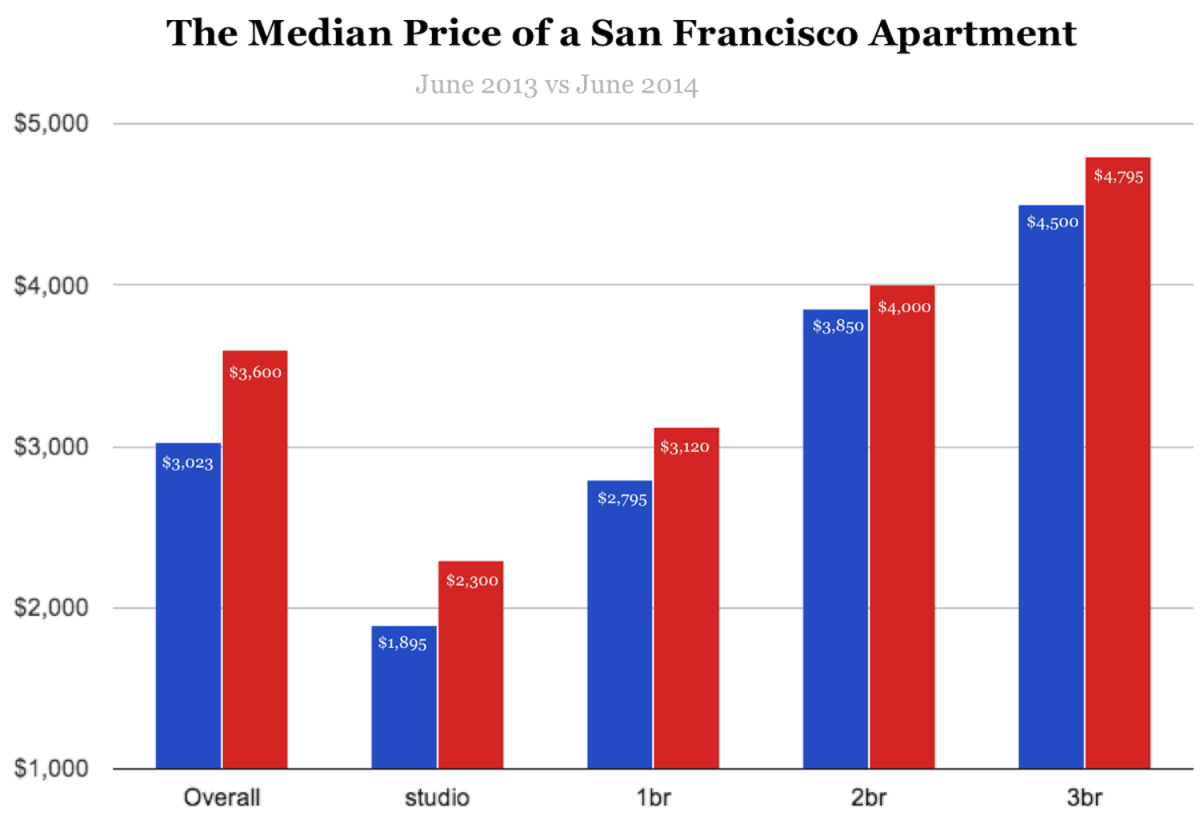 But let us see what we can get today.  Here is what you can get for $3,650 per month: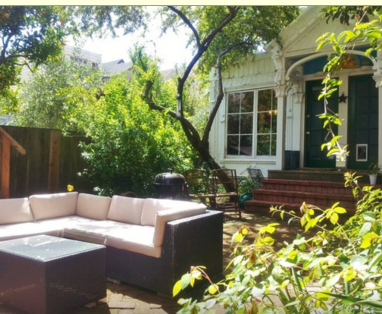 474 Noe St,
San Francisco, CA 94114
1 bed, 1 bath listed at 400 square feet
Part of the ad talks about the AirBnB history of this place:
"The place was set up as a part-time Air BnB rental with 27 outstanding and consistent 5* reviews and a per night rental price of $300-450 and is very well appointed. People LOVE this place – check out the reviews on the link below. The cottage is a small studio (~400 sqft) but is really well laid out with a bedroom, lounge, kitchen and bathroom area."
So have at it for a place that is the size of a walk-in closet.  Affordability, based on local incomes is at record lows: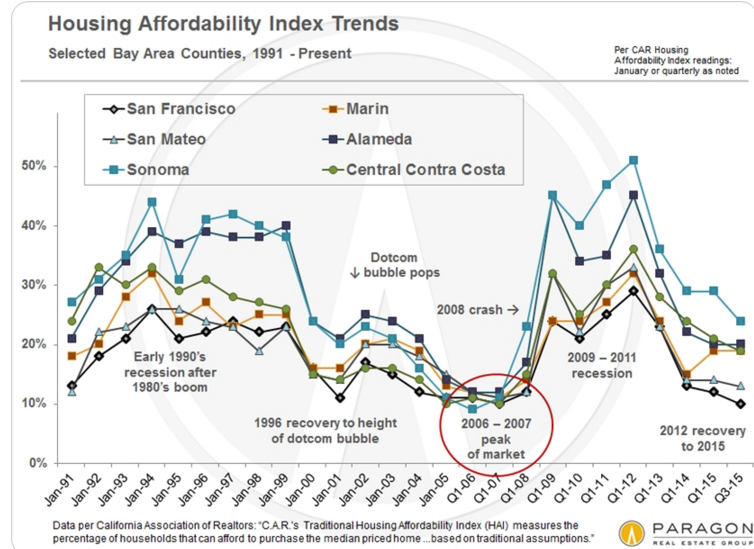 Looking back at the 2006 and 2007 peak of the market we realize that San Francisco was in a bubble and it corrected.  Yet looking at the above chart, San Francisco is even less affordable today.  Yet somehow this isn't a bubble.  Prices are being pushed up again largely by investors and foreign money.
It will be interesting to see what 2016 will bring.  At these current prices, even if people wanted to buy it would likely strain their monthly budget to the maximum.  People somehow justify that real estate is less risky than stocks yet over 1 million Californians lost their homes to foreclosure since the first bubble burst.  Why did they lose their homes?  Largely because they spent more than they could afford.  Most of the foreclosures happened to boring 30-year fixed rate mortgage bought properties.  There is always a new line of converts to the real estate religion.  San Francisco seems to be ground zero for this housing worship.

Did You Enjoy The Post? Subscribe to Dr. Housing Bubble's Blog to get updated housing commentary, analysis, and information.