Washington and New York have no organized lobbying groups for renters.  Yet for 2012 renting is likely the best bet for many of those that still have yet to purchase a home and are thinking about diving in.  The machine wants you to be a homeowner even if it devours every last cent of your disposable income and blindly following the herd will get you economically slaughtered.  The new economic landscape brings benefits to those that rent.  The homeownership rate now has erased all the gains of the last decade because going into massive debt for an asset many cannot afford is simply not a smart move.  Household incomes have not grown over the past decade.  Many of the new jobs have relatively low job security and resemble more of the large temporary workforce that has dominated Japan for the last two decades.  I see five major reasons why renting in 2012 makes financial sense over purchasing a home even with every banking and government subsidy being thrown your way.
Reason 1 – Flexibility for employment
One of the big reasons for renting is the flexibility of mobility.  Many young professionals do not have the security of longer term employees.  They also may have to move out to move up.  For all the talk of economic recovery, the number of job openings isn't too positive: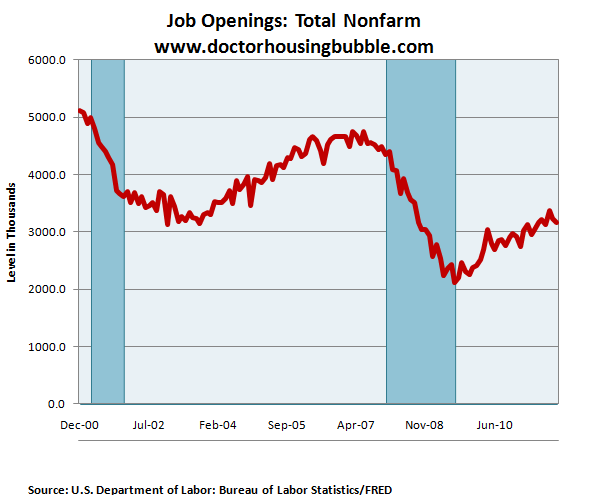 Back in 2000 there were over 5,000,000 job openings.  Today that number is slightly above 3,000,000 but we have added 30,000,000 people to our country.  Many of the new jobs do not pay as much as they once did and benefits are being stripped down by companies.  For many young professionals, being able to move from New York, Chicago, San Francisco, or Los Angeles may make the biggest difference in progressing in a profession.  The fluidity of the modern workforce seems to benefit renters in many cases.  Those long-term good paying manufacturing jobs that provided stability for many decades seem a thing of the past.
Reason 2 – Low rates artificial
Even with the Federal Reserve artificially pushing rates lower, the home ownership rate has erased all the gains of the past decade: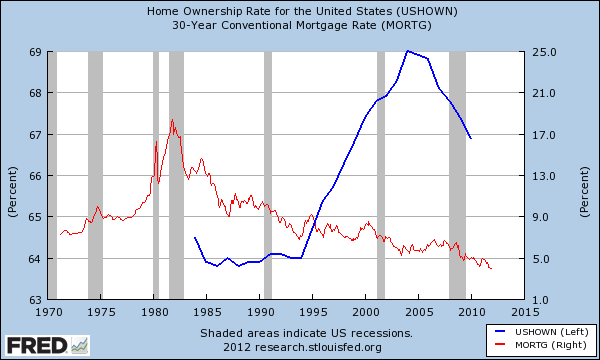 Now why is this occurring with record low rates?  First, the demand for housing is on the lower end of the spectrum because American households are on average, poorer than they were a decade ago.  The large gains in home ownership over the past decade were largely artificial and brought on by absurd and bubble based mortgages. Those mortgages will never come back in the next few decades even though the FHA with 3.5 percent down insured loans is trying to fill the gap of the zero down mortgages.  At least they are checking incomes this time around.
Keep in mind that the Fed is limited on how long it can keep rates low.  Europe is an example of how little power a central bank can have once things go into the next stage.  Once people start losing confidence rates will have to rise.  We all realize that the $15 trillion in national debt will never be paid off right?  The zero bound has already been reached and home prices continue to fall.  So why does this benefit renting in the short term?  Rates cannot go any lower.  Even if they dip a few basis points they will do very little in terms of monthly payments.  However rates do have a long way to go up even if they hit the 50 year average of 7 to 8 percent for the 30-year fixed conventional mortgage.
Reason 3 – Selection of property
Over the last year the selection of properties hitting the market are of better quality and at lower prices.  This is the case in places like California where people are finally waking up in mid-tier and upper-tier markets.  If you lived in the Inland Empire you can have the pick of the litter at a great price right now.  This goes for Florida, Nevada, and Arizona as well.  We are seeing breaks in more selective markets and better properties are being pushed onto the markets as short sales and REOs.
During the bubble days I remember many agents convincing people to buy in questionable areas because "you have to pay your dues, build your equity, and trade up."  You had people loading up their homes with flat screens, giant fridge freezers, and other high cost items.  This nonsense permeated the market for far too long.  As most are realizing, home prices can and do go down for extended periods of time.  If the argument was to buy just to build equity, well what happens if appreciation is non-existent for a decade?  Of course this is simply bubble logic that is still around.  Many are realizing that leasing in an area you like might be an excellent trade off especially if you have two working professionals in a household.  I can't tell you how many couples bought a place just because of the "nesting" instinct and one partner is left with a life sucking commute just to own a place.  This is very common in commuting happy Southern California.  Yet the low sales figures in mid-tier to upper-tier areas shows us that many people are waking up (or simply don't have the money to buy).
Reason 4 – Shadow inventory
Another reason why renting in the short-term makes sense is the large shadow inventory.  Over 6,000,000 homes are still in some form of distress.  Over 12,000,000 home owners are in a negative equity position: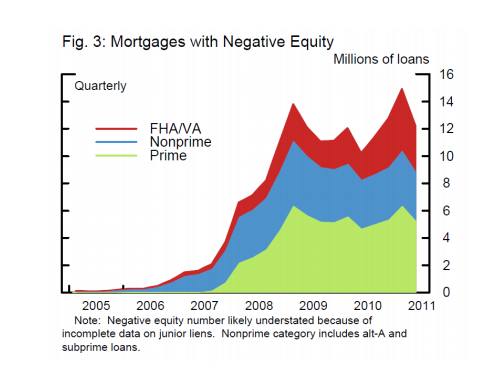 4,000,000 loans are either 90 days past due or in some stage of foreclosure.  This is inventory that will hit the market in the next few years.  Why would you rush out to buy when there is a built in supply that will be coming online for the next couple of years?  Distressed properties sell for less and this is what the market is craving.  You even have prime locations with massive amounts of shadow inventory.  If you know prices will not be going up in the short-term what is the large impetus to buy today?
Reason 5 – Home prices still dropping
Despite all the subsidies, bailouts, and cronyism between Wall Street and DC home prices continue to make post-bubble lows: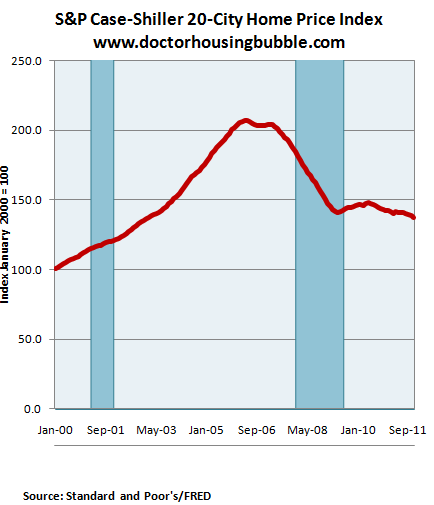 All signs point to lower prices well into 2012.  So why the urgency to buy right now?  The fact of the matter is household incomes are incredibly weak and many of the new jobs come with lower pay and stripped down benefits.  Younger Americans don't have favorable demographics for the stock market and they are forced to pay larger amounts of their paychecks to items like student debt, healthcare, and other daily cost of goods.  In the end they have less to spend on housing than baby boomers did.
For these reasons renting in the short term is likely a good option for many especially those in the first time buyer group that live in high cost metro areas.  Now if you live in say Nevada, Florida, or Arizona and have a solid job then you have a plethora of homes to choose from at rock bottom prices.  Places like California however still have inflated pocket markets but these are also starting to correct.  No lobbying group is going to take out ads to champion the benefits of renting but many are figuring it out all on their own.

Did You Enjoy The Post? Subscribe to Dr. Housing Bubble's Blog to get updated housing commentary, analysis, and information.