One third of Americans do it.  There is no heavy handed lobby for this large group.  We are talking about renting.  The United States is built around homeownership and the marketing machine that pushes it through the system has no regard for the renting group.  However renting makes a lot of sense for a lot of people.  No one really owns a home until they pay off the bank note completely.  You always see on the housing shows a dreamlike state of a person buying their first home.  The camera zooms in on the happy couple in HDTV and they give each other a Hollywood glance and say, "we are now homeowners!"  Well, you actually own the property as long as you pay your mortgage on time to the bank.  Owning isn't the financially smart thing for many Americans yet there is no group pushing for this because there is little money to be made on telling people to not buy.  Money is made selling the sizzle not on avoiding boneheaded financial decisions.  Our consumer driven culture is pummeled with advertising from the real estate industry to buy like a boxer knocking out an opponent.  Once you buy, you need to buy more junk to stuff in your home.  Empty garage?  Fill it up with a leased car.  It is one giant debt scheme to get people to spend.  Let us try to give a voice to the one third of Americans that rent.
Homeownership back to 1998 levels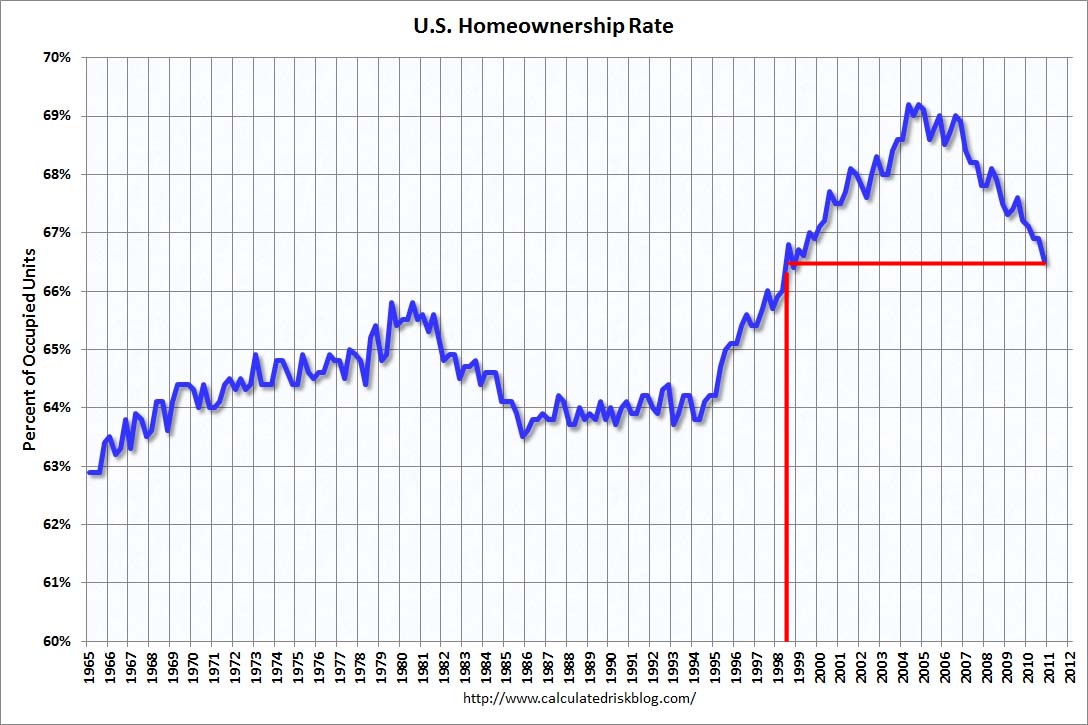 Source:  Calculated Risk
The experiment on getting every person into a home to call their own was largely a dynamic and epic failure.  Sure the mortgage industry enjoyed the massive sums made on churning out loans and Wall Street reveled in the speculation brought on by new and fancy financial instruments but who really won here?  After all was said and done Americans are back to homeownership levels last seen in 1998.  Not everyone deserves or can financially own a home.  This seems to be a shocking revelation and all our government policy, which is ushered in with a Wall Street blessing, is guided and designed to get every single person into a home even if their financial situation is sketchy at best.  This is like saying every American should be married just because it is the thing to do.  It is nice to have a cookie cutter response to every person but life is more subtle than giving every person a no-doc no-money down payment loan.
But what about the schools and the children?
I always hear this argument about people willing to overpay simply because of a good school district.  Did good schools not exist in 1998 or 1970 or 1950?  Why all of a sudden a premium for good schools?  This is again right from the real estate agent propaganda handbook.  Nothing is precluding you from sending your kids to a private school and renting in a neighborhood you really like with an affordable mortgage.  In fact you can rent in a solid neighborhood and send your kids to school just like everyone else.  Of course, you'll be living in a neighborhood where it is likely that everyone has a leased foreign car and is spending beyond their means.  Can you resist keeping up with the Joneses?  Most people that buy in these areas fall into the herd mentality and simply go into debt just like everyone else.  But the argument about schools is so powerful because of the family emotional component.  Who can put a price on that?  Well apparently the real estate industry since they are trying to scam people into believing home prices are still worth inflated values especially in California because of random amenities that tug at the heart.
I've also seen people say "I am willing to buy this crap home that is the size of a dog house to send my kid to the great school in this neighborhood."  This argument emerged mostly during the housing bubble.  In the past people did buy in good neighborhoods and it was assumed you had good schools as a perk for buying an actual nice home.  The last decade saw people buying absolute junk homes simply because of the schools in the area.  It was a delusional financial move.  What these people are saying is they are willing to live anywhere and pay the price for a good school.  We see this nonsense permeating even in people going into massive college debt just because they need a degree.  To these people I would say why not use the money you would save from renting and send your kids to a private school?  The propaganda from the real estate industry has screwed up the psychology of many and it still lingers in California even after the housing bubble has imploded.  If you can afford the payment then go for it.  Don't spend more than one-third of your net income on your home payment.  If you can't swing that, then you can't afford it.
Housing is where the wealth is…or used to be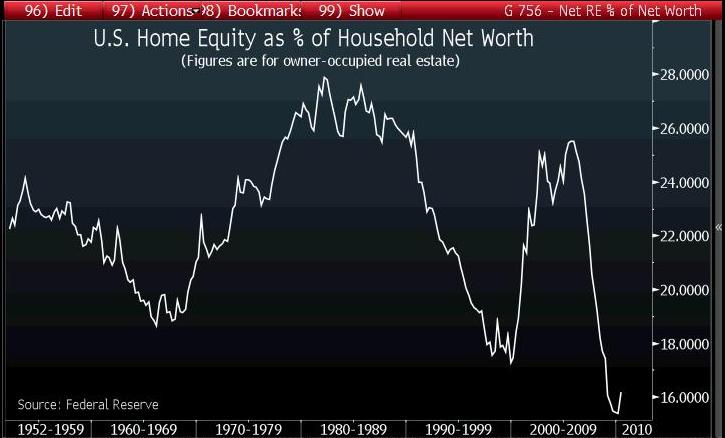 During the bubble days people were arguing that a drop in housing values would have a little impact because of the wealth effect.  They were pointing to absurd charts like the above.  First, you can see that most of the home equity gains during the bubble were largely all inflated to begin with.  Many of these folks argued that people would be fine because of their stock wealth.  This is a flat out lie.  Half of all U.S. households have less than $50,000 in stocks or mutual funds so the net worth charts are skewed by the extremely wealthy that have billion dollar stock portfolios.  So a 10 percent jump or fall in the stock market does nothing for the quality of life of most Americans and it certainly doesn't make them feel like being on the Forbes 400 list.  Home equity was and continues to be where most Americans keep their wealth.  And with nationwide home values falling by over 30 percent from their peak according to the Case-Shiller Index many Americans have lost trillions of dollars in perceived wealth.
Renting doesn't seem like a bad idea when the number one asset in the country has fallen by 30 percent from the peak.  And keep in mind this is leveraged.  So say you bought into the delusion and bought in 2007 in California with a nothing down Alt-A loan and paid $600,000 for your shack.  As it turns out, the home is now worth $400,000 and you are underwater by $200,000.  You are now in worse shape than a renter that simply lived in a home and socked money away in an emergency fund.  Leverage cuts both ways and that is why having a significant down payment, upwards of 10 percent is so important.  This is why we have a housing market flooded with problem loans: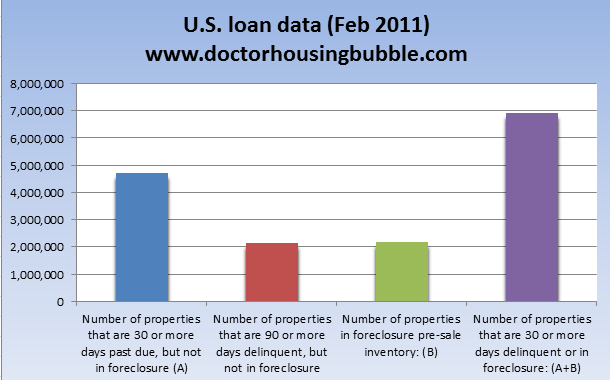 Source:  LPS
In the US nearly 7 million homes are either in foreclosure or have missed at least one mortgage payment.  Even if we suddenly had no more foreclosures (not happening in 2011) the pipeline is spilling over with homes that will drag prices lower.  Since many can still purchase with FHA insured loans with low down payments you are likely to lose all of your down payment in the correction that is coming.  In other words, it makes sense to rent simply as a hedge.  There is little incentive to buy today.
California isn't the only place where this happened and you can see this when comparing market rents to actual home prices in other areas: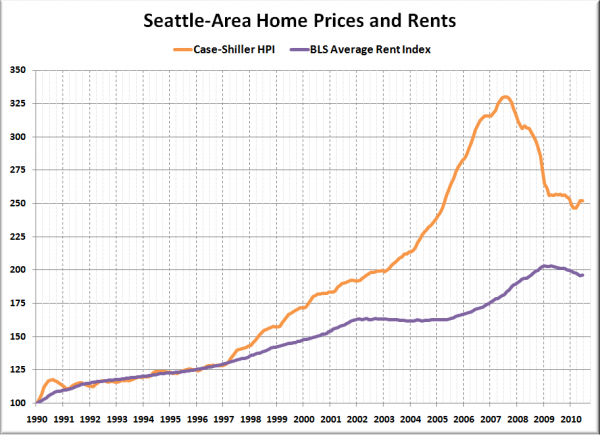 Source:  Seattle Bubble
This chart reappears for Los Angeles, San Francisco, New York, Chicago, and many other bubble cities.  Home prices are still too high relative to actual market rents.
Equity declining yet again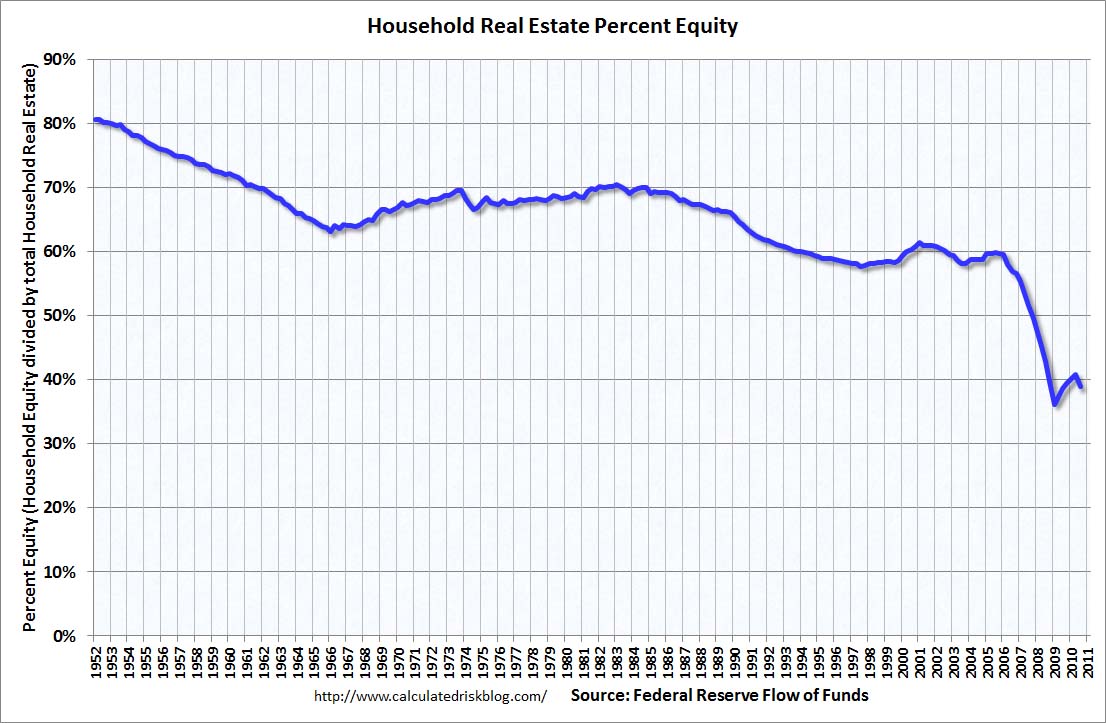 Source:  Calculated Risk
This is probably the most insidious chart of all.  Even during the grand housing bubble the amount of equity in homes continued to fall.  So think about this carefully.  As home prices grew at levels never seen in the United States somehow the amount of equity in homes continued to fall!  What happened?  Well you had people that suddenly saw their home as an ATM and refinanced and yanked out cash from their home.  This money was not free.  It was a loan secured by an inflated asset.  California was notorious in home equity withdrawals.  You also had the advent of low to nothing down purchases.  We are heading back to breaking the record low of equity Americans have in their homes.   In the third quarter of 2010 in the latest Federal Reserve report household percent of equity in household real estate declined by 38.8 percent and the value of real estate fell by $650 billion in one quarter.  Renting is a viable option and home buying is obviously not a risk-free investment.
Why the bad press for renting?
Here is the complete bird's eye view of housing for the United States: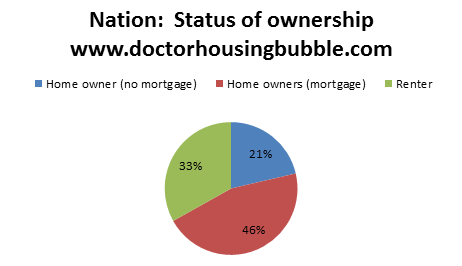 Source:  Census
Nationwide one third of households rent.  Another 21 percent own their home free and clear.  46 percent of households carry a mortgage.  But when we look at California the numbers show how leveraged this state is: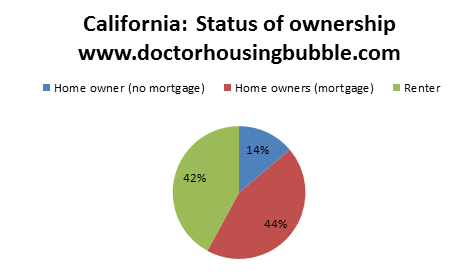 Only 14 percent of California households carry no mortgage and 44 percent of home owners carry a mortgage.  42 percent of Californians rent.  So in California nearly half of households fall in this renting category especially in high priced counties.
Renting gets a bad reputation because there is no visible lobby or big marketing budgets.  You hear absurd mantras like "renting is throwing money away" or "you can't do anything to your place until you own" as if these were reasons to overpay on a house and put yourself into massive debt.  Buying a home does make sense in many circumstances.  But right now given our economic malaise it absolutely does not make sense.  Many investors are buying cheap homes betting they'll be able to rent the places out.  They obviously believe in a rental market.  In the end we as a society have to have affordable housing relative to local area incomes or suffer what went on in Japan where the real estate bubble burst and created two lost decades of housing obsession and bank protection.  Instead of focusing banking and capital resources to creating a better and more innovative economy we are plowing money into housing so people can sell drywall boxes to one another and pretend that this is somehow the key to a vibrant economy.
Renting is a great hedge in this current market of uncertainty.  In place like California renting is the only economic option that makes sense although many will buy because the siren call is too loud.

Did You Enjoy The Post? Subscribe to Dr. Housing Bubble's Blog to get updated housing commentary, analysis, and information.