It is common wisdom that prudent investing requires diversification.  If you were saving for retirement, you would want to buy a pool of funds to spread out your risk.  This is why many people will buy index funds that represent the market.  Sure, you only hear about the superstars that bought Google or Microsoft at an early stage but you don't hear about the many more failures.  Consider this survivorship bias.  So it would be foolish to have your entire portfolio riding on one stock.  Yet some people have most of their wealth locked up in one piece of property in one locked in location.  Taco Tuesday baby boomers in high priced areas are sitting on an equity goldmine but many are unable to tap out their lotto ticket without selling their property.  Yet when owning real estate diversification also helps.  You don't know if you have a future Detroit or San Francisco in your hands.  Yet some people mistake blind luck with fortune telling capabilities.  Housing right now is inflated when looking at historical data.
The low U.S. homeownership rate
The U.S. homeownership rate is at levels last seen during the Johnson Administration.  The cornerstone of the American Dream is simply getting much more difficult to achieve.  There are many reasons for this but a large one is that home prices are inflated relative to what Americans are making.  If this were a real market, then prices would balance out.  But in a negative interest rate environment favoring banks easy money is used for investing purposes.  Big investors bought a large amount of inventory and now the market seems to be dry with inventory – yet rents and prices are up.  While the homeownership rate looks like this: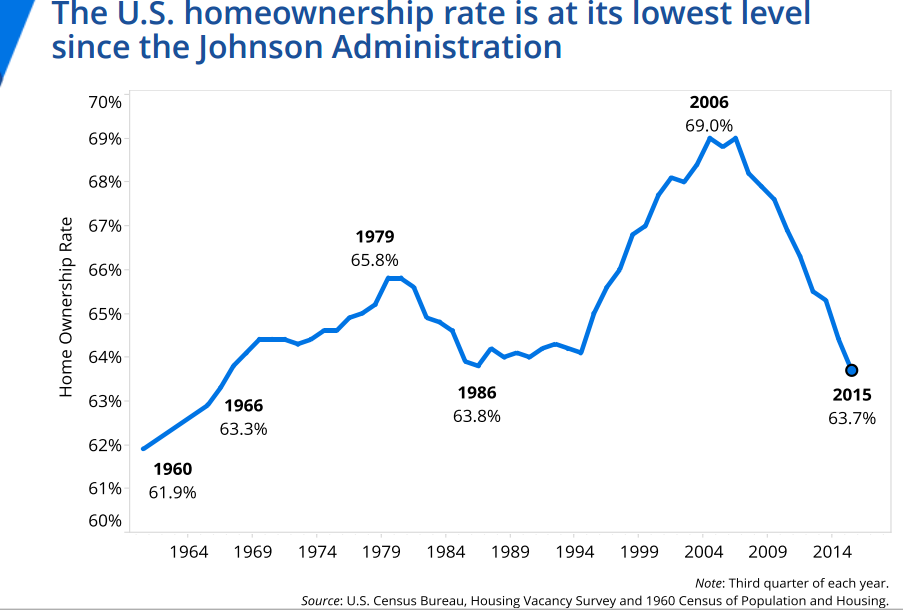 And a big part of this drop is also being driven by those who should be buying homes based on their age if they were following the Taco Tuesday baby boomer timeline.  They are not: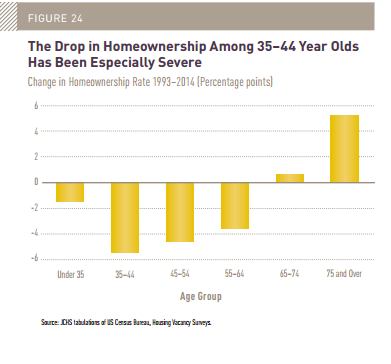 Those that should be buying simply are not.  Then you have Millennials who are living at home in record numbers.  The big problem of course is that home prices for the most part are inflated once again: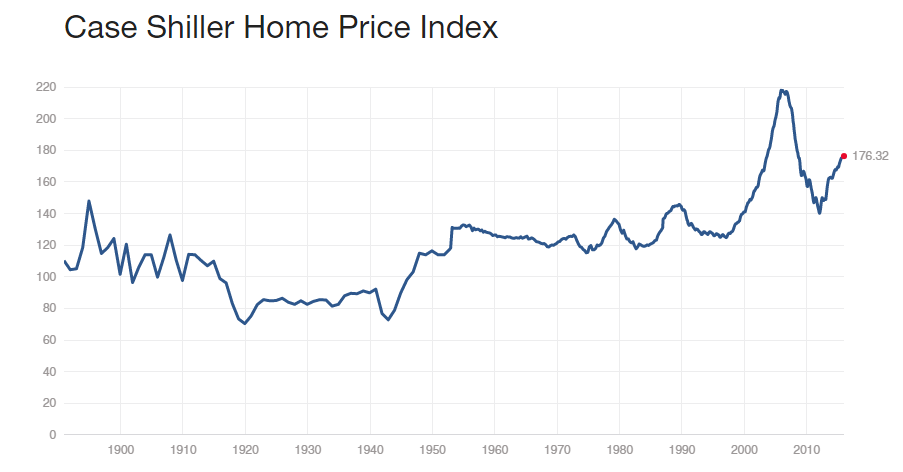 Relative to incomes home prices are incredibly inflated.  But in a market with low inventory outside players like big investors and foreign buyers can push prices up with each marginal home sold.  Sales volume continues to be weak.  But with low inventory, prices get pushed up.  Take for example Orange County in Southern California.  Take a look at inventory: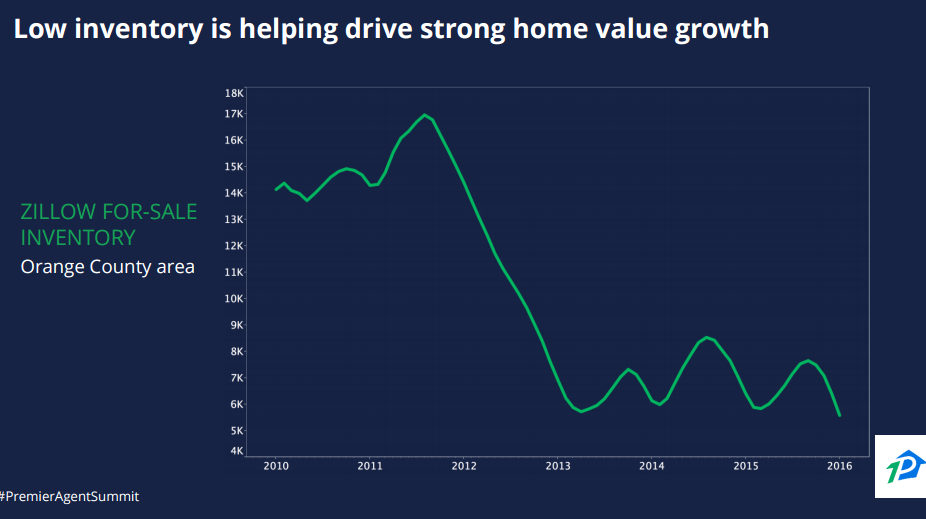 Those looking to buy have very little to choose from.  Then you have markets like Irvine where a giant portion of buyers are simply foreign buyers.  This is why for the Greater L.A. area the vast majority of households rent: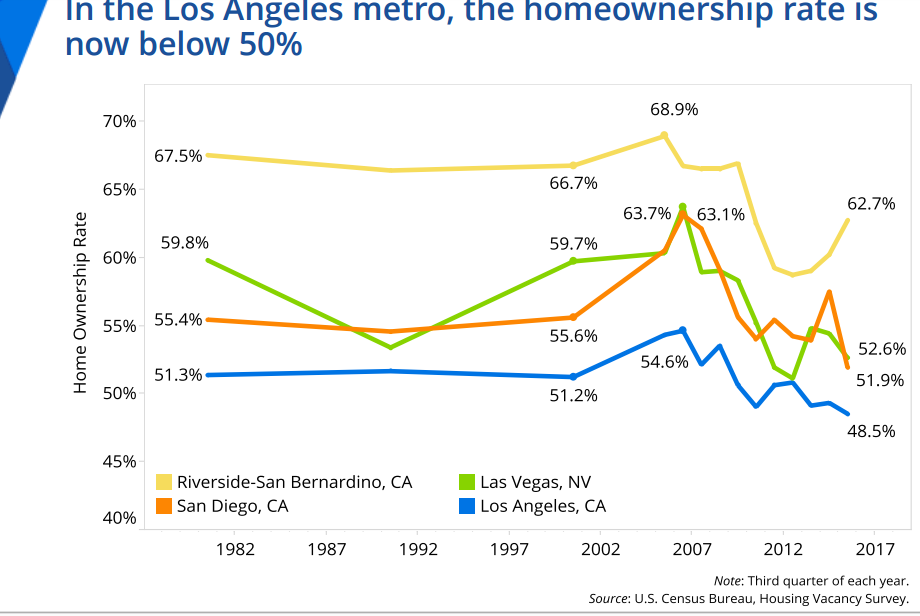 It is interesting to see that the Inland Empire is seeing  a sharp jump in the homeownership rate.  This area was badly bruised during the housing slump.  Things are moving up here because this area is somewhat affordable relative to household incomes.  L.A. is the least affordable rental market in the entire country (based on what people make).  So families have a hard time saving up for a down payment for one of those lucrative crap shacks.
In the bubble psychology cycle people are between euphoria and anxiety: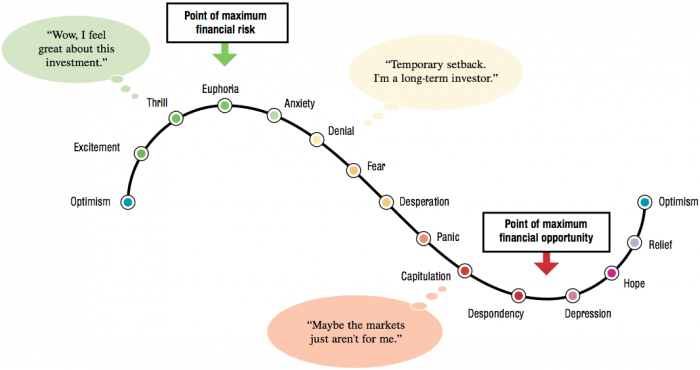 People look at prices and feel like winners but look at all the other data and know something else is going on.  A large number of people are lemmings and don't follow any of this data.  They are like butterflies in the wind not knowing if a gust is coming or a hurricane.  Which is why buying a $700,000 piece of junk with a massive mortgage is so risky at this point.  Would you buy $700,000 of Google or Amazon stock if this is all the money you had?  Seems like a sure bet right now but history favors those that diversify.  Some people are stretching their budgets just to buy.  Well rents are also expensive but this doesn't negate risk.  All it means is that both rental and owner households are sitting on the edge and we see this with how much money is being spent on rents and housing payments.
If this were an easy bet the homeownership rate would be soaring because everyone would be diving in.  It isn't a sure bet.  Builders are building for more future rental households.  And just to show you that smart people can get it wrong, take a look at this quote from Paul Krugman back in 1988:
"(Dividend) In 1988, Long before his days as a Nobel Prize-winning economist, Krugman made a bold statement concerning the internet. Specifically, Krugman thought that the internet would have no greater economic impact than the fax machine adding:

"As the rate of technological change in computing slows, the number of jobs for IT specialists will decelerate, then actually turn down; ten years from now, the phrase information economy will sound silly."
The link has some other wonderful calls including "subprime is no problem" and DOW 36,000.  Bottom line, exercise caution when you hear the perma housing cheerleaders talking about "housing will never go down and if it does, only a little" since these people probably don't hold a Nobel Prize and even those folks get it wrong.  Use common sense here and take a deep breath before diving into that crap shack.  As we have said before, it is smart not to spend more than a third of your income on your housing payment.  You should also diversify.  But for some people, diversifying means having all of your wealth in your crap shack.

Did You Enjoy The Post? Subscribe to Dr. Housing Bubble's Blog to get updated housing commentary, analysis, and information.