We are definitely into housing bubble territory.  The latest California affordability figures show that only 29 percent of families can actually buy a home at today's prices.  This is why we are seeing products like the PoppyLoan coming about in the Bay Area trying to bring back the nothing down days of the last bubble.  You also have companies promoting their "one-click" mortgages as if taking on $800,000 in debt for a piece of junk in San Francisco is a decision that should be made similar to liking a friend's video on Facebook of a cat dressed up as a banker.  The number of young adults living at home continues to stay at a record high.  Of course this is being driven by affordability and more to the point that people simply do not have the incomes to justify current prices.  The PoppyLoan in San Francisco, the hub of high income workers, actually states that this loan was made because people had a tough time saving enough for a down payment.  That should tell you a lot.  So let us look at the latest affordability figures.
California affordability
The last time we were in the 20 percent range of affordability for California was when we were deep in the last housing bubble (on the manic mortgage days and also leading to the implosion).  You need to understand what this means.  Household incomes are fully stretched.  We are now at the stage that companies are offering exotic products to circumvent the inability for households to save for a down payment.  In many areas prices have been driven up thanks to foreign money and investors.  I always find it interesting that local house humping cheerleaders seem to think that foreigners just want to flush money down the toilet.  Don't you think they care about their money more than some Taco Tuesday boomer?  And let us be direct, in California this foreign money is coming in from China.  China's economy has hit a big snag recently.  We are yet to see how this impacts the overall market.
We should also note, most foreclosures occurred on boring traditional 30-year fixed rate products.  Because when the economy hits a snag, a good mortgage or a bad mortgage is hard to finance when income gets tight.
But in California, housing affordability flat out sucks for local families: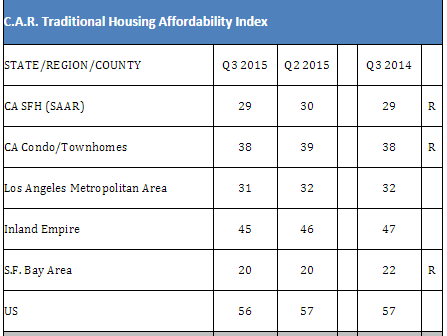 Source:  California Association of Realtors
How do we read the chart above?  In California, only 29 percent of households can afford to purchase a home today at current prices.  In the Bay Area that number is a pathetic 20 percent even with all the high paid tech cubicle warriors floating around.  In the LA/OC area the number is 31 percent.  The Inland Empire is still relatively affordable for local families.
Of course many Taco Tuesday boomers are realizing there is no free lunch.  Now, they are seeing many of their kids leaving college with insane levels of debt and unable to find good paying work. 2.3 million young adults live at home with their parents in California.  This trend is actually hitting the country: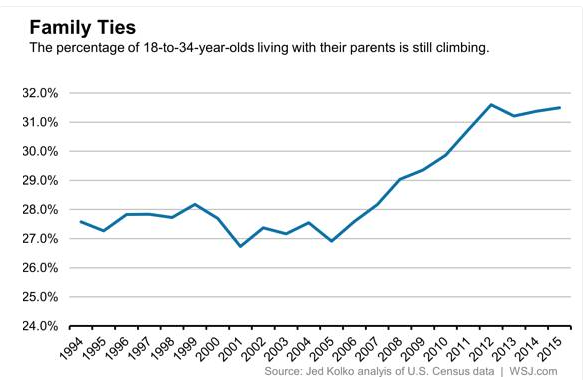 And while some homeowners might be loving their paper housing wealth, they hear the laments of their children unable to buy on their own.  I've heard it many times in "prime areas" where current owners say "I couldn't buy today if I had to" or "my kids have no way of buying in the immediate area" and somehow, that is as deep as the comment goes.  In San Francisco where the typical home sells for $1.2 million good luck on buying a place there today.  The comment of "look at how prices always goes up" fails to realize this affordability issue.  The fact of the matter is only very few can buy today.  It also misses the glaring fact that 1,000,000+ Californians that bought in the last 10 years lost their homes to foreclosure.  What does that mean?  Something like 20 percent of all home buyers in California lost their homes in the last decade.  Yeah, that fact rarely comes up.
And believe it or not, we still have about half a million homes underwater even with bubble like prices: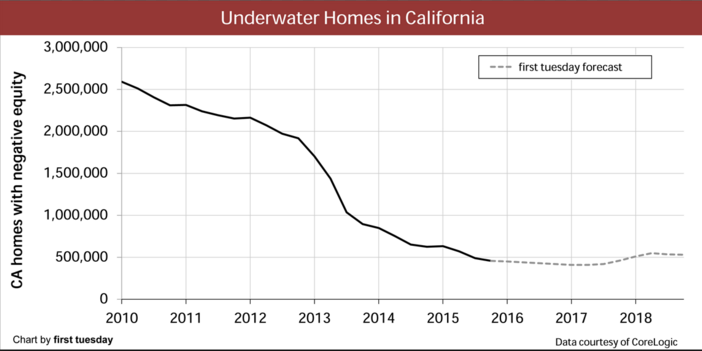 Prices today are insanely priced for most Californians.  The only way they can buy is with more leverage, artificially low interest rates, major down payment gifts from parents, or stretching their budgets into perilous territory.  Keep in mind the stock market hasn't had a major correction since 2009 and the housing bubble of 2007 is a distant memory to many.  So get those zero down mortgages folks!  Foreclosures never happen in California.

Did You Enjoy The Post? Subscribe to Dr. Housing Bubble's Blog to get updated housing commentary, analysis, and information.