We've all heard of people making dramatic commutes from the Inland Empire into Los Angeles and Orange counties.  Personally I know a couple of people making commutes of 1.5 hours each way.  Daily.  For a couple of these people the allure of a cheap and big McMansion was too loud to ignore.  Especially with the unaffordable cost of housing in Los Angeles and Orange counties people have opted to move further out.  What was interesting was a recent study examined the commuting behavior of those living in the Inland Empire.  What was found was not surprising but the large number of commuters is startling.  Beacon Economics prepared a study for UC Riverside's School of Business Administration and found that 40 percent of workers actually leave the Inland Empire to go to work.  It is a fascinating look at the massive commuting culture we have here in Southern California but also underscores the lack of affordable housing near places of employment.  Of course "close" is relative at least when it comes to driving.
The morning rush out of the Inland Empire
As noted, the study found that 40 percent of workers head out of the Inland Empire for work:
"(RedLandDaily) The Inland Empire may be a great place to live, but if you want to make some money, you may need to drive elsewhere.

More than 40percent of residents from San Bernardino and Riverside counties commute to work outside the region.

The long drives pay off. Those locals tend to have higher-skilled jobs and bring back larger checks.

The findings were released last week in a report prepared by Beacon Economics for the UC Riverside School of Business Administration."
Of those commuting, where are they going?

*Of all those commuting out of the Inland Empire
20 percent are heading into Los Angeles County, 12 percent to Orange County, and finally roughly 5 percent to San Diego County.  This underscores two main points that the research data also found:
-1.  The area does not have enough jobs for those working/living there

-2.  People with skills would rather commute and earn higher wages elsewhere
I doubt anyone enjoys long commutes on the 91, 60, 10, or 405.  Unless you are some sort of car masochist, Southern California has some of the worst traffic conditions in the nation.  There is now a term for those taking on large commutes, termed "megacommuters" or those that drive more than 90 minutes each way (or 50 miles each way).  This jump in commuting is across the nation: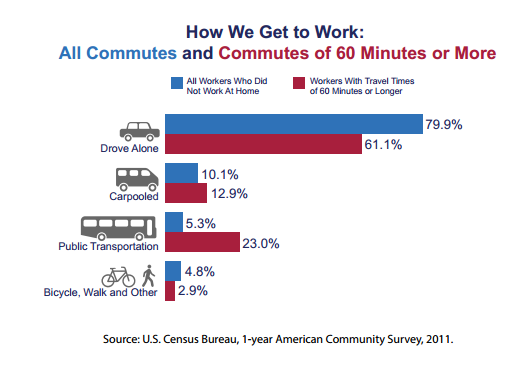 Source:  Census
Of course this is largely accomplished by being in a car.  Think of those taking the 90 minute drive each way from the Inland Empire to say Los Angeles County.  You are spending 3 hours each day in traffic (or 15 hours a week).  Say you work 50 weeks out of the year we are talking about 750 hours (93.75 additional days lost in traffic).  Are people getting paid for this lost productivity?  More importantly however is the reason for people taking this on.  The desire for affordable housing but also, a piece of McMansion USAville.
Replicate scarcity
The above referenced article also had some interesting perspectives:
"The objective for cities in areas like the Inland Empire is to somehow entice these high-tech folks to move to the Inland Empire. We would have to create some type of Brentwood or Coto de Caza atmosphere to get them to move here," Yates said.

"And trust me, they will relocate their business. The Inland Empire is a beautiful place to live – Suburbia USA – but we have very few places like a Coto de Caza or Brentwood. … So I think that is the problem."
First of all, people buy tear down junk in many areas like Santa Monica not because of the brick and mortar, but for the land underneath it.  Unlike parts of coastal L.A. or O.C., there is plenty of land in the Inland Empire: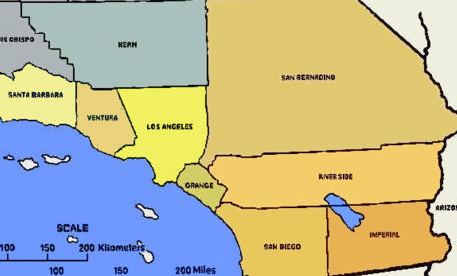 Does it look like Riverside or San Bernardino counties is going to run out of land anytime soon?  I think people also understate the cost of commuting.  The IRS provides a standard mileage rate for commuting (55.5 cents for 2012 – up to 56.5 cents for 2013).  This factors in fuel, wear, and maintenance on the car.  I ran the numbers for a few scenarios:

Keep in mind this is not factoring in the health consequences for sitting in a car for so long (and also the mental toll).  Also, the cost to heat a McMansion is going to run you into the hundreds of dollars since you are after all, living in an area with very high heats in the summer and cold nights in the winter.  This is to say that the $200,000 price for a large home is not truly the ultimate cost of buying out far from where you work.  Of course, there is obviously a market for this (hence the 40 percent that are commuting out of the Inland Empire).
The fact that the local economy is unable to support roughly half of its working residents tells you a lot regarding the sustainability of its economy.  This is why any recession is usually magnified for this area.  Apparently one of the solutions to the unaffordable prices in SoCal is move as far as you can until you qualify and can afford a large home.  I'm sure readers have their own stories to tell about people they know making herculean efforts in their California commutes.

Did You Enjoy The Post? Subscribe to Dr. Housing Bubble's Blog to get updated housing commentary, analysis, and information.