You may recall that in the distant past (Monday) the House of Representatives voted in a decent margin to say no to the housing bailout bill.  So after a 777 point market smack down, economic fear mongering, and polling politicians found out that Americans don't like the sound of the word "bailout."  So from now on, we are supposed to call this the Economic-Rescue-Happy-Housing-Good-4-Stocks-Never-C-A-Down-Day-$700 Billion-Fun-Money bill.  See how quickly our politicians respond to Main Street U.S.A.?  Oh wait, on Monday the House of Representatives actually carried the will of the people to Washington D.C. in a rare form of listening to Main Street.  Yet it wasn't good enough because after all, in their eyes everyone on Main Street is a bunch of suckers so we'll just repackage the same bill and pretend everything is different this time.
Think about it folks.  This new 451 revised and amended bill is basically doing what securitization did for mortgages.  That is, they are trying to repackage a bunch of crap with other more positive legislation and pretend that it is all good stuff.  I wonder if this bill is triple-AAA rated?  Did the Bear Stearns bailout help the market?  No, but it put $29 billion of taxpayer money at risk so J.P. Morgan Chase was able to get a discount deal on a famed investment bank.  What about the other bailouts of Fannie Mae/Freddie Mac and A.I.G.?  Clearly, these have done nothing except put $200 billion and $85 billion of taxpayer money at risk respectively.
While the House of Representatives voted this bill down in this fashion: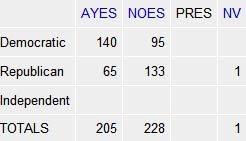 The Senate overwhelmingly passed this combination bill with a 74-25 vote, which two-thirds has nothing to do with the housing bill!  This new 451 page monstrosity is nothing more than a mangled mess that will do nothing except give Main Street the false perception that they are being protected.  The mainstream media and the majority of politicians want to pass this even though the majority of the public doesn't want it.  In fact, they have to lie to even garner a grain of salt of support.
I've been reading through this bill and I see no major changes that will help the average American.  As I discussed in my important 5 proposed solutions to this mess, the major items are not included and those that are important are written in a way that will make loopholes and work around a guarantee.  In fact, this bill is simply the 110 page updated bill with minor changes tacked onto the back of other legislation which has more popular favor.
In this article we will try to demystify some of the language in the bill and you can then judge for yourself if this is a good bill.  Some of you have also e-mailed me that the "write your representative" function on the House.gov site went down because of too much traffic.  Seriously folks!  The freaking U.S. government can't afford decent hosting services and here they want $700 billion additional funds for buying toxic mortgages?  You can only imagine how this money is going to be spent.  This is the biggest legal bank robbery from taxpayers to the hands of Wall Street banks and lenders in the history of the United States.
Emergency Economic Stabilization for Motherland U.S.A.
From the start, the bill promises unicorns and puppies for every American:
"(A) protects home values, college funds, retirement accounts, and life savings;"
You cannot protect home values!  Let us do an experiment folks.  If this bill passes, let us see how home prices are doing in one or two months.  Do you think they will suddenly stop falling?  Here's the bottom line on home prices.  They have to reflect the actual economic fundamentals of the immediate area.  I'm not talking about the economic fundamentals that people are "good workers" but these:
-Employment
-Median Income of Area
-Amenities
-Neighborhood Quality
-Job Growth
Those are the fundamentals.  Look at Los Angeles County for example.  We hit a peak of $550,000 only last year and now the median price is at $380,000.  Why the $170,000 price decline in one year?  Because area incomes never justified the peak price!  Heck, even the current price is too high based on the above fundamentals.  The only reason prices went out into the stratosphere was because of toxic mortgages.  The same mortgages that this bill is now purporting to save.  You really want to stabilize home prices?  How about using that $700 billion and increasing wages directly.  In fact, this would increase consumer hamster spending and soften the drop in home prices.  I'm not in favor of this method but it makes more sense if you are trying to promise a protection on home values.  Are you going to protect home values in Beverly Hills as well?  As you can see, the bill already starts out with a false promise.
College funds, retirement accounts, and life savings are scare tactics.  Who really wants to touch these third rails?  So they include them in the same sentence to freak you out.  You can't protect college funds especially when the top private schools in the country now run around $45,000+ a year.  Life savings?  Most Americans have a negative savings rate.
"(B) preserves homeownership and promotes jobs and economic growth"
See what they are doing?  They are taking you hostage here.  Preserving homeownership has nothing to do with promoting job growth.  In fact, wasn't it Bush that was promising the ownership society?  Want to see what happened to homeownership rates for a state like California?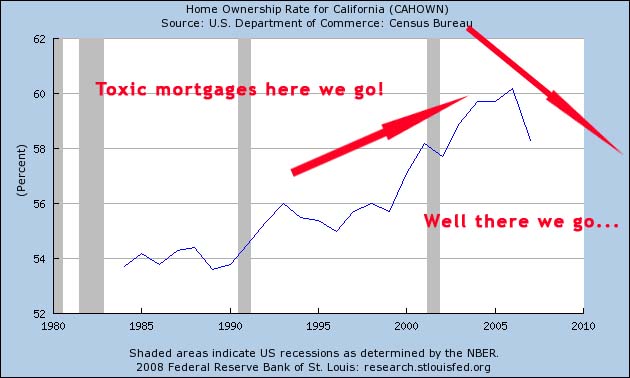 As I argued before and no politicians will dare say is that homeownership is a right that you earn.  It is not something that everyone should have just by default.  Simply saying populist things like "everyone should own a home" may score you some political points but really means nothing.  We have been living in a Ponzi scheme and this bill simply tries to keep the gig going for a bit longer.  And then they mention job growth?  Really.  Buying toxic mortgages is going to promote job growth how?  Is Waste Management going to hire more people to handle these crappy mortgages?
"(C) maximizes overall returns to the taxpayers of the United States; and"
Bwahaha!  Is Donald Trump writing this bill?
"(D) provides public accountability for the exercise of such authority."
Oh this should be good.  "Today, the U.S. taxpayer was just screwed out of $5 billion as the Economic Stabilization bill purchased a nice secure portfolio of triple-AAA rated bonds from a Central Valley California bank."  This is going to be an interesting experiment.  If they are truly transparent in their action, the public will rise up because there is nothing justifying the prices banks and lenders want.  I can only see the government keeping a lid on this if they do move forward with this.
"TARP.-The term ''TARP" means the Troubled Asset Relief Program established undersection 101."
You know we have problems when you name something TARP.  If you remove the "T" replace it with a "C" and switch the "A" and "R" and you get the true acronym for this package.  Troubled Asset relief?  Bwahaha!  Paging George Orwell!
So they'll have a solid and tight definition for "troubled assets" right?  Wrong again amigos!
"(9) TROUBLED ASSETS.-The term ''troubled assets" means-
(A) residential or commercial mortgages and any securities, obligations, or other instruments that are based on or related to such  mortgages, that in each case was originated or  issued on or before March 14, 2008, the purchase of which the Secretary determines promotes financial market stability; and
(B) any other financial instrument that the Secretary, after consultation with the Chairman of the Board of Governors of the Federal Reserve System, determines the purchase of which is necessary to promote financial market stability, but only upon transmittal of such determination, in writing, to the appropriate committees of Congress."
Don't you love using the word any?  When you include any mortgage this means that they can buy up a large portion of those $500 billion toxic Option ARM mortgages floating out there.  Thanks America!  Here in California we have $300 billion of that and given that our state just lost 41% in price off that median home price, you can rest assured we will probably eat up half of the bill alone and the other states will carry the weight.  If you are jumping up and down with joy at how wonderful this bill is so far, just wait for the next section.
We are then told that they can buy "any other financial instrument" that they see fit so long as Hank "Czar" Paulson talks with Ben "No Great Depression on my Watch" Bernanke.  I feel much more confident already don't you?  Oh, and the bill also states that they can buy the wide open "trouble asset" definition from "any" firm out there.  So many of those horrific banks on the "do not short list" are simply buying time until they can dump their funds into the TARP.  Why do you think the SEC just extended the short selling rule?  Wow, I'm impressed by all the help to Main Street America!  They are right, this bill is fantastic.
Under necessary actions we see job growth:
"(1) The Secretary shall have direct hiring authority with respect to the appointment of employees to administer this Act."
Time to send those resumes to Hank Paulson.  How is this going to help laid off auto workers in Michigan for example?  Maybe Main Street doesn't run through some states.  This bill doesn't even have the pricing mechanism in place and gives amble time for Paulson to come up with whatever he sees fit.  Now wouldn't you agree that you should set the rules before sending a $700 billion check down?  Take a look at what is going to be proposed after the fact:
"(1) Mechanisms for purchasing troubled assets.
(2) Methods for pricing and valuing troubled assets.
(3) Procedures for selecting asset managers.
(4) Criteria for identifying troubled assets for purchase."
1 through 4 are the most important items since it is all about price yet this bill doesn't stipulate how "troubled assets" will be priced.  As we just highlighted above, anything can be classified a trouble asset.  Time to get that yacht loan in the TARP program because that will surely stimulate the economy!
"SEC. 102. INSURANCE OF TROUBLED ASSETS."
Now this is a funny section.  If these "troubled assets" were so good as even Bill Gross, who has very little at stake here and no conflict of interest will tells us we may even turn a profit, then why would we need to collect insurance from those participating?  Because it is very (95+%) likely that most of these troubled loans will go down in a flaming display of disgrace.  If they are so confident then forget the insurance, which would only be an additional waste of money.  They just want to have a place next year to point and say, "see, we at least had an insurance fund."  Plus, you are collecting premiums from lenders on the verge of collapse that will cut into their capital base.  This is such a mess.
Let us continue.
"SEC. 103. CONSIDERATIONS."
You'll love this section.  This is the unicorn section where they promise the world.
"(1) protecting the interests of taxpayers by maximizing overall returns and minimizing the impact on the national debt;"
Bwahaha!  That is why we will lift the national debt ceiling to over 11 freaking trillion dollars!  No impact there!  And I'm itching to see how they'll maximize returns on these toxic loans.  Maybe we'll see a comeback of CDOs but this time we'll place them to the third-power.
"FINANCIAL STABILITY OVERSIGHT BOARD."
Want to know who will be on the oversight board?  Take a look at this and this will really make you feel great:
"(1) the Chairman of the Board of Governors of the Federal Reserve System;
(2) the Secretary
(3) the Director of the Federal Housing Finance Agency;
(4) the Chairman of the Securities Exchange Commission; and
(5) the Secretary of Housing and Urban Development."
Bwahahaha!  I am seriously laughing out loud right now folks!  Hold on.  Bwahahaha!  You mean Ben Bernanke, Hank Paulson, and even Chris Cox are going to oversee this thing?  This is our impartial oversight board?  We are so freaking screwed!
"SEC. 110. ASSISTANCE TO HOMEOWNERS."
Under this section they actually mention some help for homeowners like loan modification and interest rate drops on government loans.  Again, as I called for in my recent post and many others have as well, why not allow for cram downs by local bankruptcy judges?  Why not?  Because then the lenders who would have to confront their irresponsible lending and we wouldn't want that happening now would we?
"SEC. 111. EXECUTIVE COMPENSATION AND CORPORATE GOVERNANCE."
In a nutshell, there is no price cap.  It is up to Hank to determine.  A man worth in estimates of $500 million, much from working at Goldman Sachs knows about compensation don't you think?  In the next section it also gives the Treasury authority to work with foreign central banks.  Why not rescue the world banks while we are at it?
SEC. 114. MARKET TRANSPARENCY.
Within 2 days of purchasing craptastic mortgages, they'll have to go public in some electronic form.  Imagine a Google interface except everything you pull up will be toxic assets.  Sort of like looking at the SEC short list except in a searchable format.
SEC. 115. GRADUATED AUTHORIZATION TO PURCHASE.
"(1) Effective upon the date of enactment of this Act, such authority shall be limited to $250,000,000,000 outstanding at any one time."
$250 billion?  Hey, this bill is so great why not add an additional $100 billion.  In fact, he just needs to get Presidential approval for an additional $100 billion.  If he wants the full $700 billion he needs to go back to Congress.  And we know how strong Congress will stand for Main Street U.S.A.
I'm totally sold.  But where is this money going to come from?
"SEC. 122. INCREASE IN STATUTORY LIMIT ON THE PUBLIC DEBT.
Subsection (b) of section 3101 of title 31, United States Code, is amended by striking out the dollar limitation contained in such subsection and inserting''$11,315,000,000,000"."
$11.3 trillion just doesn't buy you what it once did.  With one sentence, you now have access to nearly a trillion dollars and the ability to annihilate the dollar for the sake of Wall Street and lenders who made shoddy mortgages.
"SEC. 132. AUTHORITY TO SUSPEND MARK-TO-MARKET ACCOUNTING."
Yup.  Why mark to market when we can mark to disco and all run around happy with delusional valuations?  Let us play hide the turd until the government owns the asset which will then go on the semi-Google for TARP and then it will be mark to market but we will now foot the bill.  This should be labeled "Main Street we Love You:  Trust Us we are Here for You 2008 Love Bill."
"SEC. 136. TEMPORARY INCREASE IN DEPOSIT AND SHARE INSURANCE COVERAGE."
This bill also pushes the limit on the FDIC insurance from $100,000 to $250,000.  I mean this is really what we need given Americans have a negative savings rate.  In fact, you are already able to have multiple funds in one bank and be insured up to more than $100,000 if you spent a few minutes understanding the system.  Or why not have $100,000 in a few banks?  This incentive here is simply to keep people from taking out their money from places like WaMu and Wachovia which saw their companies get eaten up because people started pulling money at higher rates.  Imagine that, people taking out their money from non-functional toxic mortgage slinging institutions.  No moral hazard here at all.  You do realize that the FDIC is now on the hook for bad loans above and beyond $42 billion in losses at Wachovia right?  They will materialize.  Oh wait.  I forgot that this bill promises to maintain home prices so everything is fine.
"DIVISION B-ENERGY IMPROVEMENT AND EXTENSION ACT OF 2008" 
What the hell is this and what does this have to do with the credit markets?  That's right!  This is the one catchall bill that will do everything including energy improvement.  Stuff something the public is really in favor (energy independence) with something they are fiercely opposed to (Wall Street and lender bailout) in this bill.  In this part you find tax credits, wind farms, and everything else which has nothing to do with the first 100+ pages of the bill.
"DIVISION C-TAX EXTENDERS AND ALTERNATIVE MINIMUM TAX RELIEF"
Another item Americans are largely in favor for.  Sweeten the pot with things that need to be passed on their own!
"SEC. 309. EXTENSION OF ECONOMIC DEVELOPMENT CREDIT FOR AMERICAN SAMOA."
No seriously, this is also in the package.  How about this as well:
"SEC. 317. SEVEN-YEAR COST RECOVERY PERIOD FOR MOTORSPORTS RACING TRACK FACILITY."
"SEC. 321. ENHANCED DEDUCTION FOR QUALIFIED COM1PUTER CONTRIBUTIONS."
"SEC. 325. EXTENSION AND MODIFICATION OF DUTY SUSPENSION ON WOOL PRODUCTS; WOOL RESEARCH FUND; WOOL DUTY REFUNDS."
And on and on with things that have nothing to do with the bailout.  In fact, all they did was stick the 110 page bill that was voted down by the House of Reps on Monday and put it in the front of this package deal with other legislation which is much more favorable.  There are minor amendments such as the FDIC limit increase but in terms of oversight, nothing.  In terms of CEO compensation, nothing.  In regards to valuing assets, nothing.  The mainstream pump media again is now saying this is a 415 page bill but in reality it is the 110 page bill that got voted down wrapped in a package of other legislation to force it down the throats of taxpayers.  Politicians do this all the time.  Those that vote it down will get derided for voting against the "AMT" legislation or tax breaks for local municipalities and states.  Today I saw many talking heads talking about the massive changes.  Please, they didn't even bother reading this bill since it would clearly stare in their face a near mirror reflection of the 110 page bill that was knocked down earlier this week.
What a load.  They think you are a sucker.  Keep contacting your representatives.  What needs to be done is break apart what is essentially 3 bills in one and vote on them individually.  If this bailout is that important, don't you think that the legislation pushing it should stand on its own to get passed and not crammed together in a pile of legislation garbage?  Welcome to the new world.  Try contacting your Reps since that is the last hope:
You can try reading the 415 page bill yourself but be forewarned, it is so toxic that maybe the TARP will buy it.  I wonder when that purchase will show up online?
Did You Enjoy The Post? Subscribe to Dr. Housing Bubble's Blog to get updated housing commentary, analysis, and information.