Instead of the House of Representatives sending in a nice sealed envelope a candy gram to Hank Paulson of $700 billion, they instead decided to listen to the people and did a reverse bailout wiping out $1.2 trillion in stock market wealth.  Go figure.  The House of Representatives actually listened to the massive uprising against this poorly devised bill.  You wouldn't know this from the mainstream media since they of course know much more about the markets than us regular citizens and had already started creating Photoshop templates of "bailout success!" to run for the entire day next to their tickers.  In addition, we have a large group of politicians (not economist or those with understanding of the markets) telling us that if we don't sign off, there would be hell to pay.  Guess what?  That price tag was $1.2 trillion today.
I was jumping back and forth through various cable news and financial shows and you would think that they went out to the "investment pundit" talking head swap meet to gather the guests for the night.  The message was simple:
"How can they allow this to happen!"
"People won't have access to their credit on Main Street!  We must help me, I mean them!"
"These are big problems and we need to get this bill passed now!"
You get the point.  To test this theory I went on "Main Street" to my local bank and guess what?  Incredibly, they still have the ability to make loans.  What a shocker.  They don't however have the power to make option ARM, interest only, or other toxic mortgages but how is this bad?  I wanted to compile a list of Representatives from California who voted for and against this plan:

Incredibly, the vote for California was extraordinarily close: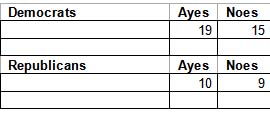 Total Ayes:  29
Total Noes:  24
If you have a chance, please take a moment to contact your Representative and let them know how you think:  House of Representatives CA
If you are wondering about the quality of some the Aye votes, you can look no further than that of Laura Richardson.  Who better to vote for this plan than a Congresswoman who bought a home in Sacramento with a no money down subprime mortgage from now defunct Washington Mutual?  Not only was this her method of helping the housing market, she stopped making payments on the home until a real estate broker picked up the home via a foreclosure.
Maybe she had an incentive to get this bill passed?  Okay, maybe she lost one home by mistake.  But what about going in arrears 3 freaking times on another home in Long Beach and another in San Pedro!  The home in Long Beach is now caught up according to the Press Telegram but she is still behind on the San Pedro home.
Oh, and she also took a loan from a local strip club owner.  Thanks for that aye vote Laura!  Hope you enjoy your taxpayer funded $169,300 a year salary for voting.
Aside from that there were some shockers on the noes.  Again, if you can please take the time to offer your support to those who stood up against the mainstream media, opportunistic politicians, and Wall Street.  The mainstream media wants to scare you into thinking that come tomorrow, you will have zero access to credit.  Are you kidding me?  If that is the case, I'll go on Virgin Lending and get a loan.  If we can make loans to third world countries for seed money, you think we aren't going to get something here?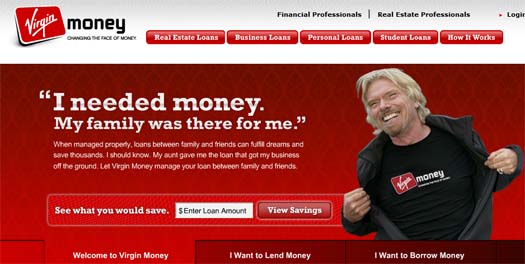 And of course I ran a quick tally for New York and out of 29 Representatives only 4 voted no.  How shocking that 84% of New York Representatives wanted this Wall Street welfare check to go through.
The bill ultimately was setup as a failure from day one.  Paulson handing out a 3 page nasty gram was absolutely pathetic.  It essentially amounted to an ultimatum with Czar like powers.  The Congress from day one should have rejected the bail out and started from scratch.  Instead, they went along with a fundamentally bad idea for political fear and as it turned out after nearly 2 weeks, the foundation was so shoddy that they will need to go back to the drawing board.
This bill was a pathetic attempt at smuggling money to Wall Street from Main Street although it was under the guise as help for the common person.  Even with all the new modifications in the 110 page updated bill there were so many loopholes, that it was only a matter of days before Wall Street gamed the system.  "Some CEO compensation" or the lack of clarity in how assets would be priced were main sticking points.
Some of you may be thinking that many of us simply want to punish Wall Street at the expense of everyone else.  Here's the thing, Wall Street should be punished yet the notion that if Wall Street fails then we all fail is patently disingenuous.  In fact, the House of Representatives on both sides rose up today to vote this thing down: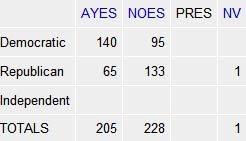 From watching the mainstream media, you would think that what the House did was a crime.  They simply held their own and represented their constituents.  A large group of Democrats and Republicans saw something wrong with this bill.  I'll give you 5 major failures with the initial bill and later in the article offer 5 new sticking points in any bail out.
5 Reasons This Bailout Failed
(1)  Mainstream Media:  The mainstream media ran by journalist, some that are amazing and some that just want to sell ad space for one reason or another ran with the pro-bailout propaganda since day one.  In fact, many were already on the bandwagon with the 3 page proposal from Paulson!  How in the hell can you support a $700 billion bailout with 3 pages only?  The media being hurt by the down economy thrives on ad revenues.  Who pays these revenues?  Companies.  Which companies?  Companies on or that trade on Wall Street.  They know which side their toast is buttered on.
(2)  Wall Street:  Wall Street flat out miscalculated the anger on Main Street.  They wanted to scare mom and pop investors that should they not vote, their 401(k) was going to see a big hit.  Guess what?  Many don't even have a 401(k).  The next fear factor was losing home equity.  Guess what?  Many people, approximately 30% own their home outright.  They don't have plans on selling and never did.  They didn't play in the Wall Street casino.  Many in their 20s and 30s are simply trying to advance in their careers and have had very little time to build a major retirement holding in their 401(k).  It is worth repeating the break down of median income households and their 401(k):
401(k) Median Amount
20 year olds
(Salary Range)$40,000 – $60,000 =    401(k) Median Amount $16,393
30 year olds
$40,000 – $60,000 =   $38,693
40 year olds
$40,000 – $60,000 = $78,834
50 year olds
$40,000 – $60,000 = $99,932
60 year olds
$40,000 – $60,000 = $97,588
As I discussed in a previous article:
"57 million households own stocks directly or through mutual funds.  Given that there are 105,480,101 or so households, that means 54% of people will be impacted by a decline in stock values directly in their portfolio.  What this also means is that 46% of Americans do not own any stocks."
They assumed fear was enough to get this thing going and have the public rally behind the cry.  Well as it turns out, half of Americans don't own stocks and the other groups are split into different camps.  For example, a younger working couple is more worried about their future job security than losing say 20% of their account value which is probably only $16,000 to $50,000.  So the loss ranges from $3,200 to $10,000.  One visit to the doctor for a minor injury will cost you this.
(3)  Current Administration:  Paulson carrying the flag of the current administration did not have enough political capital to get this going even if the bill was drafted correctly from day one.  It would need buy-in and not a fear mongering ultimatum drafted on 3 pages.  Even if you look at the votes, it is the current administration's party that revolted in large numbers against this bill.  The majority of the noes came from House Republicans including folks like Dr. Ron Paul.
You also had a large number of Democrats including Dennis Kucinich who voted no on the bill.  Ironically, it was the polar opposite sides of both parties that came together against this poorly constructed bill.  How ironic that the most liberal and the most conservative members where saying nearly the same thing.  The left was arguing that this bill amounted to a blank check to Wall Street with no protection for the American tax payer.  The right was arguing that this goes completely in the face of free market capitalism and amounts to corporate socialism.  Strange bedfellows indeed today.  Kudos for those members that stood on conviction from both sides of the isle.
(4)  Condescending to Public:  It would help if Paulson explained why he needed $700 billion!  I mean talk about delusion.  The public is furious because they perceived what the mainstream media and certain politicians could not.  That this bill was a sham which it is.  Paulson and some Congressional members never leveled with the American public.  All they kept saying was "if you don't vote for this, ahhhh man, you don't even want to know."  Great way to get people to vote.  And then they argue about the one reason many Americans view as the root cause of this mess.  More credit!  Many prudent Americans feel that credit itself was the problem and now they want these folks to use their money to dole out to credit addicted companies?  No way.  The mainstream media also felt that if it repeated the same message over and over the public would kowtow and it would be a done deal.
Even on Sunday night they were talking about things as if the bill had already passed.  This is the same media who was asleep at the wheel during the housing bubble.  In fact, they glamorized it with housing bubble porn with flip this house shows and remodeling gone wild shows.
(5)  Populist Uprising:  People are fed up.  People are sick and tired of being treated as a consumerist hamster.  There is such a large disconnect from the realities of Main Street from those on Wall Street and the lives of those in the mainstream media.  They simply do not understand the silent anger many Americans feel.  These Americans despise the fact that we are having to answer to foreign banks because our local representatives cannot manage their Wall Street masters.  Many of these Americans fall under the Benjamin Franklin rules of frugality:
"1. A man may, if he knows not how to save as he gets, keep his nose all his life to the grindstone, and die not worth a groat at last.
2. Beware of little expenses; a small leak will sink a great ship.
3. Buy what thou hast no need of, and before long thou shalt sell thy necessaries.
4. A fat kitchen makes a lean will.
5. Many estates are spent in the getting, Since women for tea forsook spinning and knitting, And men for punch forsook hewing and splitting.
6. Think of saving as well as of getting: the Indies have not made Spain rich, because her outgoes are greater than her incomes.
7. Women and wine, game and deceit, Make the wealth small, and the wants great.
8. What maintains one vice, would bring up two children.
9. Who dainties love, shall beggars prove.
10. Fools make Feasts, and wise men eat them."
1776 where art thou?  Many Americans are yearning for a return to a time when our economic prowess was based on our ability to spend and invest wisely.  Not what we have now which is Wall Street turned into a casino for the connected and wealthy.  The ability for information to travel so fast and people to be informed is fantastic.  The fact that many of you contacted your Representatives shows that we are in a new era of politics.  It was only a matter of time before the politicians listened to the will of the people.  This was one of those rare moments.
They'll try again to jam something down the throat of the public but hopefully they scratch this bill and start from scratch.  Maybe, they'll even explain to us why they needed $700 billion.  Let us first look at the current price tag:

We've already put at risk nearly $1 trillion in taxpayer money.  We want to put $700 billion more at risk?  How well did that last $1 trillion go?  The irony is one of the more thought-out plans, the Housing and Economic Recovery Act of 2008 will be utilized only to a minimum extent.  In fact, we will use some of the points in this bill for our new proposal.  Many of the members will be forced to action so a bailout is going to happen.  Let us ensure that they include these plans at a minimum.
5 Step Proposed Plan – New Requests
(1)  Mortgage Cram-Downs:  It is fascinating that no one is talking about this in the current bill.  One of the first things that got thrown to the wayside is cram downs.  Mortgage cram downs are the quickest thing that can be done right now to help homeowners in trouble.  How so?  Let us say in bankruptcy a judge looks at a borrower who has a $100,000 valued home with a $90,000 1st home mortgage and $25,000 in total unsecured debt.  The judge can cram down the unsecured debt to $10,000 thus matching the total assets of the borrower ($100,000 home) to the total debt ($90,000 1st mortgage + $10,000 unsecured debt).  Why was this removed?  Credit card companies and 2nd note mortgage holders would get wiped out with this legislation.  They will not volunteer for this since there is nothing in it for them.  Clearly they would rather unload the debt to you instead of realizing the loss from their imprudent lending.
(2)  Mark to Market Similar to Housing and Economic Recovery Act of 2008:  It is amazing that the new legislation actually wanted to halt the mark to market accounting rules.  What this did is gives an out for institutions to once again hide the sausage until they unload it onto the public.  What needs to be done is what was proposed in the Housing and Economic Recovery Act of 2008.  Lenders that want to participate can do so by doing the following:
*Take a current appraisal of home
*90% offer from government of current appraisal
*One-time 5% fee to build up loss fund
*Homeowners participate in equity sharing with government tiered over 5 years
So how would this work?  Say one of those craptastic WaMu loans made at the peak for $600,000 is now in trouble.  The current home value is $400,000.  Should JP Morgan wish to unload this loan, they would get $340,000 and the borrower now has a reduced loan.  The borrower now has to share any equity gains with the government for the next X years.  This of course will mitigate some of the moral hazard problem.  Everyone wins.  JP Morgan has already estimated that they will write down $31 billion in loans from the WaMu garbage can so at least they get something here.  Borrowers get to stay in their home and the government at least has a way to recoup some losses later.
(3)  Zero CEO Compensation on Institutions that Participate:  This one is simple.  CEOs shouldn't get one penny for participating in the bailout.  If they have managed to run their company into the ground and are asking for taxpayer assistance, we get to set the terms.  They are lucky.  In fact, we should give them an incentive that should they cooperative for the next few years they won't be prosecuted to the fullest extent of the law when we have our 1930s perp walk sessions which will happen.  CEO compensation?  Are you freaking kidding me.  How was this even in the bill?
(4)  Massive Enforcement and Regulatory Oversight:  Agencies like the former OFHEO and the SEC have been so stripped down and starved over the past decades that they simply had no power over a multi-trillion dollar market.  First, we need to resurrect a similar law such as the Glass Steagall Act that was repealed by the Gramm-Leach-Biley Act in 1999.  You can almost pinpoint the moment the stupid toxic CDO and CDS markets exploded: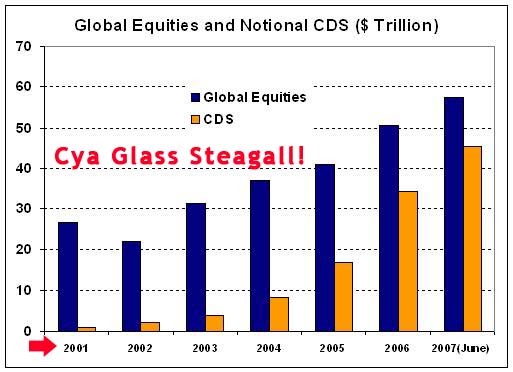 *Source:  Sudden Debt 
For nearly an entire decade, this market went unregulated.  Now that things are blowing up they don't want to tell us where they will use the $700 billion and with utmost arrogance want to keep this market in the dark.  They created their own nightmare.  The reason for market transparency is that at any given time, you should be able to unload your assets and there will be a market to sell into.  Those people that wanted deregulation got exactly that in a black and chaotic hole.  Now they want to impose rules on the jungle of debt.  With such a hidden world and no transparency, no one really knows what some of these assets are worth in the real world.  Given the stunning amount of this out there, don't you think the public has an obligation to have leaders explain what is going on before they start dumping their money into the abyss?
(5)  Liquidation of Lenders:  Finally, there are some pathetic lending institutions out there.  They need to fail and the quicker the better.  We are already seeing some of this.  The big are eating the weak.  JP Morgan Chase eats up WaMu.  Wachovia gets swallowed up by Citi.  You get the point.  The reason this needs to accelerate is once the market stabilizes, these institutions will once again inject liquidity.  Yet this will be a slow process.  Otherwise, more crap will hit the market.  How so?
Well in the midst of all this insanity Wachovia was bought out by Citi in what is another government bailout.  They won't call it this but it is absolutely a bailout.  First, Citi bought out Wachovia with the full knowledge that they will only absorb $42 billion in losses from the Wachovia mortgage portfolio.  The problem?  Wachovia with their smart buy move of uber toxic mortgage all-star Golden West has approximately a portfolio of $120 billion in pay option mortgages mostly here in California.  Who will assume losses above and beyond the $42 billion?  The FDIC.  How much does the FDIC currently have?  About $43 billion.
Please continue contacting your Representatives since this battle is not over.  If they try anything new at least there are some good ideas that can be implemented:
Any idea is better than, "you can trust me with $700 billion.  I'm from Goldman Sachs and we're here to help."
Did You Enjoy The Post? Subscribe to Dr. Housing Bubble's Blog to get updated housing commentary, analysis, and information.