Typically at the height of any bubble, you have housing cheerleaders talking about a "new normal" as if they have magically figured out a new secret.  California is a land of booms and busts.  We just had a boom.  So counter to all of the history we have and common sense, somehow there is no correction to follow, this time.  That is the logic.  First, you have the idea of ignoring income.  Second, you have the idea of every area being a candidate for gentrification.  Finally, you have the "if you can't afford it, leave" argument.  Forget about any Black Swan like events that are bound to happen.  The middle class is already leaving, many into inland areas of California but many to more affordable states.  Many house humpers use emotion to base their arguments.  I understand this.  Go to any open house and you have people looking like lemmings trying to buy a home.  Most of the time, there is this deep source of desperation in their eyes.  You do realize you are locking yourself into a crap shack for 30 years right?  That is assuming many can compete which they can't (hence the domestic out migration).  Many are leaving to places like Texas.  Texas as you know has incredibly affordable real estate relative to SoCal.  And SoCal domestic residents have figured this out.
Housing values in SoCal impact Texas migration patterns
One of the very interesting points the data is showing is that at peaks, the SoCal area is a top destination of migrants into Texas real estate.  Take the Dallas-Fort Worth market.  Typically the top two sources of migrants into the Dallas-Fort Worth market come from other Texas areas.  These tend to be Houston and Austin.  That makes sense.
But at the height of our bubbles in SoCal, suddenly Los Angeles shows up on the list as number two (even in non-peak years the LA metro area tends to be a big source of movers).  Take a look: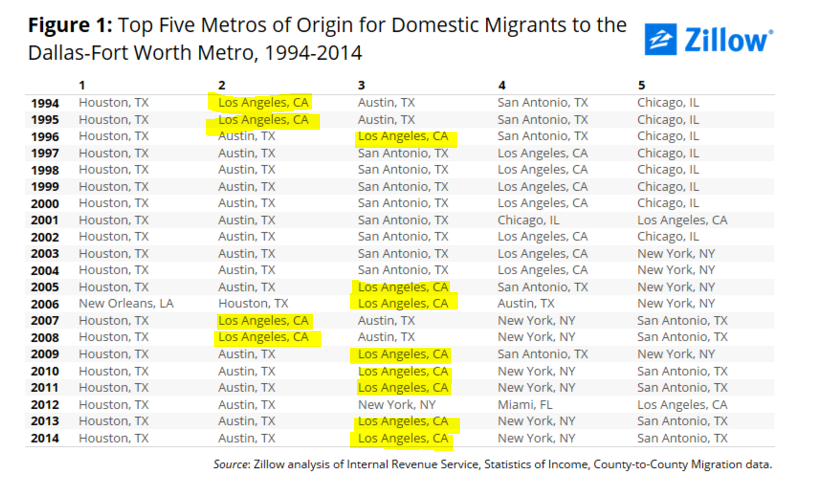 1994 and 1995 was near the peak of another SoCal bubble.  Incomes do matter.  And look at 2007 and 2008.  Incomes do matter.  Even in off years prices are still very high for the middle class in California and many continue to move out.  So where is the buying coming from?  We've talked about it that there is a lot of investor money, foreign money, and house horny couples willing to max out their entire balance sheet for a crap shack.  This changes the culture of areas: more Californians in Texas and more foreigners in target cities.
To that point, you have places like Irvine trying to relocate a veteran's cemetery because of feng shui beliefs.  Part of this is cultural but another part of this is people trying to keep home values inflated for those likely to buy (in the case of Irvine, large amounts of money from China):
"(OC Register) IRVINE – In less than a decade, runways where fighter jets once lofted Marines into the air could become acres of green grass dotted with white headstones marking the Southern California Veterans Cemetery.

That image, for many veterans and their families, provides comfort.

But for a group of Asian residents that live near Irvine's Great Park, the image is appalling – any cemetery would violate a strong cultural taboo of living near the dead.

Now, even as the state Department of Veterans Affairs prepares to request federal funds to build the cemetery, residents in the neighborhood – including people who aren't worried about the bad feng shui – are pushing city officials and others to make sure it's built somewhere else. Property values, many say, will be damaged."
Just recently the cemetery was voted to move forward.  But over the years many middle class Californians have voted with their feet and have left the state to Texas.  You can chart this out: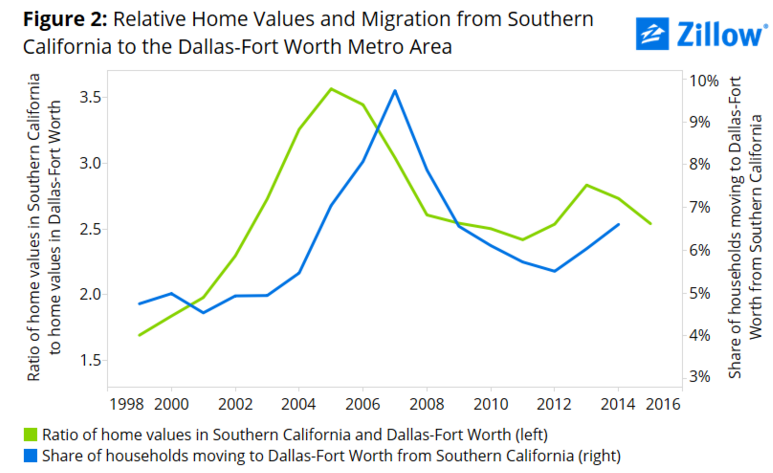 This reinforces the previous data showing that when SoCal crap shacks get out of whack on the values front, people start leaving the state.  Now the majority don't leave and that has created a boom in rental prices and we now have many more households that rent.
And companies of course are also following:
"(Zillow) Despite recent gains, homes in Dallas remain much more affordable than homes in Southern California, which may act as a natural draw for those Southern Californians willing and able to move and looking to reduce housing costs. The median home value in the Dallas-Fort Worth metro was $177,600 at the end of 2015, compared to an average of $451,300 across Southern California.

Additionally, a number of large companies recently announced plans to relocate or expand corporate offices in the Dallas-Fort Worth area, which is also likely to bring new residents from farther-flung and potentially more expensive markets, including Southern California. Car manufacturing giant Toyota moved its North American corporate headquarters from Torrance, California (just outside of Los Angeles), to Plano, Texas (northeast of Dallas), in 2014. Liberty Mutual Insurance, State Farm Insurance and Facebook are also among the larger corporate names to expand in the Dallas area in recent years."
Torrance is crap shack central.  So obviously extremely high home prices do have a larger impact on local economics as well.  Of course some will say incomes don't matter.  Like most things in life, it doesn't matter until it does.
gnals and demand would suggest otherwise.  They look at demographics and income figures and realize people simply can't afford homes at these prices.  There is still a housing crisis in America.  All it means is that more income is being sucked into a largely unproductive sector of our economy.

Did You Enjoy The Post? Subscribe to Dr. Housing Bubble's Blog to get updated housing commentary, analysis, and information.