The housing market is overheating and you can sense it when you speak to house humping enthusiast.  The housing market can do no wrong and a correction isn't even in the realm of possibility according to their views.  But even recently, the National Association of Realtors recognized reality when they stated the obvious: rising home prices with no rise in household incomes is not good.  This is why in California we are facing rental Armageddon.  People are now desperate to buy and are getting all kinds of odd mortgages including those that come with zero percent down basically shifting a large part of the risk to the lender.  These mortgages only make sense if you believe housing will never go down.  Many Millennials are still struggling to buy given their weak income growth.  Today we'll take a look at a home in Culver City and see how far $1 million will take us.
The NAR acknowledges one piece of reality
The days are getting longer and the time to lust after housing is just around the corner.  Spring kicks off the crazy days of housing that go all the way into fall.  Those itching to buy are going to find inflated prices and are going to need to stretch those budgets.  House lusters seem to forget that a mortgage is for 30 freaking years.  30 years ago Ronald Reagan was President and the space shuttle Challenger explodes over Cape Canaveral.  Now that is how long you will be paying on that crap shack you are hoping for.
Even the NAR realizes something is off:
"The spring buying season is right around the corner and current supply levels aren't even close to what's needed to accommodate the subsequent growth in housing demand," says Yun. "Home prices ascending near or above double-digit appreciation aren't healthy – especially considering the fact that household income and wages are barely rising."
In other words, buy now or be priced out forever.  Let us take a look at what we can buy in Culver City for $1 million: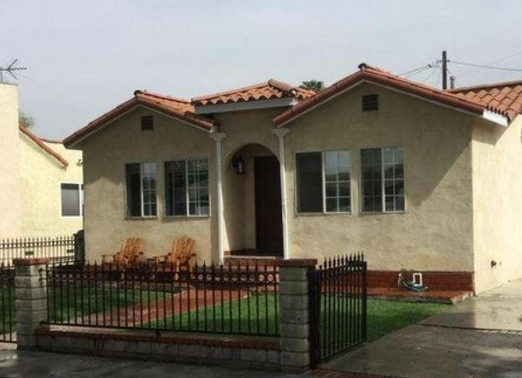 3130 Reid Ave, Culver City, CA 90232
3 beds 2 baths 1,415 sqft
Let us examine the ad:
"Lovely Culver City home located in a quiet tree-line street near Syd Kronenthal Park. This 4-bedroom home offers a remodeled kitchen with granite countertop, stainless steel appliances, large dining area, large master bedroom with master bath, central heat and air, 2-car detached garage and a cemented rear yard."
I also like that on Zillow they tell us "I love my kitchen and I love the quite neighbor."  So what is this place selling for?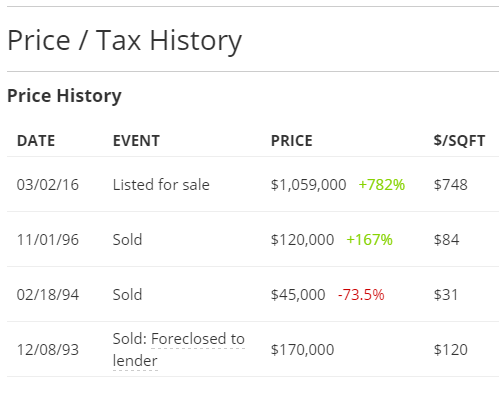 Someone is cashing in on that lottery ticket.  The last sales price in 1996 was for $120,000.  It is pretty impressive that someone got this place back in 1994 for $45,000.  And this home had a foreclosure back in 1993.  This is one of those cases that the current owners are unlikely to have the income to purchase this house back at the current asking price.  So let us look at all the immediate homes around this property: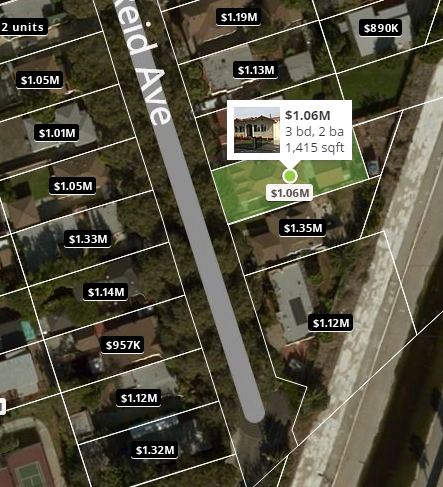 3134 Reid Ave, Culver City, CA 90232 3 beds 3 baths 1,914 square feet (last sales price – $0 in 1984 – looks to be a family transfer).  House now has a Zillow estimate of $1,352,435
3126 Reid Ave, Culver City, CA 90232 2 beds and 1 bath 1, 1,040 square feet (last sales price – $135,000 in 1996.  Home has been tapped out for some money.  Was listed as a rental in 2012 for $2,450 a month.  Current Zillow estimate of $1,007,881
3122 Reid Ave, Culver City, CA 90232 3 beds 2 baths, 1,318 square feet (last sales price $830,500 in 2014.  Purchased with 20 percent down.  Current loan balance of roughly $646,000)
3143 Reid Ave, Culver City, CA 90232 2 beds 1 bath, 933 square feet (last sales price – $235,002 in 1990.  Still has nearly $280,000 in loans because of additional loans)
3133 Reid Ave, Culver City, CA 90232 3 beds 2 baths, 1,359 square feet (last sales price – $250,000 in 2000.  Zillow estimate of $1,140,056)
3127 Reid Ave, Culver City, CA 90232 5 beds, 3 baths, 1,845 square feet (last sales price – $26,500 back in 1974.  Zillow estimate of $1,327,277)
3125 Reid Ave, Culver City, CA 90232 3 beds 1 bath – 1,125 square feet (last sales price – $138,000 back in 1986.  Zillow estimate of $1,046,267)
3112 Reid Ave, Culver City, CA 90232 2 beds 1 bath, 1,058 square feet (last sales price – $112,500 back in 1985.  Zillow estimate of $1,030,879)
Welcome to the odd world of real estate pricing.  In this area all homes are pulling in Zillow estimates of $1 million or more but look at the sales prices here.  Only one property sold recently in 2014 and that place sold for $830,500.  The buyers bought with 20 percent down and are still carrying a nice mortgage.  The point is, real estate prices are set at the margin and the margin in real estate is thin.  That is why we are seeing all these creative loans making their way into the market to justify these ridiculous prices.  All of these current owners will be profitable if prices fall 10 percent, 20 percent, or even more because they have a large buffer.  Also, the only reason these homes sell for these prices is because someone is willing to pay for that.  But is that statement alone enough to justify value?  One of the places was rented out for $2,450 recently – so you can either rent for $2,450 or pay $1 million).  The mantra of "always buy real estate" doesn't hold at bubble peaks.
Say this place sells for the asking price.  All of a sudden homes in the area are "worth" $1 million?  Using comps and other methods simply shows how one or two properties can distort perception here – and this goes both ways especially when markets start trending lower.  And here is another point – the new buyers are going to be paying 2 or 3 times more in annual taxes just because they are buying today: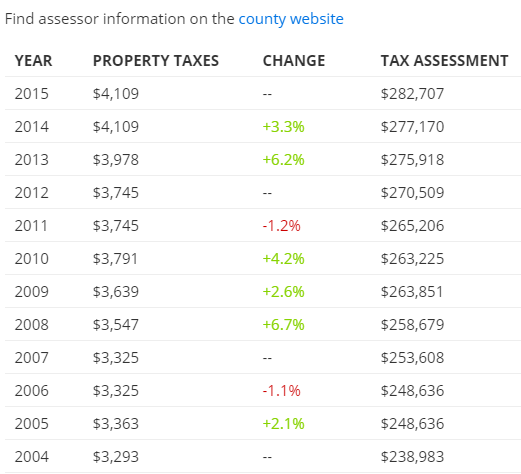 The current owners are paying taxes on this property as if it were valued at $288,707.  Say the new buyer pays the asking price of $1,059,000.  You are now paying way more in property taxes for no additional services.  This is why states love housing bubbles.  More money for no net added benefits.
In the end as the NAR mentioned, incomes do matter and with more banks and lenders pushing the limits, we are entering into a very frothy market.  An area with million dollar homes and no one paying $1 million.

Did You Enjoy The Post? Subscribe to Dr. Housing Bubble's Blog to get updated housing commentary, analysis, and information.