I was up in the Bay Area in the fall and people love talking about real estate just as much as they like talking about the latest startup.  Housing values in the Bay Area make Southern California look affordable.  The median price for a sold home in San Francisco is $1.2 million.  And the market still seems to have momentum.  A lot of money that has flowed into San Francisco has come from foreign investors but also wealthy tech households.  Tech has been on fire since the last housing bust.  While some people want to believe tech and Bay Area housing are decoupled, there is evidence that there is a deep connection between the two.  Rents certainly adjust based on market forces.  Depending on how deep the correction, there is likely to be an impact on housing.  They always say a financial bubble is only visible once it is popped but there are clear signs when you are in one.  Let us look at some figures here.
San Francisco Rents and NASDAQ
It shouldn't come as a surprise that rents are deeply correlated with the health of the overall economy.  In San Francisco, a large part of the economy is tech connected.  It is interesting to look at some data on this because it does highlight a rather strong connection between rents and the NASDAQ.
Take a look at this chart: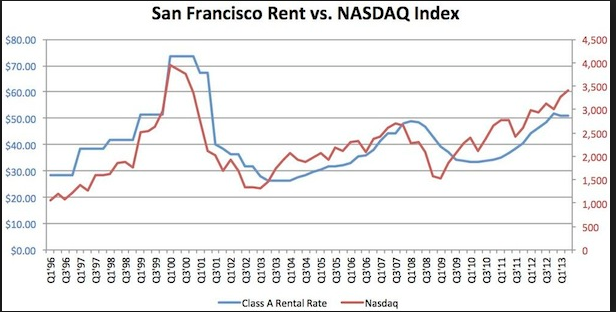 This chart is a bit outdated since rents are now at record levels but so is the NASDAQ (a bit off recently) relative to the bubble that occurred in the late 90s and early 2000s.  Since then, we've added many more tech companies with substance (just look at the market cap of Google, Apple, and Amazon relative to what it was then).  So there is real wealth and companies here, no doubt.  But we also have a massive amount of venture capital chasing after the next big hit.  This has been going on for a few years now and insiders are starting to see the echoes of the past.
Here is an interesting chart showing the ebb and flow of prices in San Francisco real estate: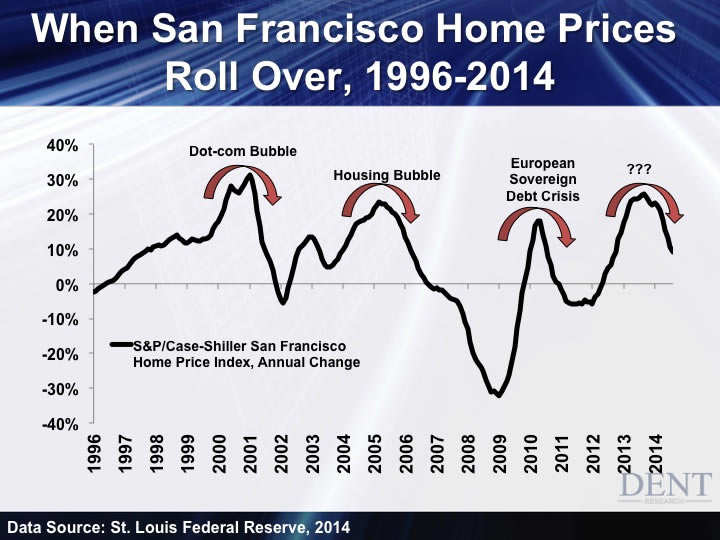 Prices do go down in San Francisco contrary to the overall mythology of the area.  The argument is that in the long-run, you should buy no matter what since prices will go up.  So let us see if we can find a bargain in the Bay Area: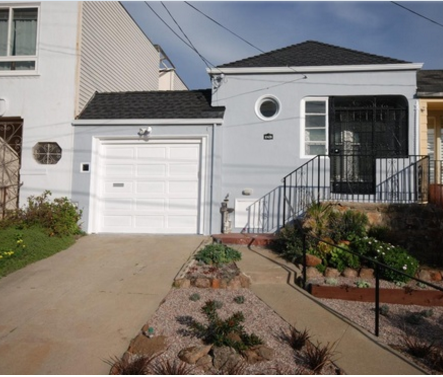 2426 47th Ave,
San Francisco, CA 94116
2 beds, 1 bath 898 square feet
Interesting small place here.  The place is listed for $698,000 which seems like a "deal" in San Francisco.  Check out the price history: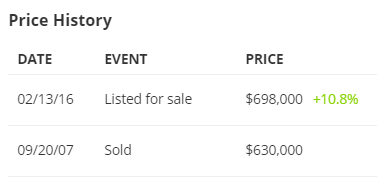 This home is an example of buying at the top and selling potentially at another top.  It sold for $630,000 in 2007 right when the market started to implode in California.  9 years later the asking price is $698,000.  After sales commissions are factored in, this home didn't even keep pace with inflation for nearly a decade.  So when someone says the long-term, it really depends at which point in the cycle you are buying because 10 years might seem like the long-term for California buyers.
The NASDAQ has recently started to correct with the rest of global stocks.  This is the first market test since the bottom hit in early 2009.  How much of an impact this will have on San Francisco housing prices is yet to be seen but with a median price of $1.2 million, not many can afford to buy to begin with.
Is anyone noticing any changes to Bay Area housing due to the current market correction?    

Did You Enjoy The Post? Subscribe to Dr. Housing Bubble's Blog to get updated housing commentary, analysis, and information.