The New American Dream is renting.  At least that is what it looks like if we track the homeownership rate over the last decade.  Millennials are moving into their prime house lusting age yet somehow, a flood of buying is simply not happening.  Renting continues to dominate the recent trend of household formation.  It was interesting to see that out of the top 10 metro areas for renters, 6 of them reside here in California.  It is becoming increasingly difficult for Millennials to purchase homes in high priced areas.  This is simply an observation and the facts back this up.  Also, Millennials are unlikely to be in any position to purchase high priced crap shacks.  In high priced markets, new home construction is simply a tiny blip on the radar.  There are now new products out in the market like the PoppyLoan that try to capitalize on the low down payment crowd.  What has become clear is that California is now trending towards renterville.
Top 10 metro areas for renters
The latest data shows that we have some really high rental rates in some of the most expensive markets in the nation.  Take a look at the chart below: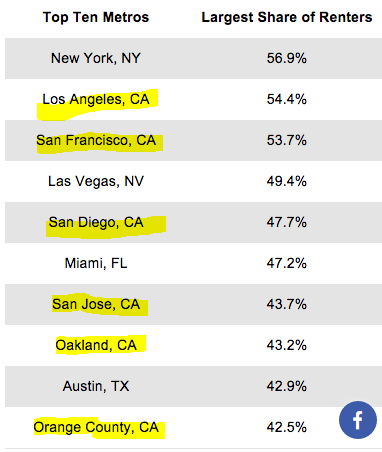 New York, Los Angeles, and San Francisco all have clear renting majorities.  What this means is that there are more households that rent than actually own their property.  What is somewhat surprising is that Las Vegas is high up on the list but this might just reflect the nature of the local economy.  We also find San Diego, San Jose, Oakland, and Orange County making a showing on this list.
This trend increased over the last decade.  Also, there are many Millennials living at home with their parents because they are unable to pay the skyhigh rent in many places like San Francisco.  It feels extremely frothy at the moment.  You have no down payment loans hitting the market and also new products like that offered through Bank of America that only require a 3 percent down payment (not FHA insured products).  The only reason to launch these products is because people simply don't have the down payment to buy a home.  And they don't have the down payment in many cases because they can't save it up.  Which should cause people to pause but instead it gives incentive to banks to juice the system up with more debt once again.  We've played this game before.
Of course this renting trend isn't new: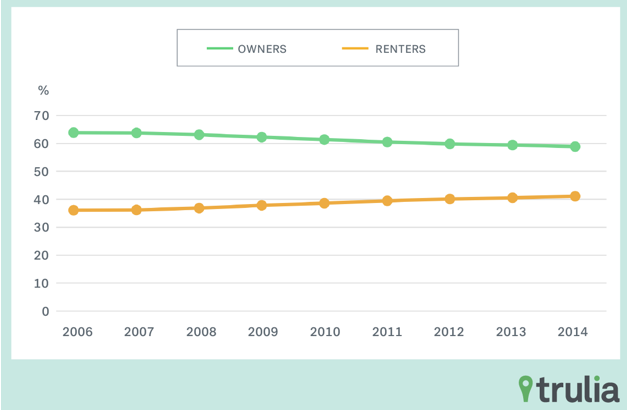 What this means is a net increase of 10,000,000 renter households over the last decade while the number of new net homeowners has remained virtually flat.  I think an example might give this trend some flavor in terms of what is available to buy in some markets: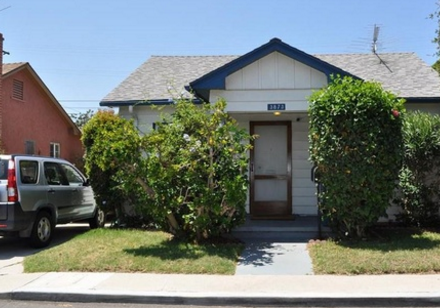 3873 Spad Pl,Culver City, CA 90232
2 beds, 1 bath 672 square feet
This place is tiny.  The list price is $740,000.  The new buyer will pay taxes at that new price.  What are the current owners paying taxes on?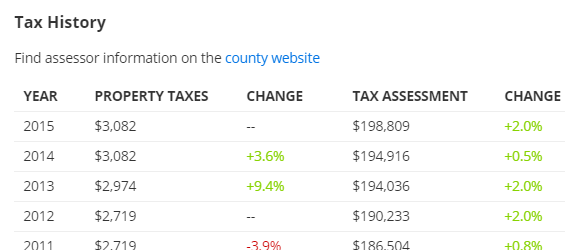 The property is currently assessed at $198,809.  God bless you Prop 13.  The new buyers are going to pay 3 times the taxes for the exact same services.  Instead of being nearly paid off at this point, the property still has debt but those sins will be washed away when the new buyer of this tiny shack takes it over.  No wonder why California loves the housing bubble.
What is interesting is the place right next to it (3869 Spad Pl,Culver City, CA 90232) sold in 1993 for $732,272 and the current Zestimate is $768,745.  Thanks to cashing out, the place still has mortgage debt of roughly $250,000 some 23 years late on a home that is smaller than 1,000 square feet.
So you have to wonder, who will pay $740,000 for a 672 square foot crap shack?  Are you buying at the top or will this place get to $1 million in the next couple of years?  And buy the way, you are paying $740,000 to live in 672 square feet!
When these are your options to buy, it is pretty clear why California has become renterville USA.

Did You Enjoy The Post? Subscribe to Dr. Housing Bubble's Blog to get updated housing commentary, analysis, and information.