At the start of the year, discussing a year-over-year drop in California home prices seemed unrealistic.  You can only defy gravity for so long and home prices for California are virtually unchanged year-over-year.  The current median home price in the state is $396,750 up only 0.4 percent from last year and down 1.8 percent from the previous month.  Sales are still low thanks to prices and the lack of inventory.  California has seen a dramatic addition of rental households thanks to the current trend.  The big question now with momentum tilting is where will it take home prices?  California tends to do things in a big way with real estate since we perpetually go into a boom and bust cycle.  Now with prices hitting a snag and inventory coming back you have to see how the media cycle is going to play into this.  People are now used to prices moving up so quickly as if this was some law of nature.  Los Angeles County is seeing normal inventory returning while Orange County is seeing a big jump in inventory.  Let us take a look at the numbers.
California home prices hit a plateau
Since 2012 California home prices have gone in one direction only.  California home prices have nearly doubled in a short period from a lower range of $221,000 (2009), staying steady until 2012 and then jumping to $404,000 (last month).  The peak was $484,000 reached in 2007.  A large portion of this price movement has come from investors buying up single family homes and removing them from inventory.
When you look at the trend it is very clear that this momentum has been strong but is now flattening out: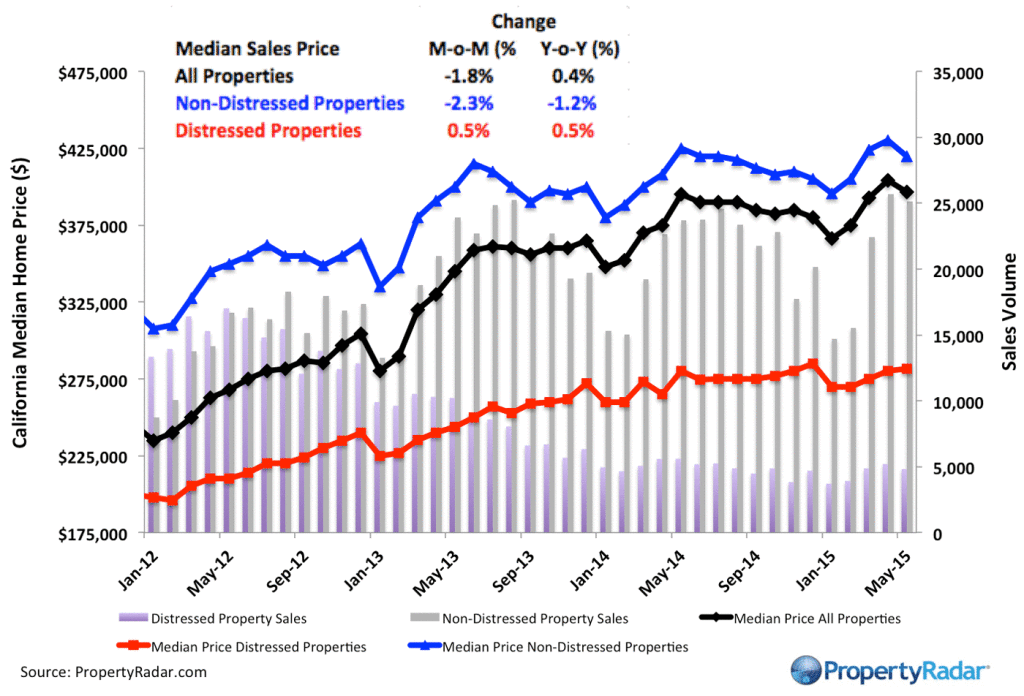 The median home price is virtually unchanged year-over-year.  One more month like last month and we'll have our first negative year-over-year month in years.  How will this play in the media?  And we are now seeing your regular jump in inventory in Los Angeles: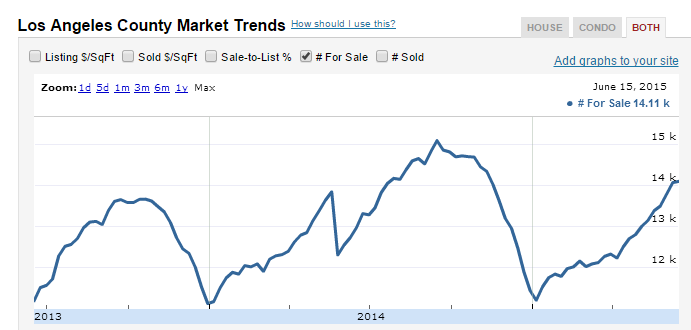 Inventory always picks up at the beginning of the year and goes throughout the summer.  But look at Orange County's inventory: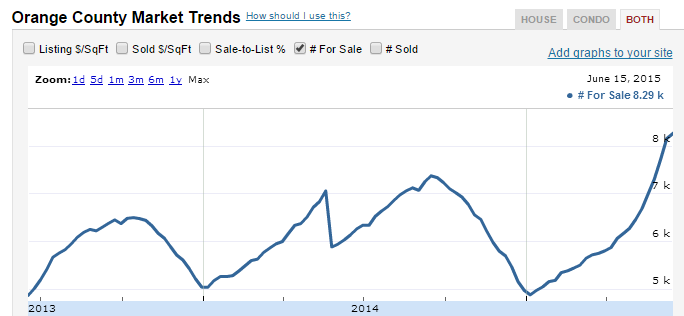 The inventory in Orange County is now at a level unseen for many years.  Two reasons for this: sales volume has hit a snag and pie in the sky asking prices are keeping homes on the market longer.  You have Taco Tuesday baby boomers cashing (or trying to) since prices seen very lucrative in some cases.  Big investors left this game a long-time ago: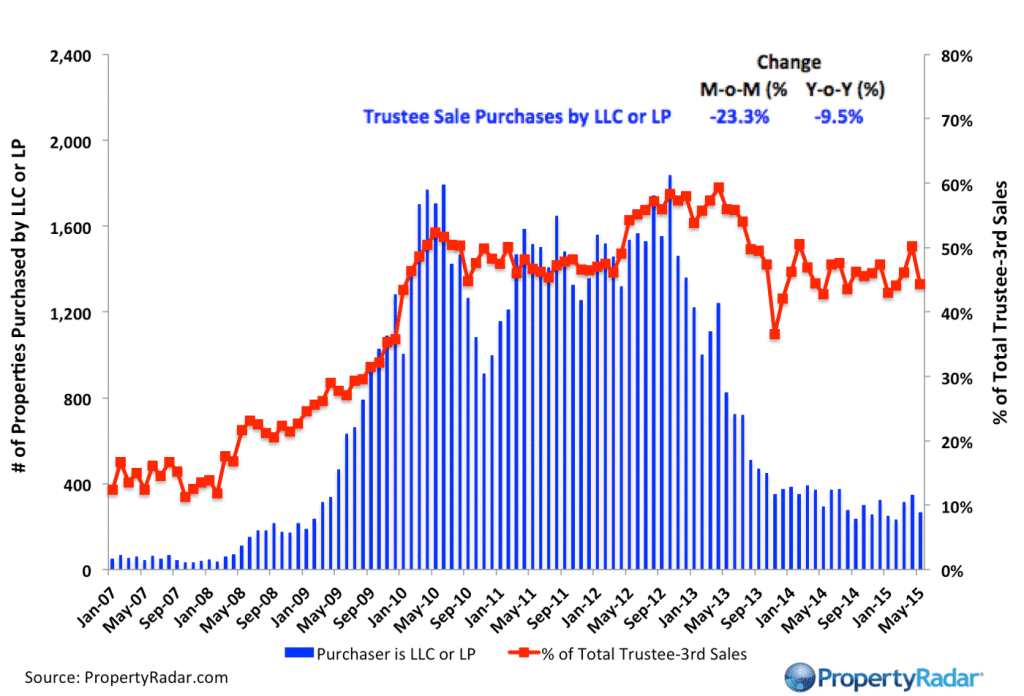 You can see that big money from Wall Street and hedge funds left the game in 2013.  Now you have foreign money and leveraged up households buying.  You also have late in the game flippers.  I remember watching the flipping shows in 2007 and 2008 and you started to see mega fails and the participants seemed aghast with a look of "I thought you could only make money in California real estate?"
You also notice that distressed sales are a small portion of all sales.  This market now needs to stand on its own two feet.  The problem of course is that only about one-third of households can afford your regular median priced home in California (forget about the crap shack in certain hoods).  It is no coincidence that this slowing down is coming with the sideways moving stock market this year.  Look at the biggest year-over-year gainers in terms of counties:
San Francisco:    +20%
Stanislaus:           +12.1%
Alameda:             +10.3%
Sonoma:              +10.6%
You better hope the tech rage continues going forward.  As far as real estate prices go, Northern California is keeping California positive year-over-year.

Did You Enjoy The Post? Subscribe to Dr. Housing Bubble's Blog to get updated housing commentary, analysis, and information.