Foreign buyers are a big part of the US real estate game.  I'm surprised that some people downplay this because on aggregate, foreign purchases of US real estate do make up a small portion of total sales.  Yet foreign money is very targeted on certain areas.  For example, Canadians love buying up Arizona real estate and prices must seem free when compared to the gigantic housing bubble Canada is going through.  It should come as no surprise to you that the top international buyer of US real estate is now China.  It should also be no surprise that Chinese buyers really enjoy buying in California.  Are they buying in droves in Highland Park or other hipster areas?  No.  But look at places like San Marino and you will see giant pools of money flowing in.  The National Association of Realtors (NAR) released a detailed report on foreign buying.  I think it is worth examining closely.
Foreign buyers driving up prices?
With low inventory and sales volume on the lower end, it is safe to say that foreign buying is driving up real estate in select markets.  While total sales are down tracking the overall nationwide trend, total dollar volume is up tracking with the recent jump in home prices.
I've pulled a few charts from the report to highlight.  First, let us look at overall sales volume and dollars spent: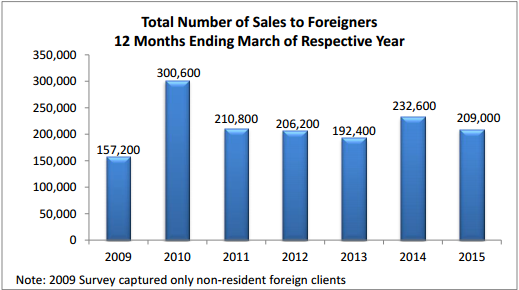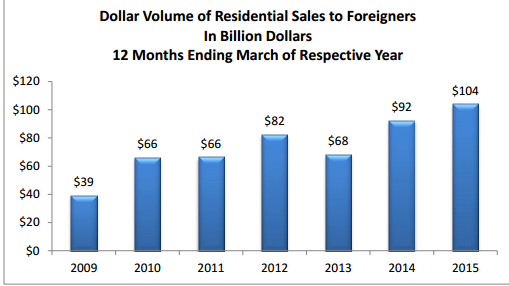 This is interesting data.  You will see that in 2010 we had a high number of sales.  2015 isn't anything special so far but what is special is the amount being spent, which is at a record.  Why is that?  Because foreign buyers are paying much more than your typical domestic home buyer: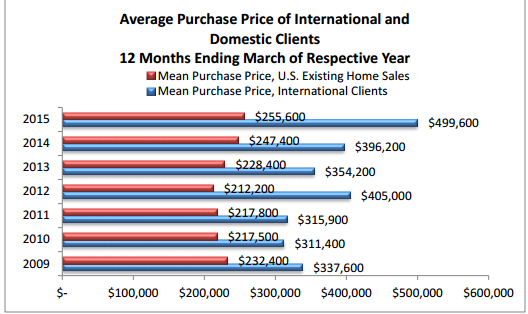 According to the NAR, the mean price paid by a US buyer is $255,600 versus $499,600 for a foreign buyer (a difference of $244,000).  Compare this to 2009 when the difference was only $105,200.  What this tells us is that domestic buyers are having a tougher time keeping up (hence rental Armageddon) while foreign buyers are easily able to pay higher prices.
Let us look at some general trends: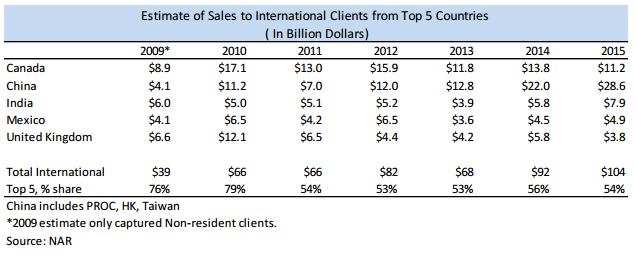 What a difference six years can make.  China was a small player overall in 2009 but now is the biggest buyer of all countries.  The UK was a big player in 2010 but not anymore.  Canada had a crazy year in 2010 as well but has since pulled back.  You will notice however that China is out ahead of the game big time in 2015.
With that said, where is Chinese money going?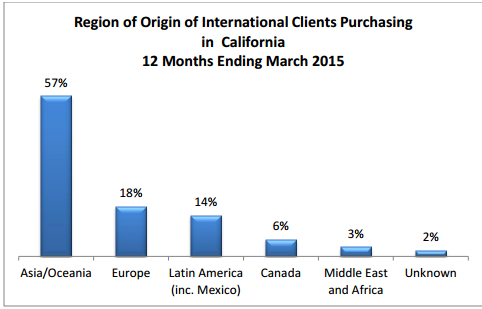 We can safely assume that Asia is largely dominated by China here and the bulk of the buying in California by foreign buyers is coming from China.  So what is the intended use of purchases here?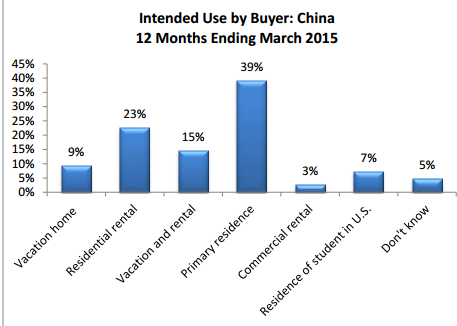 Only 39 percent of purchases to Chinese buyers are intended as primary residences.  Some are looking at using the place as a vacation home, a rental, or both a vacation home and rental.  I've heard from many readers saying that some neighborhoods are becoming "ghost" hoods thanks to absentee buyers.  There is no rush to rent out the home once it is bought and many don't move in for what would seem like a year or more.  This also has the effect of removing inventory from the market in an already low inventory game.
This trend helps to explain how prices are moving up while incomes domestically remain stagnant.  In many areas both local investors and domestic investors have pushed prices up.  This is part of being in a global economy where money flows in an out.  I'm sure many of you vividly remember Japanese money rushing into California real estate in the late 1980s and early 1990s.  Foreign money is definitely having an impact in certain regions of the United States.

Did You Enjoy The Post? Subscribe to Dr. Housing Bubble's Blog to get updated housing commentary, analysis, and information.