I've lovingly called the new movement of people leasing homes as Rental Armageddon.  A truly first world problem between buying an inflated crap shack or having to rent a property.  God forbid you have to lease a place.  People quickly lose perspective and that is largely one of the reasons we oscillate between booms and busts in real estate.  But the data is very clear and that is, we are in a deep renting trend.  We've added 10 million renter households in the last decade while being net neutral on adding homeowner households.  That is a big deal.  The housing market is also facing some massive demographic headwinds.  Younger buyers are cash strapped and home builders realize this (this is why home building is lagging the mania because builders realize the demand is for rentals, even higher cost places).  Also, you have Taco Tuesday baby boomers entering the twilight of their lives and they certainly won't be upgrading their properties.  A recent study by the Urban Institute sheds some light on this renting trend.  There are some serious demographic and economic headwinds favoring the renting trend.  One key finding is that for the next 15 years, rental household formation is going to outpace homeownership formation.  Let us see where things stand today.
The raw numbers
You have to follow the numbers.  If buying was such an easy decision, why isn't everyone diving in head first to purchase those lovely crap shacks?  First, common sense is probably pulling at your gut and telling you that 30 years of a giant monthly nut in a subpar home is not likely to be the best option, especially when you are stretching your budget like Gumby just to get in.  The house lusting HGTV shows are back to peak levels today.
When I look at the raw numbers, there is absolutely no question that we are in a deep renting trend.  Take a look at the number of renter households versus homeowners: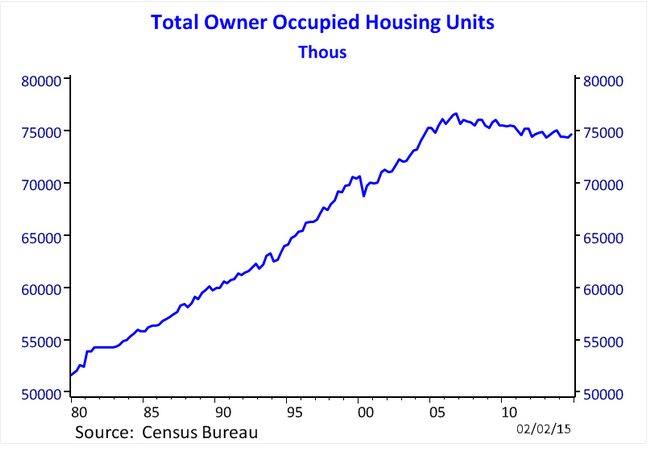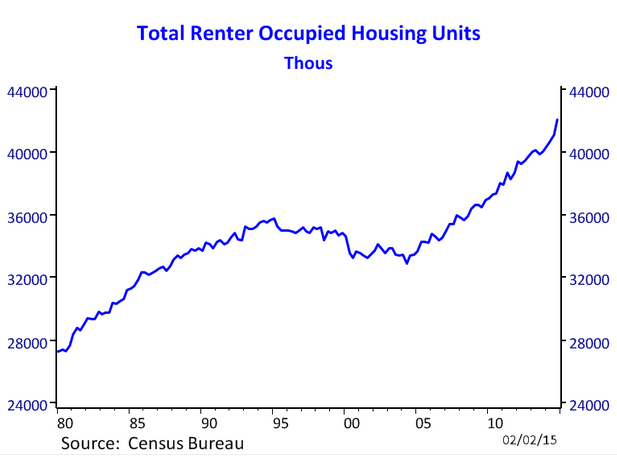 The last 10 years have seen 10 million added renter households while being net neutral for homeowner households.  That is a big change.
Here is some key data from the study:
"From 2010 to 2030, there will be 4 million more new renters than homeowners; 22 million new households will need homes to rent or buy—13 million will rent, 9 million will buy."
The homeownership rate is moving in one clear direction:

The study found that the homeownership rate will continue to fall:
"By 2030, the homeownership rate will have dropped to 61.3 percent from 65.1 percent in 2010."
There are a few reasons given in the study.
The psychology
It should come as no surprise that women and men are waiting longer to start families.  When they do start families, they tend to be much smaller.  No need for the McMansion model of housing. Because of this delay, many will spend less of their time as homeowners.  This also has deeper ramifications.  People will become more comfortable with renting and their mobile lifestyle.  Also, many of the younger future buyers likely witnessed the insanity of the last housing crisis and probably witnessed friends or family lose their homes in the foreclosure graveyard that apparently has been easily forgotten.
The study also found that some people are just not into home buying.  It looked at prime candidates to buy, those making at least $95,000 annually and have at least one kid:
"Even for this group, after controlling for race and ethnicity, the homeownership rate declined from 87.3% in 2000 to 80.6% in 2012,"
This is simply the reality.
The money
Of course you have the "income doesn't matter crowd" but apparently it does matter to future buyers and that is why we are in a renting majority trend.  First, take a look at wages: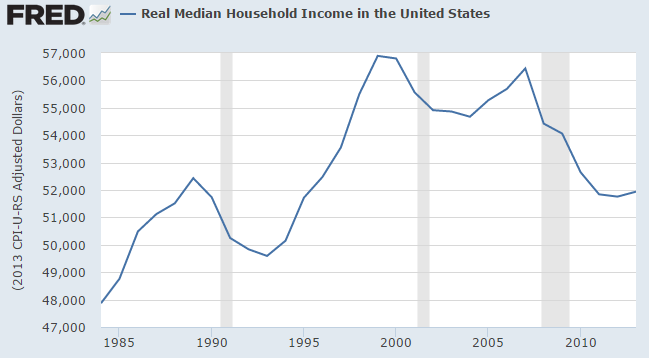 It is probably no coincidence that the current homeownership rate has fallen in line with real household income.  The renting trend is simply reflecting deeper profound changes to the housing market.   
Another big factor is that we have millions of young Americans, the future buyers with deep levels of student debt: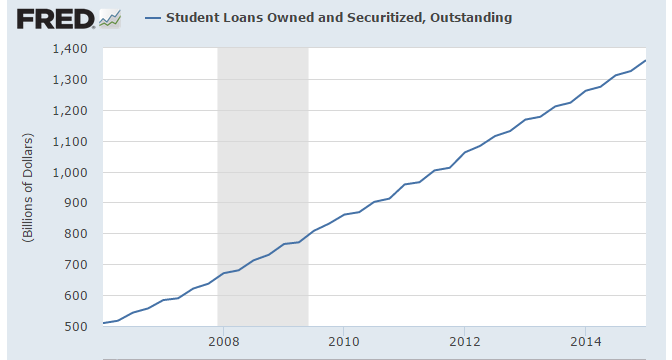 I had to do a double-take on this.  Total outstanding student debt is now over $1.3 trillion.  Student debt is now the second largest debt class in the US, only behind mortgages.  So it is fully understandable that people are balking at massive mortgages when they are already carrying what is equivalent to a baby mortgage before entering the housing market.
A fellow commenter on this site had some interesting things to say about lending standards:
"(USA Today) It also suggests that mortgage lending standards be relaxed to nudge more would-be renters to buy their homes.

That conclusion doesn't sit well with everyone, however.

Logan Mohtashami, a California-based loan officer, says the notion that lending standards are tight is a myth.

"There remain a number of highly respected housing 'gurus' who continue to profess that it is unfairly tight lending standards, not the lack of qualified buyers that are suppressing a housing recovery. The difference is not academic," he says. "A quick review of the requirements for some of mortgage loans available may surprise you."
Hopefully Logan will chime in here but I agree with him regarding lending standards.  Lending standards are as free flowing as they can get.  Mortgage rates are low and as long as you have documented income, you are in good shape.  I think there was some hedonic adaptation to toxic mortgages where people now say "hey, at least we check their pulse AND their income."  So suddenly, this somehow means that lending standards are tight.  Need I remind you that most of the foreclosures that hit actually were of the bread and butter variety mortgages – those 30 year fixed rate mortgages.  Sure, the toxic funky junk imploded in epic fashion as well but the bulk of problems were people simply unable to pay their mortgage.  As a reminder, you don't own your home until the mortgage is paid off.  Millions found that out the hard way.  Also, even a paid off home has insurance, taxes, and maintenance costs – unless you plan on being the Purina Dog Chow eating boomer living in your paid off home with no cash flow, this is probably not the best choice in retirement planning.
The study is simply reflecting what we already know: future buyers are more cash strapped, are having smaller families at later stages, and many are simply opting out of buying.  The fact that we've added 10 million renter households versus a net neutral gain of homeowners over the last decade speaks rather loudly.  Well played Wall Street on buying those rental homes in bulk from banks.  You have what appears to be an unlimited number of future renters coming down the pipeline.

Did You Enjoy The Post? Subscribe to Dr. Housing Bubble's Blog to get updated housing commentary, analysis, and information.