The latest sales figures for California show a market that is hitting a stalemate.  Sales are dropping and many sellers have pulled properties off the market hoping that spring will bring better days.  People run 30 year projections of perfect stability but think of what has happened in California only in the last 15 years.  We had the boom, bust, and boom of the tech sector.  We had the boom, bust, and boom of housing again.  Do people think that the 1,000,000 completed foreclosures occurred to people that wanted to lose their homes?  Don't you think they wanted to believe in the buy and hold forever mantra?  What is rarely mentioned is that most lost their homes with standard mortgages, not your toxic junk.  Why?  Because the economy hit a recession (and a rather significant one).  The issue of course is that you need to maintain cash flow for a long duration.  Given the current mindset in the market, it is interesting to see what people perceive as a good deal.  We've seen homes the size of closets hitting the market as some sort of starter home for those on cash strapped budgets.  Today we highlight one of the smallest homes we have seen out in Highland Park.
Pre-Great Depression built, Great Depression size
People don't really dig into the building quality of homes in California.  They just assume that if a place has a door and a roof, then it is worth $700,000.  Whenever we get storms, many people get a rude awakening to shoddy roof work or problems with foundations.  Then the construction bills pile up.
Don't fret ye house searcher, there is an excellent deal for you out in Highland Park.
Take a look at this mega mansion: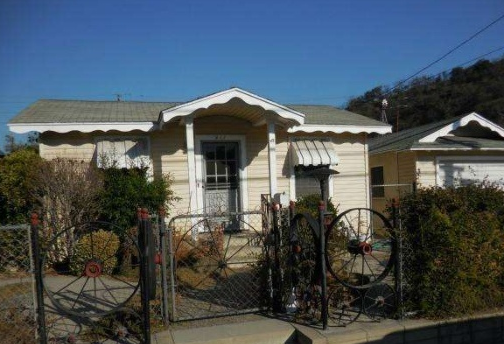 411 S Ave 56, Highland Park, CA 90042
1 bed, 1 bath, 480 square feet
480 square feet!  Now that is a tiny home.  At least you will save on heating and cooling this place.  Take a look at the ad:
"Cute as a button! 1+1, copper plumbing, good condition, patio, raised foundation, good floor plan, nice street. This is your chance for home ownership at a really low price or your first income property, guaranteed not to last!"
And nearly the size of a button.  Smart audience targeting.  Either live in this home or turn this into a rental property (targeting the dwindling investor herd in California).  To show you how absurd pricing can get just look at the property history here: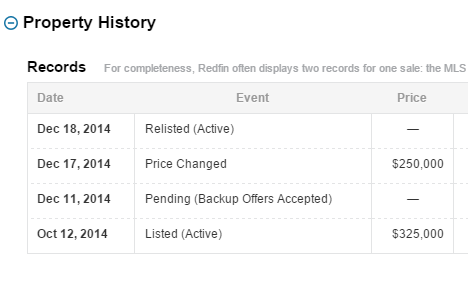 So wait, in two months this property dropped by $75,000?  In other words, this home was de-valued by more than the annual household income for a typical California family.  People have lost all perspective on value and are enamored by the low interest rate cult.  You still have a 30 year mortgage linked to this place.  What is your opportunity cost here?  Are you missing out in investing in stocks?  I always find it interesting how some people view real estate as fully safe yet the stock market as risky.  Say you bought this place.  30 years go by and it is paid off.  You still have taxes.  You still have insurance.  You still have maintenance.  Where is your income going to come from?  Many in California locked a large portion of their wealth into housing and many are trapped in their hardwood floor granite countertop stucco sarcophagus.
Going back to this home, take a look at the bathroom: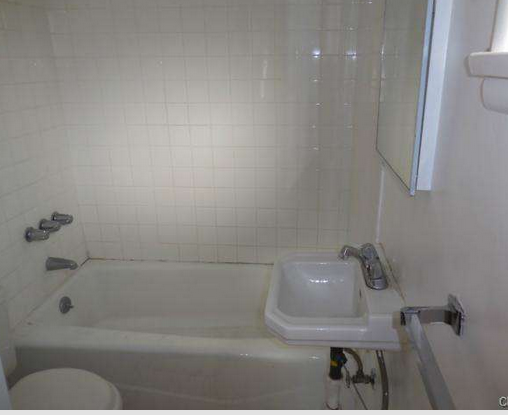 You can shower, use the toilet, and wash your hands all without moving.  Now that is what I call efficiency.  And this dream life can be had for only $250,000.  Ignore the $325,000 price tag since that was simply a starting point.  For this price you get to lock in the full usage of California sun, weather, and access to all the awesomeness that is SoCal.
Here is the Google Street View of the house: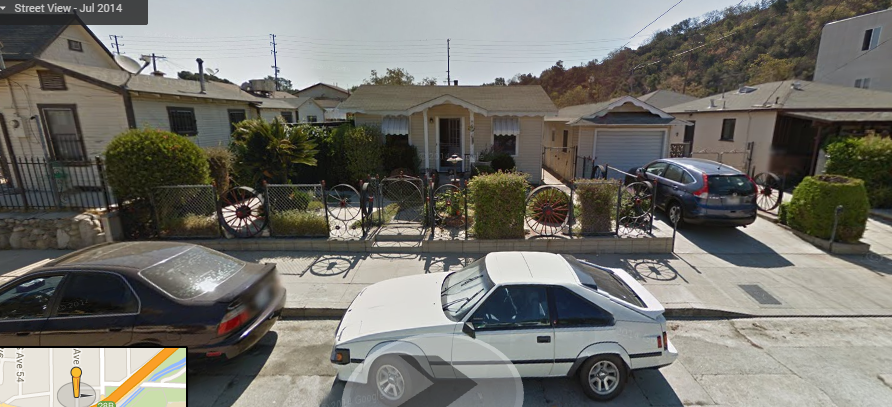 480 square feet is waiting for you to call it home!

Did You Enjoy The Post? Subscribe to Dr. Housing Bubble's Blog to get updated housing commentary, analysis, and information.