There is high-quality evidence suggesting that higher education is deep in a bubble.  When I examine the weakness in the housing market I also think of the massive expansion of debt with student loans.  The biggest expansion in student debt occurred in a decade where household incomes stalled out.  Many of the recent graduates are struggling to find good paying work so it has become much tougher for these young professionals to purchase homes.  It becomes even more difficult if they live in a state like California where housing is still showing hints of a bubble in many markets.  I get e-mails from young families looking to buy but their incomes simply cannot afford prices in mid-tier markets, at least where prices stand today.  They are saddled with debt not seen in previous generations and they are more reluctant to jump into a massive mortgage payment.  There is little sign that the bubble in higher education is slowing down and we have some new perspectives on the data.
Student debt as a percent of total household income
One good way to examine the burden of student debt is to measure it against total household debt.  In 2000 student debt was roughly at $200 billion.  At this point it was roughly 3 percent of all US household debt.  Since that time it has more than doubled in percentage terms: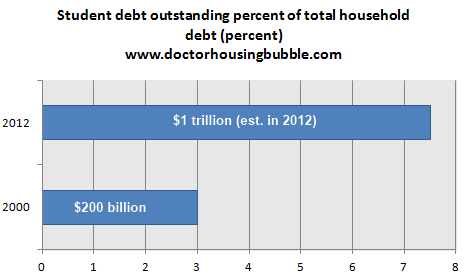 By the end of the year student debt should reach the $1 trillion milestone.  Student debt now makes up 7.5 percent of all household debt.  However, we need to remember that much of the run-up in student debt started in the early 2000s so this is a new phenomenon at least on a mass scale.  There was an amazing chart that I found showing how much student debt has grown in the face of household debt.  Even though household debt expanded by 100 percent in the last decade student debt put this trajectory to shame: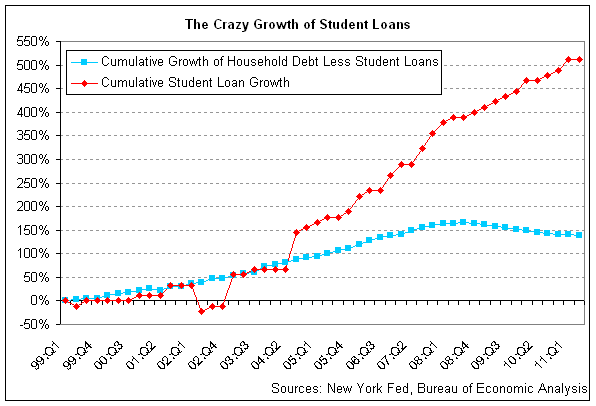 "(The Atlantic) This chart looks like a mistake, but it's correct. Student loan debt has grown by 511% over this period. In the first quarter of 1999, just $90 billion in student loans were outstanding. As of the second quarter of 2011, that balance had ballooned to $550 billion.

The chart above is striking for another reason. See that blue line for all other debt but student loans? This wasn't just any average period in history for household debt. This period included the inflation of a housing bubble so gigantic that it caused the financial sector to collapse and led to the worst recession since the Great Depression. But that other debt growth? It's dwarfed by student loan growth.

How does the housing bubble debt compare? If you add together mortgages and revolving home equity, then from the first quarter of 1999 to when housing-related debt peaked in the third quarter of 2008, the sum increased from $3.28 trillion to $9.98 trillion. Over this period, housing-related debt had increased threefold. Meanwhile, over the entire period shown on the chart, the balance of student loans grew by more than 6x. The growth of student loans has been twice as steep — and it's showing no signs of slowing."
So in a decade where household incomes fell and the prospects of young Americans were hampered by the weak economy, college debt zoomed by 511%.  In terms of magnitude this is a bigger bubble than the one in housing.  A big push here has come from the for-profit institutions aggressively luring in unsuspecting students into systems that largely exist to suck out government loans.  Yet even private and state schools are pushing fees and tuitions up.  Take a look at the two large four-year college systems in California, the CSU and UC: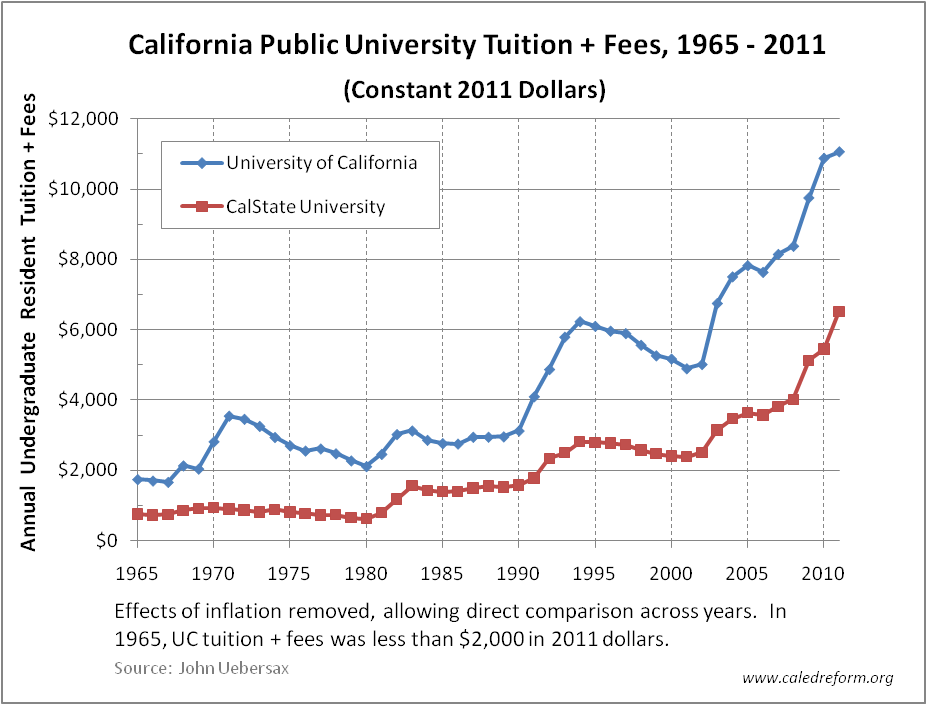 Source:  CalEdReform.org via Satyagraha
This chart is extremely useful because it adjusts for inflation.  You'll notice that from 1965 to 1990 college tuition for both state schools were largely flat adjusting for-inflation.  In constant dollars, if prices were leveled at where they were in 1990, the CSU would be around $2,000 a year and the UC would be around $4,000.  Even between 1990 and 2000 prices moved up but nothing shocking.  All the action began in 2000.
This is something that older Californians fail to grasp.  Many had the fortune and luck to buy homes when they were "cheap" relatively speaking and also many had the chance to enter institutions when  demand was much lower and entrance was almost guaranteed even in some of the more elite colleges.  In 2011 the CSU has received over 621,000 applications.  For the more competitive UC system over 160,000 total applications were received for fall of 2012.  I get e-mails from many older Californians now griping that their kids won't have the access they did and that college costs too much.  Yet part of the issue is that prices remain inflated for key entrance points like housing and college which are now being carefully examined today.  You expect someone to come out of college with $50,000 or $100,000 in student debt and suddenly they are eager to buy that shack for $500,000 in some mid-tier area of California?  No wonder why the first time homebuyer market is shattered.
Some people keep arguing that household income went up (which it didn't) in the last decade to justify the rising cost of college.  The data shows us something very different: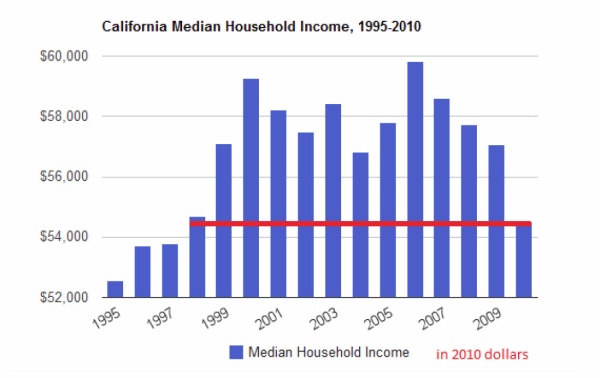 So we are pumping out younger Americans with more college debt and lower incomes.  Yet home prices remain inflated in many parts of the country.  In many states however home prices are now very affordable even if you have two full-time entry level service sector workers like in Las Vegas.  Prices are cheap if you have stable employment in those markets.  Here in California even a stable job is not going to allow a two income household to purchase a home in a mid-tier city.  Those that recently bought and have a vested interest in seeing home prices are blinded just like those that championed the housing bubble all the way up with toxic junk mortgages every step of the way.
Buffet recently mentioned that housing will be fine because of "hormones" as an implication that people will buy.  Times have changed since Buffet was born and people are having smaller families and some are opting out being dual income and no kids.  Hormones are there no doubt, but not necessarily the big families.  Of course he made two calls in the last couple years clearly missing the trend when house prices continued to fall.  With a median home price of $150,000 nationwide this isn't a bold call.  He likes to portray himself as this everyman but he bought a prime vacation home in Orange County and sold the place for a hefty profit:
"(Zillow) Buffett's former California coast home was a vacation spot for Buffett and his former wife, Susan. The world-famous value investor sold the property in 2005 for $5,450,000.

According to public records, Buffett bought the home in 1993 for $1,100,000, turning a nice little real estate profit. Of course, what else would we expect from Buffett except handsome net gains?"
The place is now up for sale at $4,995,000 7 years after the $5.4 million sale.  California has many overpriced markets and Buffet is speaking more in general terms for nationwide housing.  Just reading the e-mails of young professionals here in California, even with dual incomes, many are unable to buy a starter home in a market near their place of employment.  Places like the Inland Empire are seeing very low prices for those in the area with solid jobs.  The fact that FHA insured loans with a 3.5 percent down payment dominate the first time buyer market tell us that many cannot even scrimp a 10 percent down payment.
The fact that 35 percent of homeowners with a mortgage in California are underwater or near underwater highlights a big issue.  Who will they sell their homes to?  Their massively in debt kids?  Some other late comer that finds no more musical chairs like the last person to purchase Buffet's home?  The bubble in higher education is bound to burst and the large number of people now having trouble paying their student debt is a sign of things to come.

Did You Enjoy The Post? Subscribe to Dr. Housing Bubble's Blog to get updated housing commentary, analysis, and information.