Talk of a US housing bottom has been in the press for all of 2012.  Interest rates keep making incredible lows allowing current mortgage holders and new home buyers to max out on the price they pay for a home.  Banks in California are definitely more willing to offload quality properties via the short sale avenue realizing that the summer of 2012 is a good time to offload distressed inventory.  The fall and winter will be the true test to see if this really is a rebound for the housing market.  Low rates do not necessitate home prices going higher.  You can look at Japan and realize that low mortgage rates are not the panacea for reviving a housing market.  At the end of the day a $500,000 home with a large mortgage is still a hefty sum.  Overall California home prices are up.  I wanted to get a glimpse at what markets are under performing in this hot summer.
Los Angeles falling zip codes
I found it interesting that some notable quality communities showed up on the list with largest annual price declines.  I went ahead and highlighted areas where at least 10 or more homes sold in June of 2012: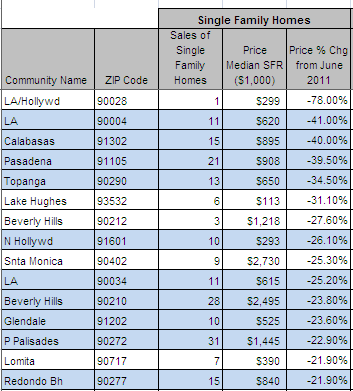 Source:  DataQuick
I found the 23 percent year-over-year fall in the prestigious 90210 zip code fascinating especially over 23 sales.  The median price is $2.49 million for Beverly Hills and this likely signifies that wealthier clientele are still in the hunt for this prime zip code but at a lower price point.  Since many pay in cash, a low interest rate is not all too important for these buyers.  A 23 percent decline in one year is already almost to the level of what the entire US housing market fell from the peak (30+ percent).  So you can understand that in mid-tier and upper-tier markets price declines are still very much likely to occur as demonstrated by the data above.
You can also see in mid-tier Topanga that home prices are down 34 percent over the year.  A $650,000 home is still a hefty sum even for the low six-figure households looking to purchase in this area.  A prime area in Pasadena (91105) saw prices fall by a significant 39 percent and this was with 21 sales.  Countywide in Los Angeles prices are up 2.2 percent year-over-year but the median price is $325,000.  So what we are seeing is a big hit is being taken at the higher side of the market but so few sales take place here, that little change occurs for the county median price.  The low range is picking up since most buyers here are leveraging up with mortgages but the mid-tier and upper-tier are still correcting.
Even a place like Calabasas saw their median price fall by 40 percent year-over-year with 15 sales.  This is happening in what is the hottest summer for the housing market in a few years.  Why are these above zip codes seeing sizeable price cuts?
First, the jumbo loan market is still constrained.  Most of the Fed action and MBS buying is happening with conventional loans.  Even today, the only game in town is the government.  FHA insured loans are the number one player for getting first time buyers in with a tiny 3.5 percent down payment.  Current owners have been refinancing like maniacs to benefit from the lower interest rates: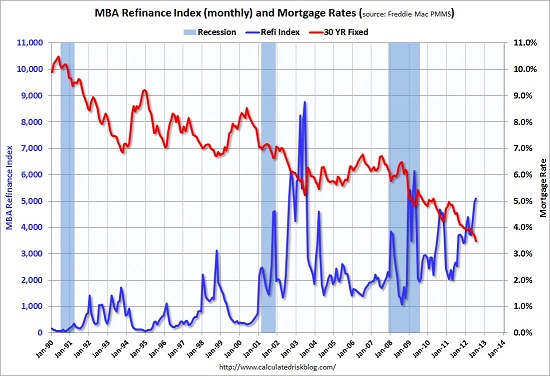 We are reaching a point where US Treasury rates are so low that interest rates may be reaching a bottom.  The Fed can step in with QE3 and purchase more MBS but how much lower can rates go?  If you think low rates are a way to boost home prices just look at Japan: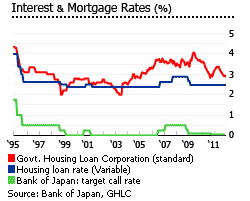 Japan has had mortgage rates in the 3 percent range going back to the early 1990s and home prices have done this: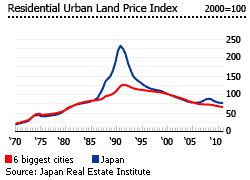 Low interest rates coupled with a controlled leaking out of inventory (our version of zombie banks) has definitely pushed home values higher in 2012.  As you can see from the data above, not all areas are seeing a bottom this summer.  Ultimately income matters and the economy is still very weak.  That is really the key indicator to look at for future sustainability of the housing market.  So you can get a $500,000 mortgage for less than 4 percent but you still have a loan obligation for 30 years of half-a-million dollars.  I can see how nationwide purchasing a home for say $150,000 at 3.5 percent is a smart move given all the tax breaks.  No disputing that (hey, you can even buy a home in the Inland Empire for that price).  Yet for California home prices are still out of sync in many locations and as you can see some of these areas are still undergoing double-digit declines.

Did You Enjoy The Post? Subscribe to Dr. Housing Bubble's Blog to get updated housing commentary, analysis, and information.