It is now almost a universal mainstream headline that housing has reached a bottom.  Of course little is mentioned about the ridiculously low mortgage rates that have aided in covering up stagnant incomes to accomplish this task.  Yet a nationwide bottom should not be confused with regional troughs.  The summer selling season has been hot for California.  Home prices are now at two year highs coming in at a median price of $274,000 (still far from the $484,000 peak reached in 2007).  Yet is this positive with California facing a 20 percent underemployment rate and massive budget deficits?  There is no doubt that the recent push has come from two sources; low interest rates and controlled inventory.  Roughly 30 percent of California home owners are underwater.  This works out to be 1.5+ million households.  Yet California only has about 170,000 homes for sale on the MLS!  You have nearly 10 times the number of underwater homeowners compared to the homes listed on the MLS.
When did people buy?
With many baby boomers heading into older age, it is important to note when people purchased their home.  Many in California do have equity and can sell.  I thought it would be interesting to pull this data: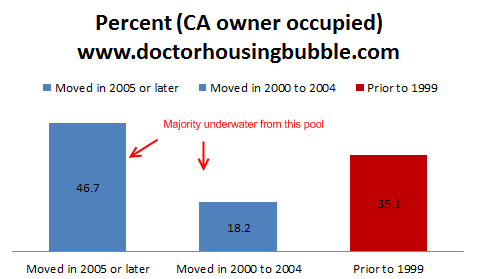 Most of those who "own" their home moved in after 2000.  A large portion, nearly half moved in after 2005.  But you have 35 percent that bought prior to 1999 that are likely to have a good amount of equity in their properties whether they sold for $600,000 or $300,000.  This is another interesting part of the housing market that is unfolding.  The transition in demographics between an older more affluent population that bought when home prices were affordable relative to incomes versus a now upcoming younger and less affluent population that is still facing sticker shock.
The impact of interest rates
There is a false sense of charm in low interest rates.  For example, in Laguna Woods, an older community you have cheap property prices but HOAs that can run $500 to $1,000 per month!  That is only the HOA and not including property taxes.  People seem to think that once you pay off your mortgage, you are living with zero payments.  If you want to see the impact of low interest rates just look at the action in the last year: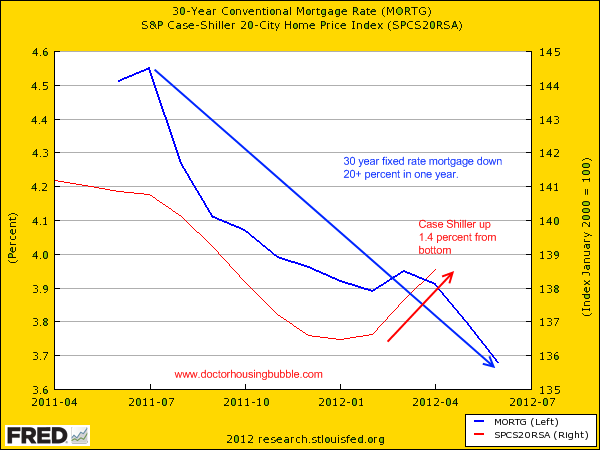 Keep in mind interest rates were already historically low just one year ago.  In the last year, the 30-year conventional fixed mortgage saw rates fall by a stunning 20 percent.  For most of this time, home prices fell.  Starting this year home prices are now up 1.4 percent.  In California, and here is the kicker, home prices are up 8.3 percent year-over-year.  So you begin to realize that lower interest rates are largely a boon for high priced metro areas.
Compare a $150,000 loan that will get you a home in most states versus say a $400,000 loan for a starter shack in California:
20% drop in interest rate for a $150,000 = $87 monthly savings in Principal and Interest

20% drop in interest rate for a $400,000 = $232 monthly savings in Principal and Interest
And this is an important point.  Why should a California home buyer get a subsidized monthly savings that is nearly three times that of most home buyers in other states?
Home bottom difference between US and California
Home prices nationwide do seem to be hitting a bottom: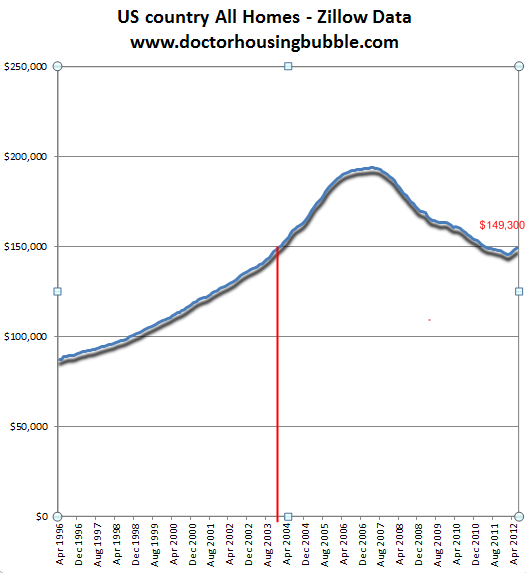 According to the Zillow Home Value Index prices rose to $149,300 (compared to the NAR figure of $189,000 for existing home sales).  Now this is important to examine in light that California has a 20 percent underemployment rate and the median home price is $274,000.  The median California home is valued at 80+ percent higher than the nationwide priced home using the Zillow figure.  With major factors lined up to hit the market it is too early to call a bottom for a place like California especially in overpriced markets.  Even close to us, in San Bernardino and Riverside good deals can be found.  Yet LA and OC still look to have pocket bubbles.
California tax revenues
You would think with prices rising by over 8 percent in California in one year that the economy is now booming: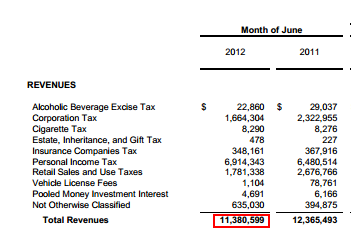 For the month of June revenues are down nearly 8 percent from last year.  A big part of this comes from the fall in corporate taxes which really isn't a good sign.  California has 12.4 million occupied housing units and roughly 1.7 million households are collecting food stamps (nearly 13 percent of all households).  Median household income for the state is $57,000 (according to the ACS 2010 survey nationwide household incomes are up to $60,000).  Over 3 million Californians are already drawing Social Security.  So of course, this is simply more reason to celebrate with high home prices.
It should be abundantly clear that the recent rise in home prices is being driven purely by controlled inventory and the insanely low interest rate.  Those that are obsessed only with their backyard and rudimentary calculations need to pay attention to what is going on in the world (or in the state for that matter) with bigger macro issues.  The economy is slowing down and storm clouds are brewing in Europe.  China is now looking like it will have a tougher landing (keep an eye on the ridiculous Canadian housing bubble to see the impact).  It would be one thing if jobs were being added and wages for households were holding up and improving but that is simply not the case.

Did You Enjoy The Post? Subscribe to Dr. Housing Bubble's Blog to get updated housing commentary, analysis, and information.