As I dig through the monthly data on home sales, one trend continues to intrigue me when it comes to California housing.  Call it the broke versus the big cash buyer.  For example, over 23.2 percent of Southern California home buyers used FHA insured loans last month.  These loans are no longer good deals even though they require only a paltry 3.5 percent down payment.  Yet they are popular for those chasing the middle class dream in a state where it is becoming much more difficult to follow a middle class lifestyle.  On the other side of the spectrum, we have the all cash buyers.  A record 33.8 percent of all sales last month came from those with all cash in SoCal.  In total, over 56 percent of SoCal buyers are diving in with 30x leverage loans or are investors going in with all cash.
The allure of a FHA loan
Who can argue with a low down payment loan when rates are so low?  Of course the recent stock market rally has added pressure to mortgage rates: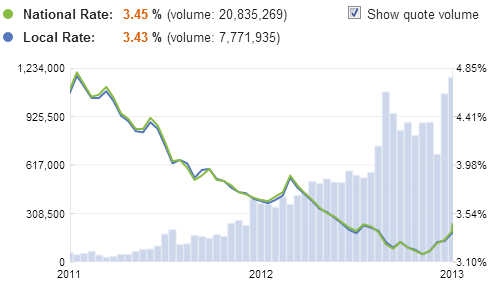 While mortgage rates are still ridiculously low courtesy of The Ben Bernanke, it is hard to see how they fall much lower without more massive Fed intervention.  One of the reasons I see more of a Japan like scenario unfolding isn't so much from the risk embedded in the housing market but the fact that we need low rates simply to pay off our insatiable spending at a national level without making our interest expense on the national debt become comically high.  That is one reason.  Another is how incredibly leveraged our system is now with easy access to debt: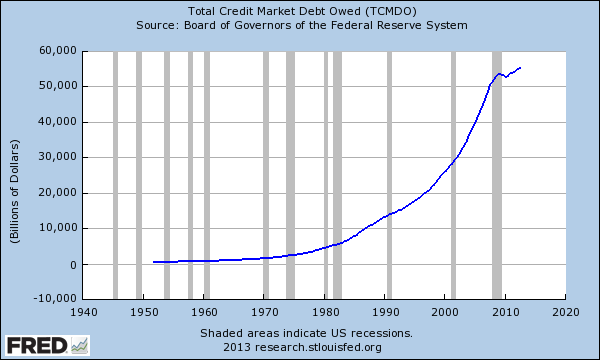 We're looking at a total credit market debt of $55 trillion and you can rest assured a good portion of that is already betting on low rates.  Yet low rates are no panacea.  In California, the rush to buy as we have noted is largely driven by easy money and hot money chasing properties in certain markets.  What is interesting at least on a national level is that real estate prices in many locations now appear to be affordable given how far prices have fallen but also how much leverage can be had with mortgage rates in the 3 percent range.  However, in many parts of California like Los Angeles County and Orange County many people thought they were going to get rock bottom deals in places like Santa Monica or Pasadena.  That was never going to happen.  So say a home drops from $3 million to $2 million.  How many additional people can now afford the home?
What is also happening is a push up in many hipster markets like Echo Park and Silver Lake.  I think some are chasing an old Norman Rockwell painting of how things were in terms of buying a home.  People are forgetting that you have many professional couples with solid incomes and no kids (DINKs) that are willing to leverage up with mortgages to live in certain areas.  I'm not sure if Rockwell had a good portion of hipster art or big hedge fund investors buying out places to use as rentals or potential flips.
The other side of California
While talks of the recovery continue, I was amazed to see that throughout all this California's food stamp usage has doubled from 2008 to 2012:

Nearly 4 million Californians are on food assistance, over 10 percent of the population.  It also highlights how diverse the state truly is and how some areas are locked away in fortress like bubbles.  The big push has come from constrains on the market and are heavily driven by low inventory.  Remember again that over half the market is being fought for by low down payment buyers and all cash investors.  It is ironic that you have both spectrums competing here, those with very little down payments and those that are willing to put down an all cash offer to buy a home.
One other item we may have missed in the low inventory trend is the number of homes that have loan modifications:

I've heard some interesting stories of multiple loan modifications and others where the foreclosure process was dragged out for numerous years.  The point being is that you have many homes in limbo and not on the market.  If we look at the above data, over 2.7 million loans have been modified since 2008.  Nearly half are current, but 31.6 percent are in the distress pipeline again.
The median home price in Southern California hit $323,000 last month, a jump of 19.6 percent in one year.  Does this pace really seem sustainable?  Some point out that this is due to the change in the mix of sales and the drop in foreclosure re-sales.  That is true.  Only 14 percent of sales in SoCal last month were foreclosure re-sales.  But the question then becomes where do we go from here?
People didn't suddenly see surges in household income in the last couple of years.  However, with mortgage rates in the 3 percent range they saw a massive boost to their purchasing power.  Align this with historically low inventory and investor demand and you have our current housing market.  Keep in mind this demand is no longer just coming from locals but internationally.  The amount of flipping activity is very high in some markets.
Some fail to realize how expensive FHA loans have become because of the incredibly high default rates in their portfolio.  Yet they are willing to do anything to get a piece of the action.  Take a look at a home with a $450,000 sale price: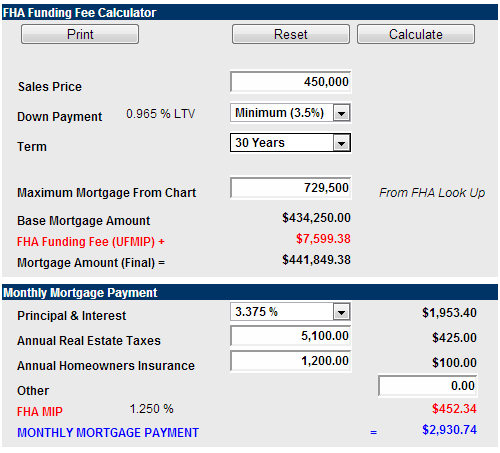 Down payment:                               $15,750
UFMIP:                                 $7,599
Monthly mortgage payment:                     $2,930
As we have previously discussed, many changes have hit the FHA and some proposed items will make it harder to get rid of insurance premiums.  Why?  Because they are running in the red and need to make current buyers pay for all the past mistakes.
The reason so many opt for this loan is because they simply are unable to save for a down payment.  On the other hand, you have a record number of buying activity happening with all cash buyers.  There is very little "market" in this housing market.  Most are now making their big decisions on the guesses of where the Fed will wink next.  Interestingly enough, those that have such high faith with the Fed forget that the Fed was instrumental in the first round of this current housing mania.  Any personal experiences with FHA buying or all cash purchases?

Did You Enjoy The Post? Subscribe to Dr. Housing Bubble's Blog to get updated housing commentary, analysis, and information.