This might sound like the start of a riddle but really, where did all the housing inventory go?  In the latest piece of data we find that listed inventory is now at levels last seen in January of 2001.  That is right, today we have the same number of homes listed for sale that we did 12 years ago.  This continues to be the biggest underreported story in the housing market.  A large part of this has to do with the external forces interacting with housing.  One has to do with banks holding on selectively to distressed properties while another is the dragging out of the foreclosure process.  Next, you still have roughly 10 million Americans that are underwater on their mortgages.  Think of that when you realize that only about 1.8 million homes are listed for sale.  Those 5 million homes in distress either because of foreclosure or missing payments sure would relieve some of the pressure current buyers are facing.
Inventory keeps moving lower
The reason we have yet to see a massive boom in building similar to what we saw in the 2000s with the first housing bubble is that builders realize these underlying dynamics.  In fact, about one third of new building projects are going to multi-family units to meet market demands for a less affluent young generation.  Remember those 2 million younger Americans living at home because of the recession?  Their first step is likely to be a rental before buying a home.
The fact that roughly 1.8 million homes are listed today, nearly the same as we had in January of 2001 is stunning.  We've added over 33 million people in that time to the country.  The inventory pressures are larger in certain markets like California where some areas have seen inventory decline year-over-year by 50, 60, and even 70 percent: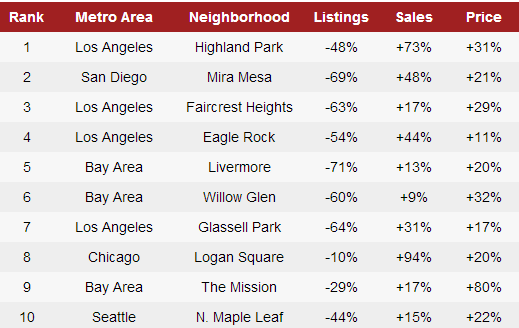 I found myself laughing when I saw that Silver Lake was voted America's Best Hipster neighborhood.  It is also likely to be the hottest for flipper activity.  The fact that inventory is so low coupled with low interest rates has caused some mania like behavior.  For example:
-Over bidding listing without really examining fundamentals

-Bidding wars

-Buyers offering additional items like personal letters or PowerPoint presentations to win over sellers

-The fear that people need to buy now or risk missing out on future appreciation
Because of this, there is a big rush to buy but we are also missing out on the bigger economy.  Yet the rush is not as big as you would think in the bigger picture.  You basically have a feeding frenzy for the few properties hitting the market.  Banks are addicted to leverage and nothing provides higher leverage than housing.  Unfortunately, since the late 1990s the US has been obsessed with subsidizing the housing market to the next level.  So it is no coincidence that during this time we saw the biggest housing bubble in our nation's history.  Yet nothing has really changed underneath it all.  It is also no surprise that we are facing an unprecedented crunch in regards to housing inventory.  Massive market manipulation usually leads to unintended consequences all over the place.
Inflation and more money sent to housing
Home prices in the US are up over 40 percent since 2000 on a nominal basis looking at the Case Shiller Index: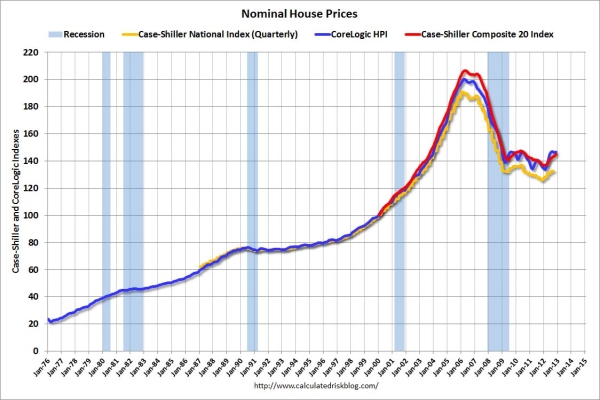 Over this time, nominal household income is up about 25 percent.  Let us not even look at inflation in healthcare or higher education but what you find is more money is being yanked into these other areas as incomes are not keeping pace.  This is why FHA insured loans have been such a popular alternative since 2007.  People were knocking those no-down payment loans but here we are basically offering 30x leverage with these loans and the default rates are atrocious.
These factors combined have caused the Case-Shiller Index to have a 5.5 percent annual increase: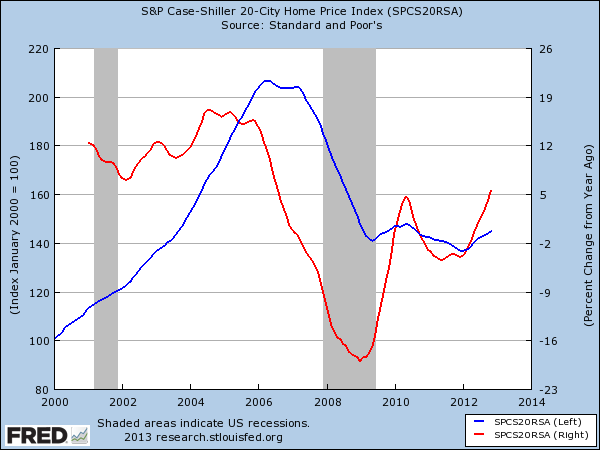 There will be some adjusting with the winter data but there is momentum in the market currently.  A large part of this is from investment funding and the yields are not looking good anymore.  So that money will be the first to exit.  Given that this group of buyers was making up roughly 30 percent of purchases on an already low level of inventory, it will be interesting to see how the market will adjust.  Obviously flippers will only keep flipping if these types of gains continue and investors will only dive in until rental yields seem attractive.  The general public will buy no matter what as long as a lender gives them the money and banks will lend money out as long as it is government (aka the taxpayer) backed.  Have we not already proven that?
Just look at what is going on in a place like Santa Monica:

Inventory is down by over 60 percent from 2 years ago and the median list price is up 40 percent and the median square foot price is up 25 percent.  This sure seems sustainable.

Did You Enjoy The Post? Subscribe to Dr. Housing Bubble's Blog to get updated housing commentary, analysis, and information.