Flipping activity is getting so out of hand that you can practically see which properties are going to end up as flips right when they hit the market.  Some of the hottest neighborhoods in Los Angeles are those that attract the hipster crowd.  We've featured flippers in Silver Lake and today we will feature a home that just hit the market in Eagle Rock, another bastion for flippers and hipsters alike.  The rush to flip is bringing back some fond memories.  What is making this market even more dramatic is the drastically low inventory and the renewed belief that housing prices only go up.  In fact in a recent survey, missing out on future home gains is the top concern, not our ridiculously high debt, or massively indebted youth, or even an older generation that will cause a rise in healthcare expenses.  No sir!  The real concern is about missing out on those juicy gains on hipster neighborhoods!  Today we'll pick out a home that is still for sale in Eagle Rock but you can rest assured that it will go under as a flip shortly.
Hipster neighborhoods reign supreme
8 out of 10 of the hottest real estate areas are found in California.  Take a look at this: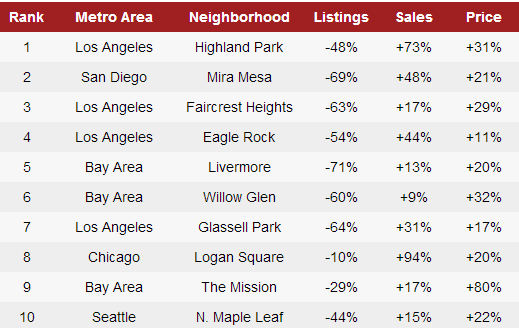 What does the above tell us?  A massive drop in listings, a big jump in sales, and prices are going gangbusters.  You'll notice that Eagle Rock makes the list at number four.  Listings are down by 54 percent, sales are up by 44 percent, and price is up by 11 percent. The above chart highlights trends for 2012.  This shrinking inventory is more exaggerated in California but nationwide we see a similar pattern:
That is a massive unprecedented decline in inventory.  Why is this occurring?  First, you have the expectation now that home prices will only go up: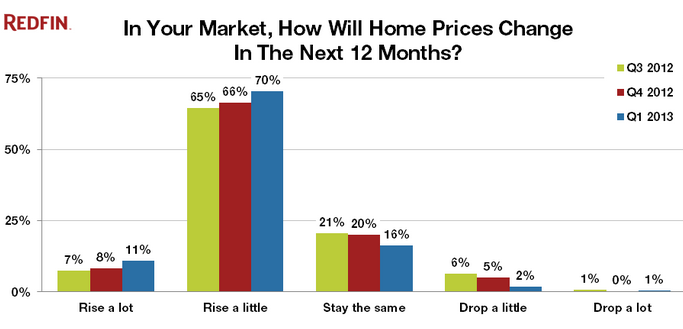 Next, you have banks continuing their leakage of distressed inventory.  We've also highlighted that the more expensive the neighborhood, the more likely you can buy time with your home in the foreclosure pipeline.  That is the current backdrop of our housing market.  So let us examine Eagle Rock much more deeply since this area seems to be a magnet for the hipster aficionados.
Eagle Rock flipper candidate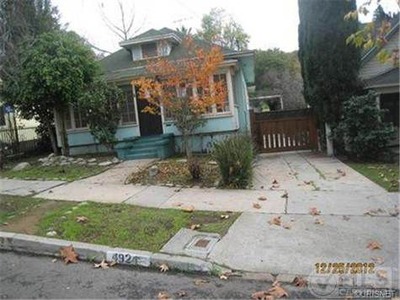 4924 Wiota St, Eagle Rock, CA 90041
Bedrooms:  3 beds
Bathrooms:  2 baths
Single Family:  1,162 sq ft
Lot:  7,840 sq ft
Year Built:  1912
This home hit the MLS on January 23, only a couple of days ago.  So why is this a candidate for a flip?  Can it be the awesome photos of garbage bins in the back?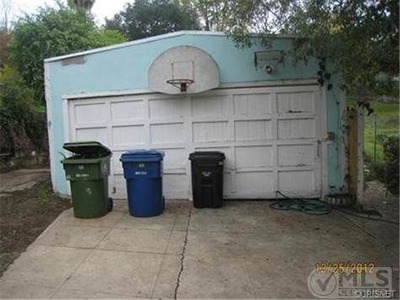 Or would you rather see it in the front?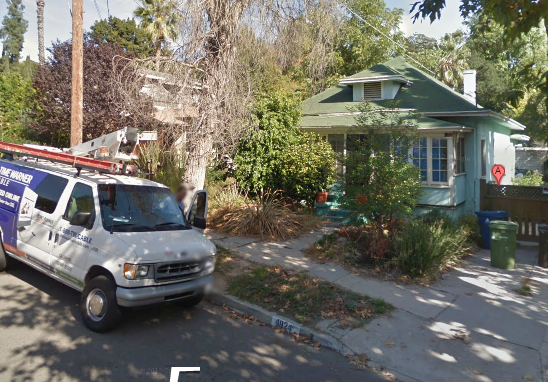 The two main reasons this home is a prime candidate for a flip is that it is in a flipper neighborhood and the current listing price is $329,900.  Given the current market, it is easy to see that this home will sell for higher than this.  Add a little bookmark for this home and check back in the middle of the year and you can rest assured that it will be back on the market and the sale price will not be $329,900.
It'll be interesting to see who buys this home.  My bet is that it will go to an all cash investor and flipper.  This home has hipster rescue written all over it.  Now how wealthy is this neighborhood?  Scouring through tax data we find the average adjusted gross income to be $53,647 for this zip code.  However like many of these flipper neighborhoods, the hipsters are taking over pushing prices up and leveraging up on flips with delicious low down mortgages courtesy of the Fed.
Any guesses on what will be the winning bid on this place?

Did You Enjoy The Post? Subscribe to Dr. Housing Bubble's Blog to get updated housing commentary, analysis, and information.