This may come as a surprise to many but the United States did not lead the charge in regards to creating the biggest housing bubble.  I was trying to find a time in history where the world experienced correlated housing bubbles and could not find a time similar to the one we are living in when it comes to real estate.  The reason for this is central banking policy around the world is very similar.  Think of the Federal Reserve, European Central Bank, and Bank of Japan.  There is interesting data highlighting the magnitude of global housing bubbles that actually makes US home prices look modest.  One of the biggest challenges I see right now is when people use large area data (i.e., US, county, etc) and then transfer this to a small area that is clearly facing a mania.  There are many areas that are seeing home prices now selling for 8 to 10 times the typical household income of those in the area (the US is now at a solid 3 to 3.5).  So let us examine those global housing bubbles first.
Global real estate mania
Without a doubt, China is experiencing the biggest housing bubble of all.  There is little question about this.  You are also seeing spillover money from China creating ancillary bubbles in places in Canada.  One thing I will say about the following chart is that you have areas with growing middle classes as well.  So the rise in home prices is coming with a solid rise in income.  This is something that is not occurring in Europe and the United States for example.  First, let us examine the leaders in the global housing bubble race: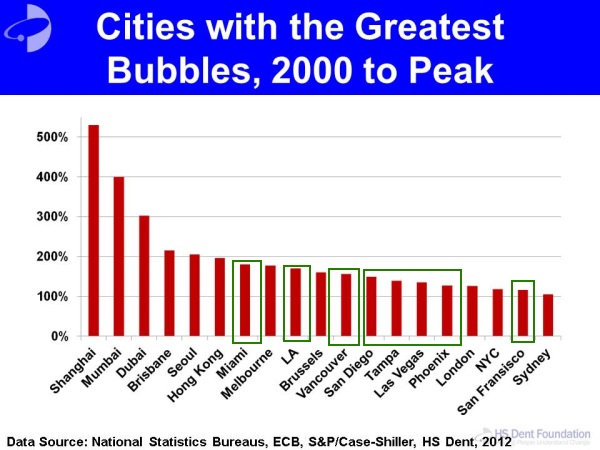 From 2000 to Peak
-1.  Shanghai – 500+ percent
-2.  Mumbai – 400 percent
-3.  Dubai – 300 percent
-4. Brisbane 200+ percent
-5.  Seoul – 200+ percent
-6.  Hong Kong – 200 percent
You can read the many stories regarding Chinese real estate:
"(BBC) If you want to find a place where China's huge housing bubble has already burst, then Ordos is the place to come.

The story started about 20 years ago, with the beginning of a great Mongolian coal rush.

Private mining companies poured into the green Inner Mongolian steppe lands, pock-marking the landscape with enormous opencast holes in the ground, or tunnelling underground.

…Ten years later Ordos new town is an empty new city."
You will have to get to the seventh spot on the list above to find US areas.  US areas like Miami, LA, and Las Vegas saw jumps of roughly 150 percent.  The US as a nation would not even register on this chart.  We talked about Hong Kong and how they are taxing foreign investment to curb speculation.  To put this global mania in perspective, let us now see where we stand today in the US: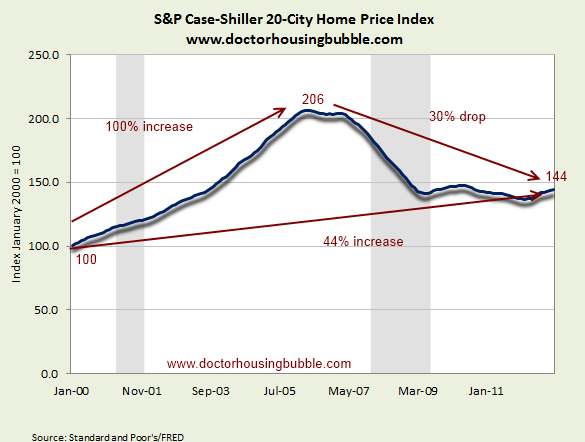 Home prices in the US as measured by the Case Shiller increased by over 100 percent from 2000 to the peak.  Since that point, home prices have now fallen by 30 percent from the peak.  If we look at the index we see that overall home prices in the US are up by 44 percent from where they were in 2000.  Over this timeframe, the overall inflation rate has increased by 33 percent so in this respect, home prices on a national level look fine especially when you factor in the massive additional leverage you can get from the low rates being pumped into the market.  If you are a typical US family in many of our 50 states, buying a home is a good move and probably even more affordable than renting.  But be careful adapting this trend to niche markets that are flowing with flippers and outside investors for example.
Now why did we experience this global housing mania?  Part of it has to do with easy banking policies mimicking one another.  If you think that all of this came at no cost just look at the balance sheet of big central banks: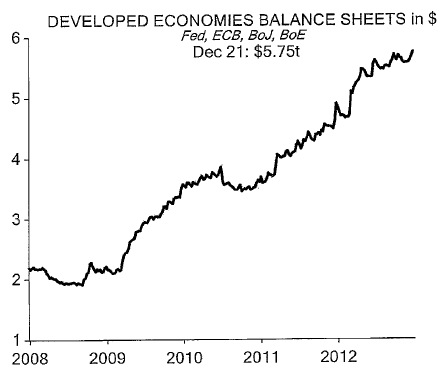 Central banks have boosted their balance sheets from $2 trillion in 2008 to being on path to reaching $6 trillion this year.  The Fed alone is inching closer to $3 trillion especially if they continue with QE3 and their mortgage backed security purchasing plan.  It is very clear that the Fed became the bad bank to induce this housing boom and went as far as to take off MBS from the hands of these banks.  Yet overall, the US on aggregate looks to be getting in line with prices.
The nationwide median home price is now at $180,600.  The US median household income is $50,000.  With 30 year fixed rate mortgages at 3 percent, this is completely affordable:
Down payment (10%):   $18,060
PITI @ 3.5%:                       between $950 and $1000 depending on taxes and insurance
This is why nationwide it is hard to see prices dropping much lower.  Yet in certain markets, high demand from investors, flippers, and foreign money is likely to cause a dip once it is extracted.
The global housing mania is fascinating because many countries are still in the process of their bubbles.  Take a look at our friends up north in Canada: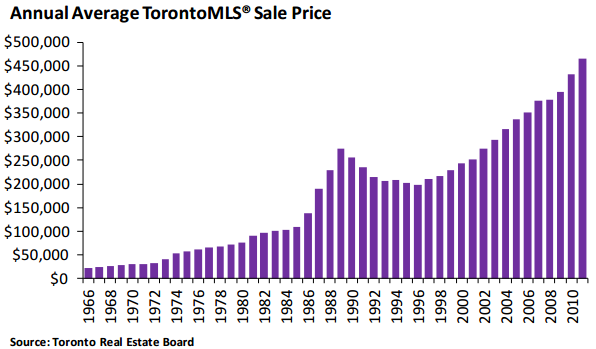 In 2000, the average sales price of a Toronto home was roughly $240,000.  Today it is up to $465,000.  Canadian cities like Vancouver and Toronto have seen absolutely no correction and are benefitting from hot money from abroad.  US home prices as you can see from the Case Shiller data above, are now tracking closer to the overall inflation rate.
Those thinking that there are no more housing bubbles simply need to look at a few other countries but also at more specific cities were flippers are back in force.  Those thinking that global independent investors are buying up these securities are poorly mistaken. It is obvious that central banks are eating this stuff up but the question is, how long can this go on for?

Did You Enjoy The Post? Subscribe to Dr. Housing Bubble's Blog to get updated housing commentary, analysis, and information.