Supply and demand.  A basic fundamental point of any course in introductory economics.  With housing most people go with what they see.  Distressed inventory is a silent issue because you really do not know how deep problems are in a certain area unlike a home that is listed for sale with a big red sign in the front lawn.  Yet we know that over 10,000,000+ Americans are currently underwater on their mortgages and another 5,000,000+ have stopped paying their mortgage or are currently in the foreclosure process.  What people see however, is prices going up, available inventory going down, and their ability to buy more house expand courtesy of mortgage rates.  Today I want to focus on the inventory side of the equation because it has fallen dramatically in the last few years and is causing bidding wars in certain metro areas.
Housing inventory
The biggest asset most Americans have on their balance sheet is their home.  The credit markets prior to the crash in 2008 were open to all people with toxic loans.  So anyone with a pulse had the ability to buy.  Today, the government is the mortgage market originating over 95 percent of all loans.  FHA insured loans are a big part of this and only require a paltry 3.5 percent down payment.  Inventory has fallen dramatically from the peak in 2008:

Source:  Housing Tracker
Nationwide, inventory is down a stunning 50 percent from 2008 as home sale demand has picked up.  This is also occurring in select metro areas:

Inventory in Los Angeles is down over 60 percent in this same time period.  Basic supply and demand will tell you that even with the same level of demand, prices would be pushed higher.  Yet with housing, you can only purchase a property with actual real world income.  Typically, this income has to come from local households but like in many places in California, you can have hot money coming in from other nations or states.  The Fed and government fully understand this point and since it is much more difficult to target household income to increase, they simply pushed mortgage rates lower via a variety of mechanisms including QE3.  The result is similar to this: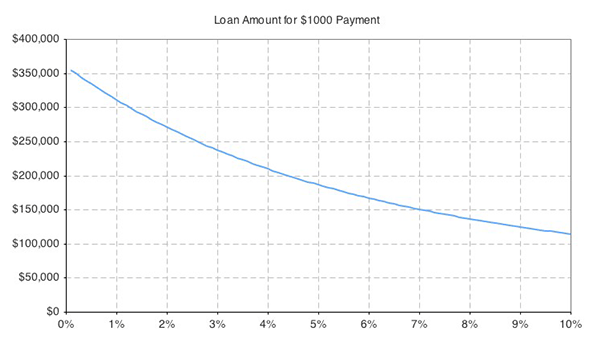 This is a very critical item to understand in why home prices surged in 2012.  6 percent rates were here not too long ago (2008) and rates were up to 5.5 percent in mid-2009.  A 6 percent rate in historical context is incredibly low.  So you see with the chart above, at 6 percent a $1,000 payment will get you a home at roughly $150,000.  At 3 percent, it approaches $250,000.  Yet household incomes remain stagnant.  However that drop in interest rates suddenly boosted buying power dramatically.
Lower inventory, more buying power, higher prices
So it should come as no surprise that prices surged in 2012:
Source:  Redfin
Nationally the price per square foot went up by 10 percent.  In Los Angeles, it went up by 12.3 percent while in San Jose it soared a stunning 23 percent.  Take a look at Phoenix however.  The price per square foot went up 33 percent!  We discussed Arizona incomes and the flood of investors into the area in a previous article.  Nearly half of sales in Phoenix and Las Vegas come from investors and hot money.  Big funds from Wall Street are chasing yield all over the country and are willing to become large landlords.
You would think given this massive rise in home prices that home sales are near record levels.  They are not.  In fact, new home sales are still near the trough and are barely creeping out: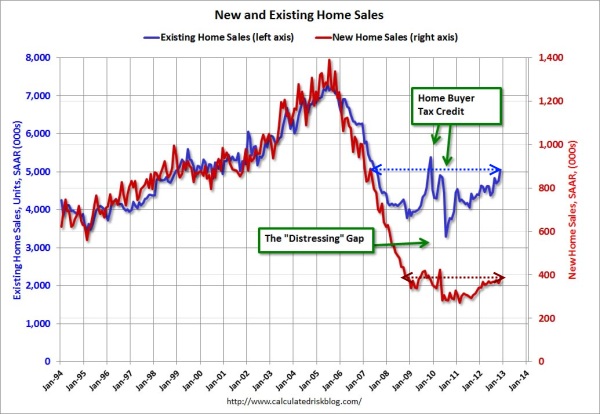 This chart probably would surprise most that overall existing home sales are back to levels last seen in 2006 or at a similar rate to what we had in 1999.  The population is much larger since that time and back in 1999 the 30 year fixed mortgage rate was closer to 8 percent.  What we are really seeing more than anything is the lack of supply on the market plus massively artificial interest rates.  Is this healthy?  The bulk of people only see two things when they look at the housing market:
-1.  What is my monthly payment
-2.  What homes are available for sale
The mania that is unfolding right now has nothing to do with underlying solid economic fundamentals.  In fact, come what may with the fiscal cliff, we will be seeing a combination of cuts and tax increases.  We're reaching another debt ceiling and we still have big issues to contend with like the large number of baby boomers retiring and a much less affluent younger generation.  How will this impact housing?  Even for the above chart, how will new home sale construction look like?  Many younger Americans have no desire for the giant 2,500 square foot McMansion model that seemed to go hand and hand with cheap energy.  It is amazing how easily people forget history and the reality that 5,000,000 Americans have been foreclosed on (and we have millions more to go with 5,000,000 right now not paying their mortgage or are in the foreclosure process).
Supply has dwindled to incredibly low levels.  Banks have altered the foreclosure process and this has had a short-term gain with a combination of low interest rates.  Short of rates going lower or incomes moving up, we will see this momentum slow.  Flippers and bidding wars are now back in the game.  The lack of new home construction has caused what little inventory that is on the market to increase in price relative to the changes in the interest rate.  How much more power does the Fed have in pushing rates lower than where they are today?

Did You Enjoy The Post? Subscribe to Dr. Housing Bubble's Blog to get updated housing commentary, analysis, and information.