The amount of money flowing in from global markets is incredibly strong.  To be more specific buyers from China are big players in many prime areas especially in California.  Access to high quality universities and prime neighborhoods is simply another factor that will keep prices inflated more than people may think.  Canadians have firsthand experience in this global real estate market push.  If you think our real estate bubble was amazing you simply have no idea what is going on in China at the current moment.  This past weekend, the Hong Kong government put on a 15 percent tax on property purchases made by foreigners.  There is no question that the market is overheating and the government is readily admitting it and even going to these extremes.  Put this into perspective with US real estate in 2007 when the Fed was still reticent to admit that we were experiencing a heated real estate market.  At this point it is too late and places where this hot money is flowing like a few Canadian cities will feel a pull back once the current trend stalls or even reverses.
China and Japan real estate markets
Not all markets in Asia are following a similar pattern.  I was talking with someone very familiar with Asian real estate and it is clear that the press throws all Asian markets into one pot.  That is clearly not the case.  Take a look at housing values over the last year: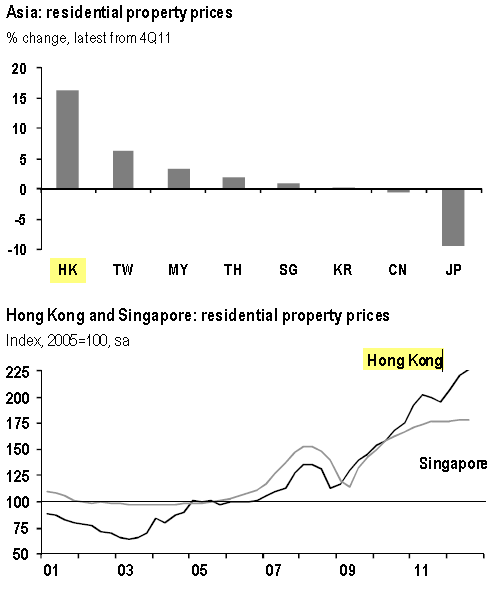 Housing prices in Hong Kong are up more than 15 percent in the last year.  Price in Singapore are also on a fast pace upwards.  You'll notice in the chart that the financial crisis merely set in a temporary lull and prices are now way above record levels.  But look at Japan and the trend hitting their property markets.  Keep in mind that China and Japan are the second and third largest economies in the world behind the United States.  This does and will have a significant impact on what is going to occur moving forward.
In California it is very common to see foreign buyers from China purchasing in prime locations.  This has picked up recently and tying that in with what is going on overseas, our prices might look affordable in the grand scheme of things.  A mania to us might be a hedge for hot money abroad.  It is interesting for California since in the late 1980s the boom in Japan pushed up real estate prices primarily in the commercial side of things.  We can include this foreign money flows for two of the last three bubbles: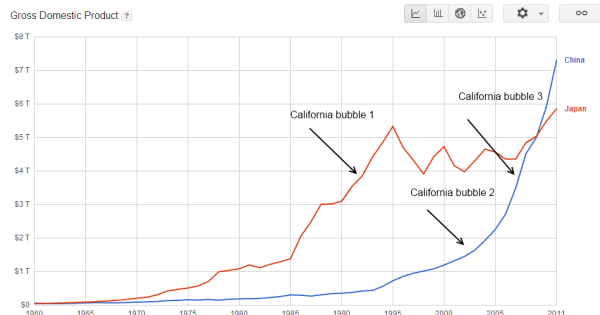 The first bubble in the late 1980s came with the rise of the Japanese real estate boom.  In the 1990s certain areas in the Bay Area saw prices soar courtesy of the technology boom.  Today, we are seeing strong foreign buying from China.  This is another reason why you have places like the Inland Empire looking attractive to local Californians in terms of price while other areas never even corrected.  Compared to prime big cities and locations in China, many of the cities in California but also Canada look like excellent options to diversify a global portfolio.  There is also a demand for more tangible assets:
"(BusinessWeek) Last year the average price of a foreign-purchased U.S. home was more than $400,000, which is double the national average—so the search for good value might only extend so far. That high figure becomes even more impressive when one considers that buyers from abroad often lack credit scores and access to mortgages, and frequently opt to pay the whole price upfront. "[S]ales transactions can often be completed quickly as many Chinese purchasers prefer all-cash deals," Pamela Liebman, president and chief executive officer of the Corcoran Group, a New York real estate firm, writes in an e-mail. Liebman also says that her company has serviced more Chinese clients this year than at any time in the past, and that their interest is not just in residential real estate but in commercial property as well. Sixty-two percent of purchases by foreign buyers last year were in cash, according to the NAR. Zhao says many of the deals are for very large homes, capable of supporting several generations under one roof, which is a preference for affluent families."
62 percent of foreign purchases were for all cash and the average price was $400,000.  Given that the median price of a US home is about $170,000 and a high number of buyers finance their purchase, foreign money is being very specific as to where they want to land and when it does land it goes in with all cash.  Fed or no Fed, low rates or high rates, if the boom continues abroad expect pocket areas to be held high as long as this trend continues.  The education component is very important.  Take a look at international figures from a top college in SoCal, USC: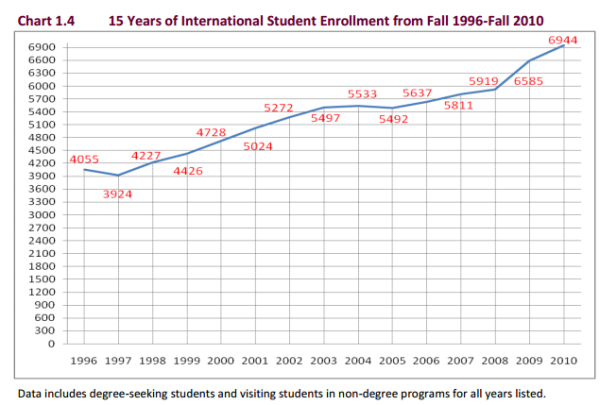 13 percent of the students at USC are international students.  They represent 70 countries.  This is a trend that is hitting many top institutions across the country.  As higher education pushes many domestic students into debt, many top institutions seem to increase their tuition year over year.  Housing and education go hand and hand and the global demand is very clear in many markets, especially in prime SoCal areas.
What are your thoughts on this ongoing trend?

Did You Enjoy The Post? Subscribe to Dr. Housing Bubble's Blog to get updated housing commentary, analysis, and information.