Housing inflation has run at an elevated pace since the 1970s and ramped up starting in the 1990s.  Yet what masked much of the pain was access to easy credit but also the rise of the two income household.  The housing bubble is worse than many expect and probably for the wrong reasons.  Many readers make the wrong assumption that because we are largely a two income household nation that home values had to rise simply because of this transition.  It was a simple 2 plus 2 calculation.  This is wrong and it is more likely that home values grew in the last decade more on the introduction of exotic mortgage products that didn't rely on income measures.  There is little debate that many cities in California are still in major housing bubbles.  Yet nationwide home values are still overpriced by 25 percent.  Let us examine why.
Dual income households
Since the late 1960s there has been a steady rise in dual income households:

Source:  Tax Foundation
The above is a dramatic shift in the way we organize our household budgets.  Yet we also need to remember what caused the above shift.  In the 1950s and 1960s it was very doable for one blue collar job to support one household.  That is, purchasing a home with a 30 year fixed rate with one blue collar income was not an extraordinary accomplishment.  But what pushed the rate from 47% in 1967 to 67% today?  Of course the obvious part is the rise of women in the workforce but the more sinister reality is that households now need two incomes just to stay within the middle class.  It was more out of necessity.  You need only look at the data on manufacturing jobs to see the trend: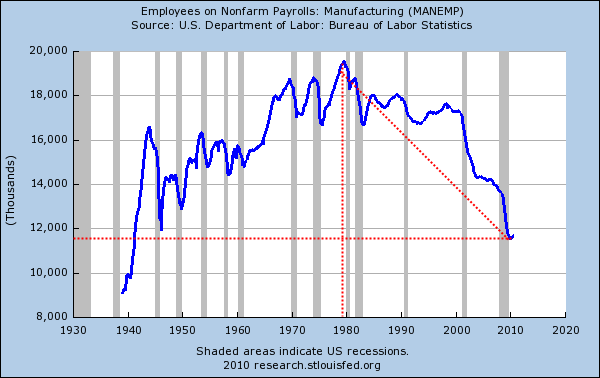 We have the same raw number of people working in manufacturing as we did in the 1940s!  Of course our population has expanded dramatically over that time.  It is amazing that 4 out of 10 Americans work in the low paying service sector (i.e., McDonalds, Wal-Mart, cashiers, etc).  That is why the median household income of Americans is roughly $50,000 (in California it is roughly $60,000).  Now given the large amount of dual income households, you can do the math on individual wages.  The housing market inflation has been underplayed because you have dual income households working lower paying jobs.  So yes, income has gone up but the per capita wage for each individual has gone down.  Even with two incomes, the current price of housing in the U.S. is too high.  That is why the Federal Reserve has done everything imaginable to keep rates artificially low.  But guess what?  Unless they can throw in a third income to the household people won't be buying.
Historical housing prices
When you tell people that housing prices are still too high, they looked shocked.  How can this be with such a dramatic correction?  They might agree on the merits of a handful of California areas but certainly not nationwide.  The reality is, nationwide home prices are overvalued by at least 25 percent: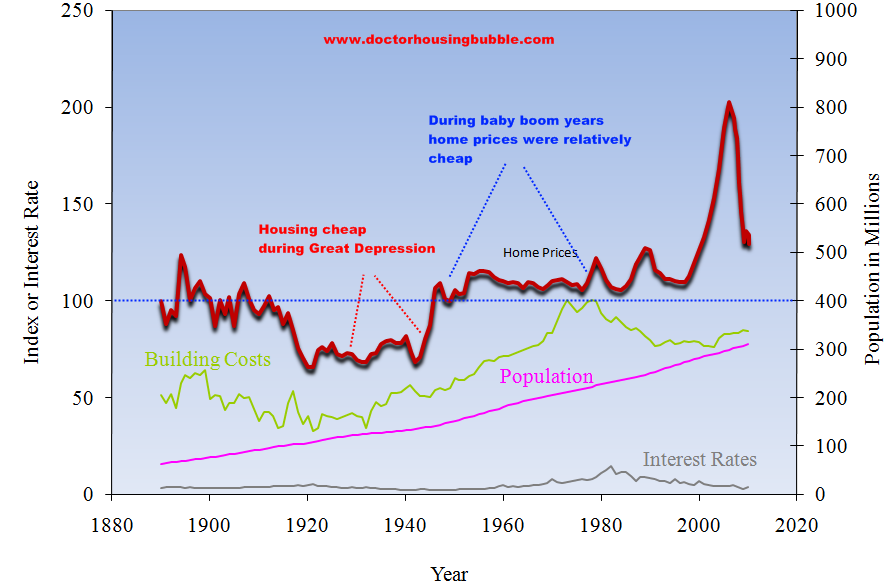 Now this is data going back to the 1880s.  For over 100 years home prices hovered around the 100 base point.  During the Great Depression, home prices were extremely affordable (but then again it was the Great Depression).  But even after that terrible economic time, home prices remained relatively affordable for nearly 50 years from 1940 to 1990.  All of sudden you begin to see spikes in this market.  What exactly happened here?  You have the S&L crisis but also the de-regulation of the financial markets.  In other words, we suddenly allowed toxic junk mortgages to enter into the system and turned the housing market into a wild casino.
Even after the dramatic spike and peak reached in the 2000s and subsequent slide, home prices still need to fall another 25 percent to be in line with historical data.  If this is the deepest crisis since the Great Depression you would expect that home values would at least make their way back to the 100 base point.  The mainstream media only relies on banking and housing pundits that have a vested interest in keeping home values inflated.  They don't have any sense of what is going on in Main Street USA.  Just last week I saw someone (yet again) selling loads of cans and plastic bottles at the recycling center from their leased Jaguar!  Or another person was buying loads of items at a dollar store and had a Prada purse.  Sure these are anecdotes but things are changing.  And Americans have little faith in the stock market as they should:
"(MSNBC) Renewed economic uncertainty is testing Americans' generation-long love affair with the stock market.

Investors withdrew a staggering $33.12 billion from domestic stock market mutual funds in the first seven months of this year, according to the Investment Company Institute, the mutual fund industry trade group. Now many are choosing investments they deem safer, like bonds."
Why keep money in a stock market with no reform, flash crashes, and I-bankers fleecing the American people in their glorified casino?  The reason home sales have collapsed is the fact that the employment market is so weak and fragile.  People are shifting their spending habits to "needs" from "wants" and this has cratered many industries (no more Prada bags but $1 tooth brushes will work).  A giant McMansion has many substitutes.  You can lease a smaller home or condo.  In other words the demand for buying homes is highly elastic.
Income data
Elizabeth Warren, Professor of Law at Harvard has been a fantastic advocate for the middle class.  Her book on the two income trap is fantastic and highlights the slow erosion of the U.S. middle class.  Her data below shows that two incomes are not necessarily better than one given the current erosion of individual purchasing power:

Now run the above numbers carefully.  The single-income family of 1970 had more discretionary income than the dual-income family of the early 2000s.  To keep pace, the recent trend has been for households to take on more and more debt to make up for this real short-fall: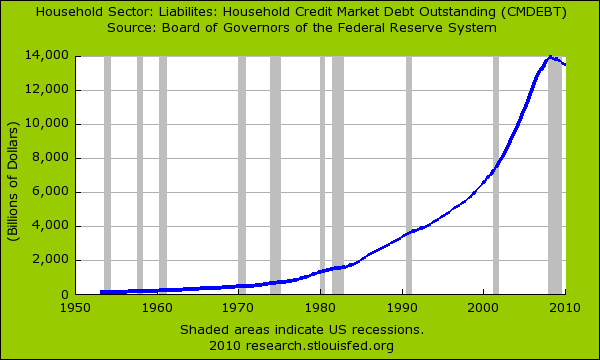 Now this is an interesting point.  The balance sheet of Americans has taken a major hit since the recession started.  In fact, residential real estate values (the place where most have their net worth) have cratered by $6 trillion.  But look at the above.  The debt hasn't adjusted.  This has to do with banks not realizing the actual losses (i.e., shadow inventory, etc).  Yet the reality is losses have occurred.  And when you even run hypothetical scenarios you can understand why having two incomes isn't a big win:

Source: CNN
This is an interesting perspective.  If you run through nearly each line item above, everything has gone up in price over this time.  Don't even start with healthcare or college costs because the chart would tilt right over.  But even looking at mortgage payments and taxes, things have shifted.  Also, with the single income household you didn't need two cars or needed to pay for daycare/babysitting.  These are added costs that come when per capita incomes have shrunk.
Now with many households becoming one income households yet again because of this recession, we see the tide rolling out and how bad things really are.  Combine this with a tightening of credit access and the reality is revealed.  Home values are still extremely expensive and have been covered up by dual income households and massive amounts of debt.  Remove both of those and you get a very ugly economic picture.
So what does this mean?  It means home values need to drop lower.  It also means we need to focus on figuring out what is needed to get our employment base on the right track.  We don't need any more agents, brokers, or Wall Street i-bankers so we need to ask what industries we want to see flourish in this country.  The only pundits we hear from on national TV usually want the old order to come back.  Looking at the above data, that looks highly unlikely.

Did You Enjoy The Post? Subscribe to Dr. Housing Bubble's Blog to get updated housing commentary, analysis, and information.