I was talking with a colleague here in Southern California and he was perplexed that the housing market hasn't recovered given all the money being thrown at it.  His perspective on California is so niche specific that he is unable to see the housing forest unless we cut away some of the propaganda filled trees.  On Wednesday the Federal Reserve echoed what we have been saying about the weak economy.  They promised to keep rates low to "help" the economy but ironically it was the work of mastermind Alan Greenspan on keeping rates artificially lowered that helped spur the housing bubble in the first place.  If it isn't apparent to you already, the Fed has failed in helping the economy even after they have used their podium to funnel trillions of U.S. taxpayer dollars to their buddy banks.  Yet they want to keep rates low for what?  So more people can buy over priced homes?  Apparently that is the logic filtering around a handful of niche California cities.
A friend wanted to get some information on Burbank so I decided to dig up some data on the area and take a look at one single home in the area that highlights the mania that is Southern California housing.  Today we salute you Burbank with our Real Homes of Genius Award.
The bubble is still alive in Burbank

Home prices for Burbank peaked back in 2006 where a median priced home would have cost you close to $650,000.  Burbank is a nice area with a population close to 110,000.  However, like any large city you have to be select in what neighborhood you choose.  Interestingly enough more people work in Burbank than live in the city.  This speaks to the economic diversity of the area.  Walt Disney, NBC, ABC, and other media outlets have headquarters in the city.  Yet the chart above shows the absolute mania that occurred in this city during the boom (and prices are still elevated).
Many outside of the area are probably thinking that those who live in the city must make loads of money to support a $450,000 median home price for such a large area.  Funny that because of the housing bubble, $450,000 seems "reasonable" in a decent L.A. city but it is not.  Let us take a closer look: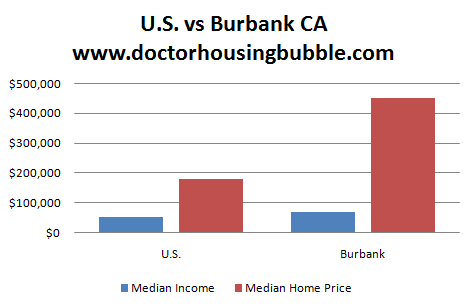 Source:  Census
So while it is true that household income in Burbank is higher by 30 percent than the nationwide median, home prices in Burbank are higher by a multiple of 2.5!  If home prices tracked local area incomes home prices in Burbank would be closer to $230,000 (a far cry from the current $450,000 overall).  Indeed home prices in general are still in a housing bubble for Burbank.  This has to do with the amount of creative financing that occurred during the housing bubble.  Many still believe that home prices will recover in some of these areas even though they are still too high to begin with.
Let us examine our home for today:

701 S LAKE ST, Burbank, CA 91502
Beds:                     2
Baths:                   1
Square feet:       919
Built:                      1939
List Price:             $361,900
This home is a MLS listed foreclosure.  For some, the current price will seem inflated.  Yet only when we look at the sales history do we realize how far we have come in the California housing bubble:

The last sales date was back in early 2007 when the home sold for a stunning $630,000!  A home in Burbank with approximately 900 square feet sold for over $600,000.  This is 10 times the annual median household income for the area.  What I usually recommend is that folks aim at taking on a mortgage with an upper-bound of three times their annual household income.  So for example, with this place what would someone need to purchase it and be comfortably within this range?
Assume a 10% down payment:  $36,190
Mortgage:           $325,710
Household income required:                      $108,570
The income required to buy this small 900 square foot home is 50 percent higher than the median household income for the Burbank area.  This is why many cities in California have a long way to adjust before the bubble is over.  And if you noticed this week, the Fed desperately came out saying they will continue to buy mortgage backed securities to keep interest rates low.  Why?  Because no one else in their right mind would touch this toxic financial waste.  In essence, the Fed is laundering the junk banks are taking in so banks can continue looting the real wealth of Americans.  By the way, Americans have lost close to $6 trillion in residential real estate since the bubble burst.  Of course, most of this was bubble wealth but it is amazing that after that, banks are now back to making giant sums of money by speculating on Wall Street.  And what do you get?  A low mortgage rate if you want to buy a home with an inflated value even though most Americans are struggling with keeping wages stable or with actually finding work.
Did you realize that the 30 year fixed mortgage is at a historical low?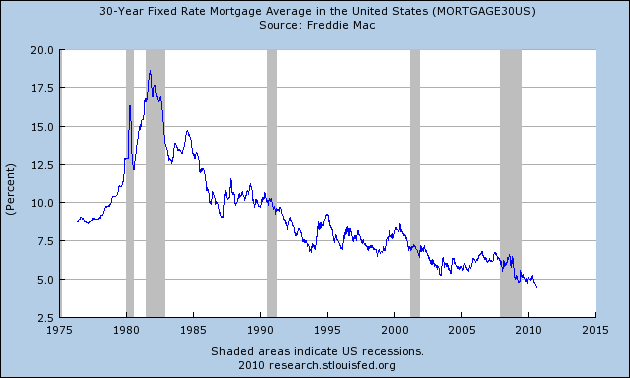 So why are Americans not going hog wild and creating another housing bubble?  Because the job market is in the toilet!  For over a decade (and three years since the crisis started) we have listened to the bubble happy advice of Wall Street.  This has led to a destruction of real wealth and a creation of a tiny gambling group that basically enjoys dressing up in striped suits and pretending to go to work by gambling the hard earned dollars from working and middle class Americans.  The result is an unemployment rate that is incredibly high if we look at broad measures and home prices that are disconnected from market fundamentals.
People ask for a solution and there is only two ways this can be solved in a sane fashion.  Either home prices go down in many areas to reflect current incomes of area families or wages suddenly shoot up to make home prices affordable.  I don't see income going up by 50 percent in Burbank over the next few years do you?
Today we salute you Burbank with our Real Homes of Genius Award.

Did You Enjoy The Post? Subscribe to Dr. Housing Bubble's Blog to get updated housing commentary, analysis, and information.