Scouring the headlines from the latest dismal employment report, one can readily see that the second half of 2010 is going to tempt the double dip recession monster.  This is to be expected since the solutions we should have taken back in 2007 of breaking up the banks and shrinking the finance, insurance, and real estate industry went by the wayside as financial lobbyists fought and won their ability to rob the taxpayer blind.  So three years later, with the overall productive employment base of the country in disarray and housing still unable to recover, we shouldn't be surprised if a double dip hits.  In fact, we'll look at 13 charts showing that a recession never really went away for most Americans.  The exotic loans and lack of employment growth still ripple through the economy even as profits for banks are on the rise.
Chart 1 – Mortgage problems still prevalent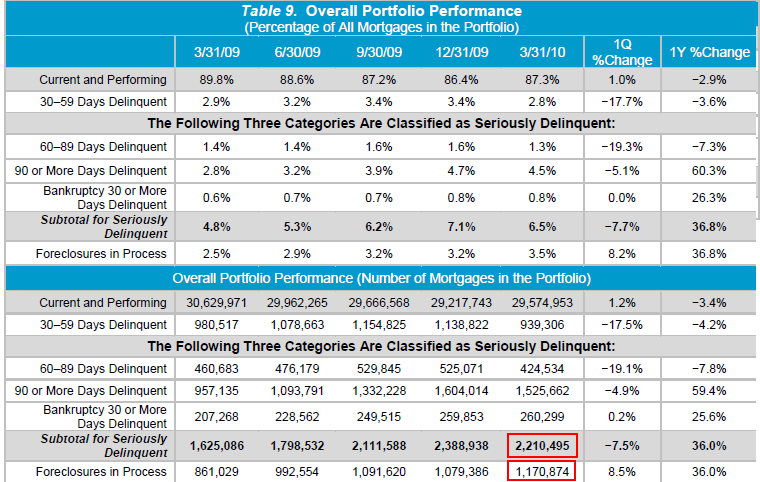 Source:  OCC and OTS
This is an important chart because it shows that we are still at the peak of housing problems.  The latest snapshot shows 1.17 million active foreclosures.  Another 2.21 million loans are "seriously delinquent" and these are simply homes waiting to enter the foreclosure pipeline.  The above report covers roughly 64 percent of all outstanding mortgages (34 million loans) so we know that there are actually more troubled loans out in the market.  How is it possible to say things are better when the number of foreclosures in process is still at its peak?  We have plenty of toxic loans that are still floating out in the market.  As we have shown even million dollar homes are not immune to this correction.
A deceptive trend above is the 7.5% quarterly drop in seriously delinquent loans.  This has occurred because of programs like HAMP that put troubled homeowners in a sort of mortgage purgatory.  So this statistics is largely a shell game of the current way things are being measured.  Even recent trends show that over half of modifications re-default at some point.
Chart 2 – Option ARMs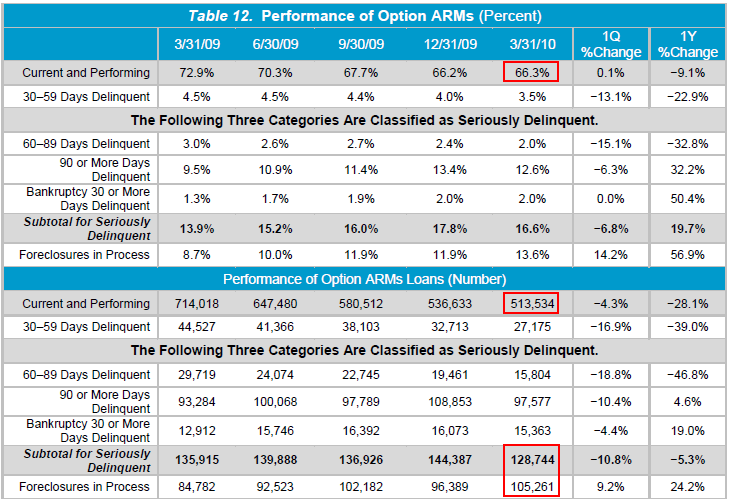 It is stunning that only 66 percent of all option ARMs are still currently performing.  We know that banks have recently started shifting these loans into other mortgage products like interest only loans so the amount of actual option ARMs is shrinking.  Even with that information, there are still over 500,000 active option ARMs.  Over half of these are in the state of California.  The above data is more case specific to a handful of states so I'm not sure how big of an impact this will have on the overall housing market.  Yet many of the too big to fail banks including Wells Fargo, Chase, and Bank of America have plenty of option ARMs to keep them busy throughout the next two years.
Chart 3 – Mortgage equity withdrawals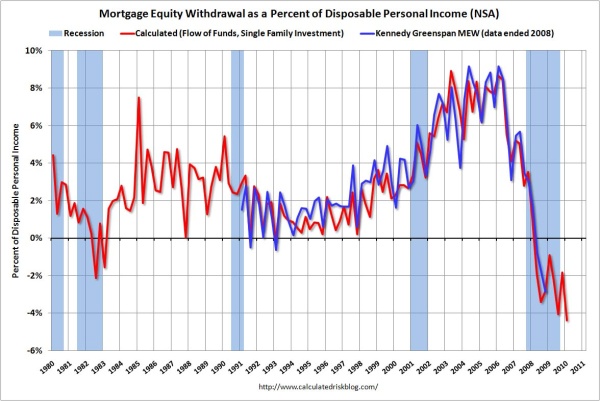 Source:  Calculated Risk
During the boom years of housing to keep spending up, households were pulling out what came out to be the equivalent of 8 percentage points of their income from mortgage equity withdrawals.  This stunning amount of debt allowed households to spend money even though incomes were stagnant.  It was a debt fueled craze.  Yet the above chart shows that game is now over with home prices down by roughly 30 percent from their peak nationwide.  You can't pull money from your home if you don't have any equity.  In fact, one third of all U.S. homeowners with a mortgage are now underwater on their mortgage.  In other words they are in a worse financial situation than say someone that rents.
The above chart shows you what is happening but you can probably guess by the reduction of HELOC commercials and junk mail to your home that this housing ATM game is up.  Given that MEW was a large part of spending for over a decade, where else are consumers going to get loans from?  The banking industry is hoarding money just to fix their destroyed balance sheets.
Chart 4 – Excess reserves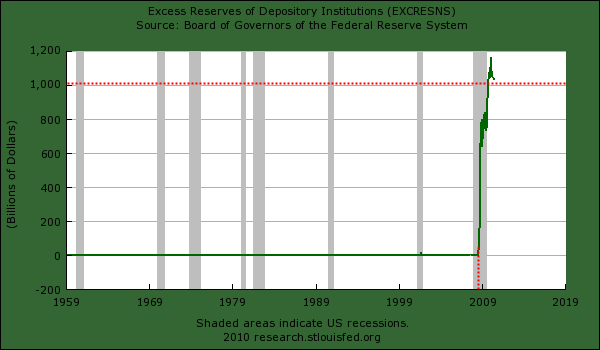 Source:  Federal Reserve
Banks are holding onto bailout funds with both hands firmly clutched around hundred dollar bills like Scrooge McDuck.  These are funds that would otherwise be in the hands of Americans.  Yet banks realize the poor health of their balance sheets just like Japanese banks realized 20 years ago.  So it shouldn't be a shock that American bankers are motivated by the same self interest as their Japanese counterparts.  The banking industry even today is largely insolvent.  We all know this.  The only way they have avoided full on dismantlement is by allowing for a suspension of mark to market, an unlimited lifeline to taxpayer dollars, and hoarding money for the coming problems with commercial real estate loans and the continued issues with the residential housing market.  Banks have over $1 trillion in excess reserves.  If the Fed wanted this money out in the economy it could charge banks for holding onto money.  Then again, the Fed works for the banks so don't expect that to happen anytime soon.
I've received countless e-mails from small business owners who own their own business and are no longer able to borrow.  These are the employers of the country but don't fall with the too big to fail crowd so their access has been shut off.  We don't need to look too far to see this in action.
Chart  5 – Total revolving credit contraction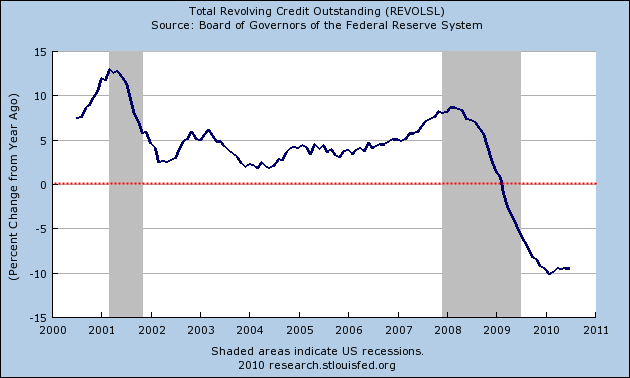 For the first time in data recorded history total revolving credit has contracted on a year over year basis.  Keep in mind this has occurred at the same time that record amounts of bailout funds were transported over in big giant dump trucks to banks.  It is an odd sort of system we currently have.  Banks begged and pleaded and lobbied their way to bailout funds because they said they needed funds to keep lending open for working Americans.  Yet once the funds were allocated, no strings attached (remember that Paulson three page memo?) banks went to fixing their internal problems while speculating in the casino known as Wall Street.  Now, banks have this righteous notion that they won't lend to Americans because they don't have the income to back up the loans!  The same banks that would be out of work today are now talking about lending standards.
The above chart merely reflects this absurd religion banks have now found.  Most of us out in the economy realize that lending has tightened.  After all, we are talking about the same industry that created the most toxic loans we have ever witnessed.  Given 70 percent of our economy is based on spending and much of the spending is done with debt, it is easy to see the second half recovery as being nonexistent.
Chart 6 – Labor force

Source:  BLS
The market didn't know what to do with the data released on employment.  It reacted negatively at first because the headline showed a loss of 131,000 jobs for the month of July.  But most of these were temporary Census jobs so it was okay and the market recovered most of the lost ground by the end of the day.  Yet looking at the data closely, there was nothing to cheer about.  The actual labor force shrunk by 181,000 and that is not good news.  Yet somehow we are to believe that with a shrinking labor force things are going to be better in the second half?  Just look at how pervasive long-term unemployment is.
Chart 7 – Long term unemployed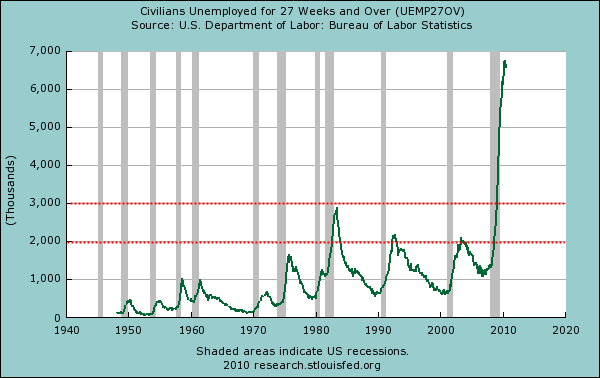 This is a much bigger problem than just saying we are losing jobs.  Many of the jobs that are lost are simply not returning.  These are structural issues that we need to deal with.  There was a report showing that 4 out of 10 Americans work in low paying service sector jobs.  So we expect someone working at Wal-Mart to boost housing values going forward?  Not at current prices.  We've never had so many workers unemployed for this long since the Great Depression.  The same economists and bankers that missed the biggest recession in a century were now talking about a V-shaped recovery.  There is now a Scarlet Letter on their profession and for very good reasons.
Chart 8 – Average weekly hours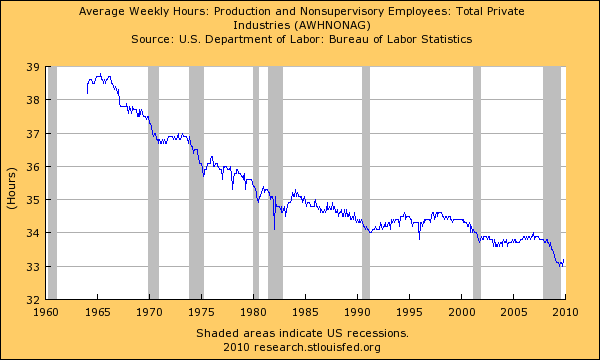 I'm focusing a good part of this analysis on employment because this is the key to a sustained recovery if we are to have one.  When we do see the economy turn around, you will first see it in average hours worked.  Why?  It is easier for a company to restore hours to current workers than to hire new people.  Think of furloughs or someone that lost overtime hours.  When things improve you usually see a minor jump in this chart first.  Yet the overall trend is unmistakable over the decades.  We are now seeing less hours worked on average as we become a large service oriented workforce.  A transient group of workers now have very little job security unlike that of the previous generation.
Chart 9 – Civilian employment ratio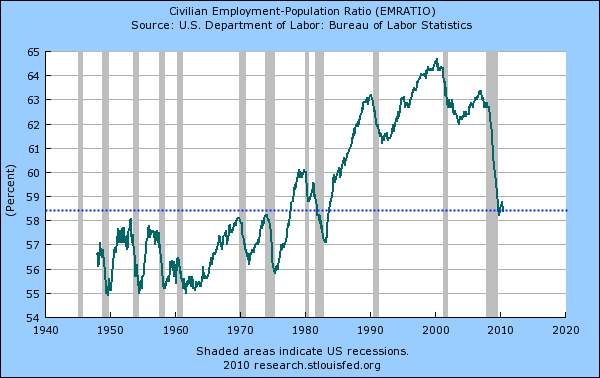 The housing and banking obsessed FIRE industry doesn't realize that the economy is still in major distress for most Americans.  They view everything as a solvable problem from the banking end.  Yet they are the problem.  That is why for three years our main focus has been on shoveling money to banks and giving every imaginable incentive to prop up housing values.  And what a shock that it hasn't worked.  Why?  Because people pay for things with something they call a job!  It is all about jobs.  And we have made the incredible mistake of listening to bankers for advice on how to solve this crisis.  Upton Sinclair had it right:
"It is difficult to get a man to understand something when his job depends on not understanding it."
Just look at the above chart.  Our current employment ratio is on level with the deep recession of the 1980s.  We have a long way to go before claiming any sort of recovery.
Chart 10 – Consumer sentiment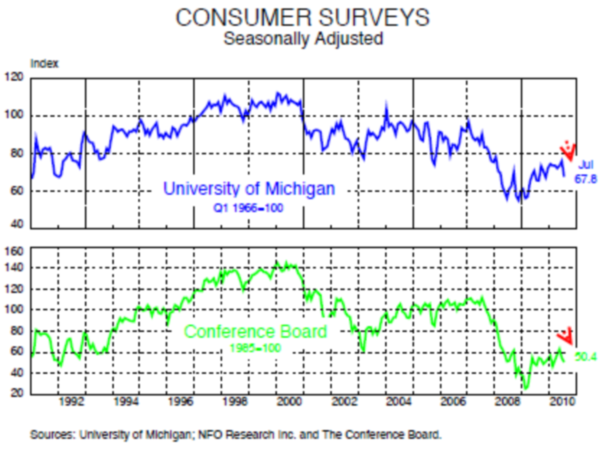 With all the above data it should be no surprise that consumers are a bit pessimistic when it comes to the current economy.  The two most widely cited consumer surveys show a very weak response.  These sentiments are like reading tea leaves but they do reflect something that we all know.  Outside of the stock market, there has been very little of what we can call a recovery.  Just look at the state budget crisis spreading across the country.  Unlike the Federal government, states don't have a printing press to simply make money out of thin air.  They have to contend with reality and what money they do have.
Chart 11 – Consumer price index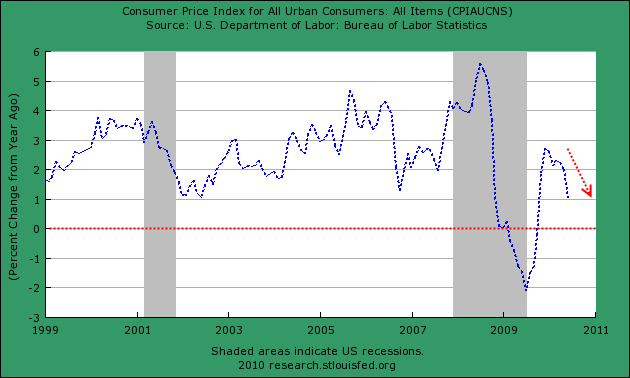 One question I often get is how can it be with so much money being printed that we are not seeing any sort of inflation.  First, we now live in a world where debt is equivalent to money.  Since the peak household wealth has contracted by $11 trillion.  This has occurred through foreclosures, bankruptcies, and business failures that have come from the bursting credit bubble (aka money destruction).  The money that was used for bailouts was given directly to banks and as we have pointed out, banks have hoarded the money.  So this money isn't finding its way to the hands of consumers.
That is why in the above chart, you see consumer prices trending more toward the side of deflation.  Short of the government sending $100,000 checks to each American household, there is little short term pressure for inflation.  With that said, there is likely more chance of home prices falling.  We are looking more and more like Japan in our actions and 3 years into the crisis, we now have a good amount of data to look over.
The story in Japan is starting to sound familiar here:
"(Daily Finance) The media in Japan have popularized the phrase "kakusa shakai," literally meaning "gap society." As the elite slice prospers and younger workers are increasingly marginalized, the media has focused on the shrinking middle class. For example, a best-selling book offers tips on how to get by on an annual income of less than 3 million yen ($34,800). Two million yen ($23,000) has become the de-facto poverty line for millions of Japanese, especially outside high-cost Tokyo.

More than one-third of the workforce is part-time as companies have shed the famed Japanese lifetime employment system, nudged along by government legislation that abolished restrictions on flexible hiring a few years ago. Temp agencies have expanded to fill the need for contract jobs as permanent job opportunities have dwindled."
Part-time employment, something that has grown in this recession is likely to stay around.  These workers will not be purchasing homes especially not at current prices or high cost automobiles.  A shrinking middle class is simply not good for our economy moving forward.
Chart 12 – Home sales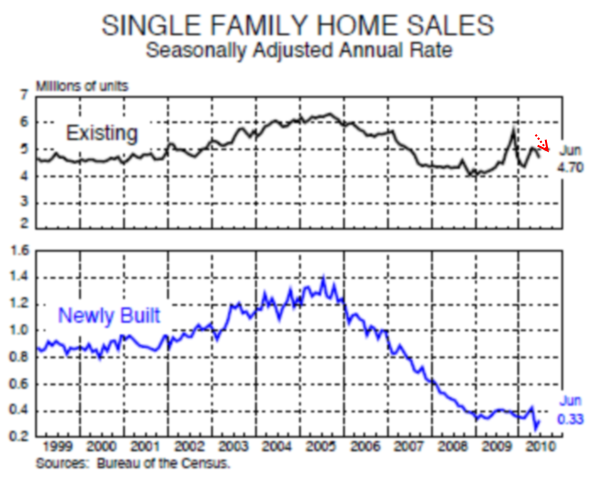 The above chart should come as no surprise.  Home sales nationwide are weak.  There is little demand for new home sales.  The only thing keeping existing sales brisk is the large amount of lower priced foreclosure re-sale inventory.  But actual recoveries come when the gap between new home sales and existing home sales narrow.  And this makes sense.  You put people back to work when you are building through construction and all additional items needed to furnish a new home.  Yet we have built enough homes for years to come.
I'm amazed that with every possible gimmick home sales are still weak:
-$8,000 home buyer tax credit

-Fed buying up MBS to lower interest rates

-Favorable tax deductions for homeowners

-Punishing savers by forcing interest rates lower

-Encouraging low down payment home purchases with FHA insured loans
Actually, there isn't much to be shocked about.  The one key factor, employment is horribly weak.  We've spent so much time listening to the FIRE side of the economy for solutions that we are now in this quagmire.  We need only look at the employment trends and realize this is no typical recession.
Chart 13 – Employment growth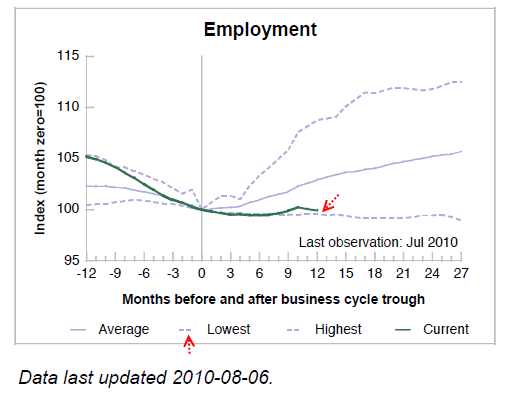 We are tracking historically with the worst of the worst business cycles.  This is the deepest recession since the Great Depression.  By this point in the Great Depression the banks were being shackled by their feet and being broken up between commercial and investment banking.  None of that has happened this time.  Also, the government even then had a focus on employment growth.  What have we done this time that is strategic?  Fortunate for us (I suppose) is that we are in 2010 and we have a Census going on to hire people for short term work.  You can imagine the employment data without this.  But what strategy have we taken since the recession started back in 2007 to focus on employment growth?
The solution is simple in theory but the politics make it near impossible.  Break up the financial industry.  In fact, it should be easier today because they now have a buffer of funds to restructure thanks to taxpayer money.  Stop favoring real estate as the champion of all investments.  The market is trying to correct this imbalance by lowering home prices because this is what the current economy can support.  Yet banks keep doing everything possible to keep prices inflated for their profits.  If banks are only lending government backed money do we need the sea of bankers we currently have?  The solutions are rather clear but we are not following in that path.  Those in the industry can't see beyond this.  The FIRE economy is too big.  We should focus on engineering, infrastructure, education, and at least in these industries the net gain to the public would have been visible.  What gains have we seen this time?  What should you expect from an industry that brought us collateralized debt obligations, mortgage backed securities, option ARMs, and every other toxic debt product intended to suck the actual productivity right out of the economy.  Second half recovery?  Not with the current structure in place.

Did You Enjoy The Post? Subscribe to Dr. Housing Bubble's Blog to get updated housing commentary, analysis, and information.