Party like its 1999.  The U.S. homeownership rate is now down to levels last seen in 1999.  In essence, every effort to push homeownership rates upwards with absurd Wall Street gimmicks (the entire toxic mortgage disaster) but also the government backed implosions of Fannie Mae and Freddie Mac have basically been one giant waste of time and money for the public (many became filthy rich).  Why?  These efforts focused on quick and easy money at the expense of long-term sustainability.  For many decades, we were doing well with large down payments and the vanilla flavored 30 year fixed mortgage.  It is no coincidence that the entire game collapsed when Wall Street lobbyist bought out government plutocrats and turned our entire economy into one giant housing casino.  Southern California is still very much in a housing bubble phase.  Prices even today are disconnected from market fundamentals.  Inventory is still growing and the shadow inventory figures remain elevated.  Why?  The government took a bazooka of easy money, tax credit gimmicks, and other financial shenanigans to hide the fact that people don't have stronger wages to support current prices.  We went into bubble 2.0 here in SoCal in many areas.  That bubble will burst.
Inventory in Southern California is still growing: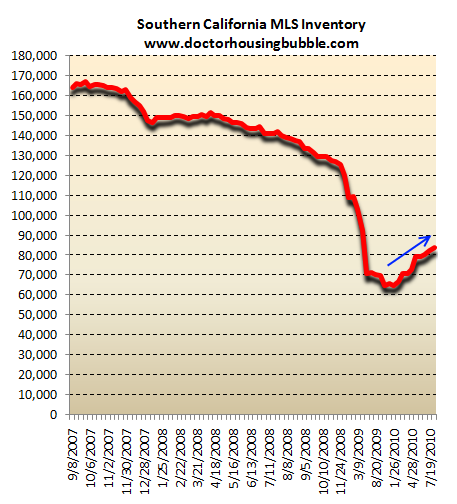 Source:  MLS
Now this growth in the MLS inventory is only in the subset of properties that the public can see.  The bulk of properties are sitting hidden in bank balance sheets and are part of the shadow inventory.  I wanted to show you how big of a difference this discrepancy can become when you include these additional properties: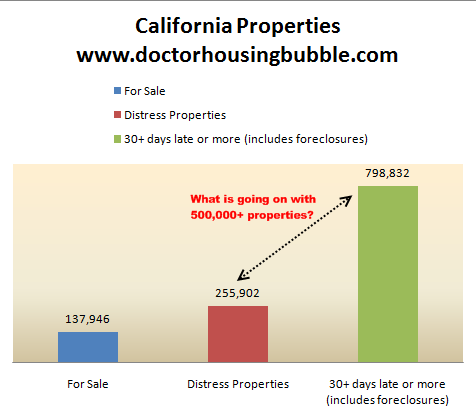 Source:  MLS, MBA
The above chart is looking at MLS and MBA data for the entire state.  For Southern California, the actual breakdown of distressed properties looks like this: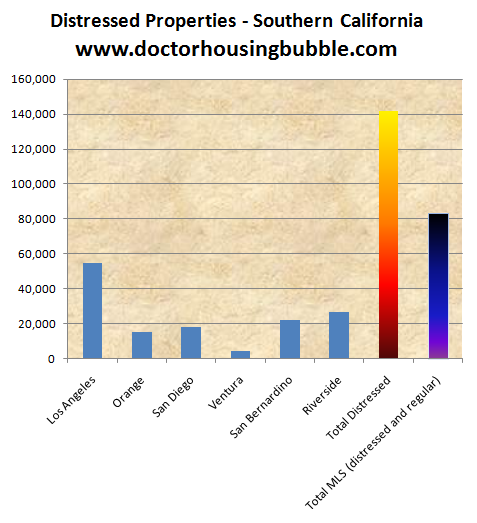 The above chart is probably one of the most telling in regards to where things stand today.  Over 140,000 properties in Southern California have at least a notice of default, are scheduled for auction, or are now bank owned.  The amount of these properties that show up on the MLS is sparse.  We are seeing virtually a 2 to 1 ratio here.  For every one property on the MLS we will likely find two properties being distressed.  In mid-tier areas, it is higher as we will show.
Let us run an experiment to test this out.  We've covered Culver City and Pasadena many times in the past so let us use those two areas here again.
MLS Pasadena
Total Listed:                        678
Short sales:                         71
Foreclosures:                     44
Total distressed:               115
Foreclosure Data Pasadena
NODs:                   225
Scheduled for Auction or Bank Owned:                 400
Total distressed:                               625
For Pasadena, for every one listed foreclosure or short sale, you can be assured that there are 5 other properties sitting in the depths of a bank balance sheet.  Keep in mind this is for a highly desirable area.  But if you look at the data closely it wouldn't appear that way: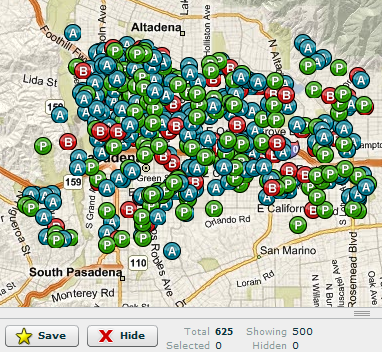 Let us run this data now for Culver City:
MLS Culver City
Total Listed:                        148
Short sales:                         25
Foreclosures:                     7
Total distressed:               32
Foreclosure Data Culver City

NODs:                   74
Scheduled for Auction or Bank Owned:                 98
Total distressed:                               172
Well what do you know?  It turns out that the numbers look nearly the same in Culver City.  For every one distressed property on the MLS, you have 5 others hidden in some bank balance sheet.  Now when I look at this data what I see is a façade in Southern California real estate.  Prices in these areas are still extremely high relative to household incomes.  Unless you go out there and buy with an Alt-A or option ARM (no longer available) you will have to show a decent income.  But let us dig deeper a bit.  How much are those foreclosures selling for in Culver City versus what is off the balance sheet?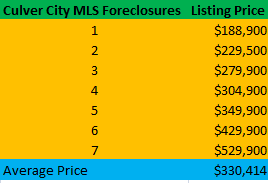 This is incredibly important.  Banks are listing (what appears) the bottom barrel homes here.  The average listed foreclosure price for Culver City is $330,000.  This is interesting given the median sale price for Culver City in zip code 90230 is $605,000 and in 90232 is $775,000.  Seems like a tiny bit of a discrepancy don't you think?
I decided to jump deep into the data for this area and pulled up 19 bank owned homes in the area.  This is where you actually see bank behavior stand out.  The "estimated value" of the 19 bank owned homes in Culver City are $443,281 and the average estimated loan balance on each place is $552,159.  These places are massively underwater yet banks seen to be cherry picking which homes they funnel out to the MLS.  So right now you see a trickle at the bottom end but make no mistake, the bigger suckers are only a few months away and are already falling massively behind on payments.  Banks are basically trying to avoid facing the music and realizing the reality that these properties are overpriced (people can't even keep up with their payments).  Does any of this data look like a healthy market?

Did You Enjoy The Post? Subscribe to Dr. Housing Bubble's Blog to get updated housing commentary, analysis, and information.