I'm surprised how quickly people are ready to believe housing industry math even though this is the same industry that championed toxic loans and saw no future problems by giving loans to anyone with a pulse.  So keep that in mind as new data is being held up like a trophy as if things have suddenly improved.  The new data that came out showed that notice of defaults for Q2 of 2010 declined dramatically in the last quarter for California.  Great news right?  Well this would be fantastic news if we also saw in conjunction those that are 30+ days late on their mortgage falling as well.  Yet that rate is still at peak levels.  By the way, actual recorded foreclosures actually increased from Q1 of 2010 to Q2 of 2010 but this was buried deep in the ministry of housing propaganda's desk.  So let us examine the actual California foreclosure math to see exactly where we stand today.
For better or worse, actual foreclosures are still elevated: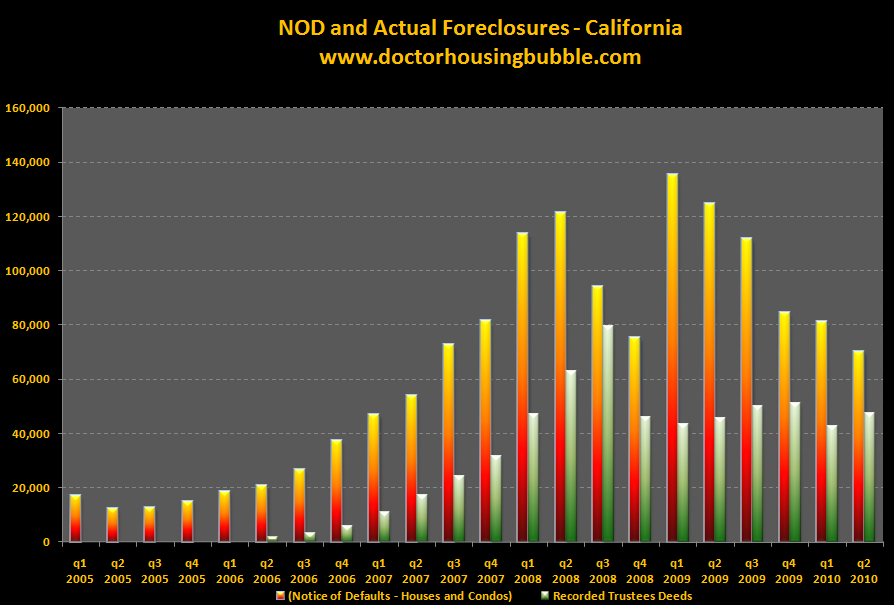 Actual recorded foreclosures show up as recorded trustee deeds went up by over 11 percent from Q1 of 2010 to Q2 of 2010.  This jump of course occurred because of a variety of reasons including a crappy economy but also the abject failure of HAMP which merely bought a few more months for many homeowners.  Notice of defaults fell by over 13 percent over the quarter.  I would only take this as good news if actual late payments on loans were also falling at this rate but they are not.  We are still near record territory for actual loans that are distressed in the state.  Then we hear about areas like Los Angeles that will now fine banks for homes that are left to disrepair.  Banks being the patron saint of taxpayer money, are now going to have even less of an incentive to file a notice of default.  Let the sucker borrower mow the lawn.  The amount of time for a foreclosure has gone to record levels because banks are simply ignoring late payers.  They are overwhelmed or simply don't care (both are not good reasons).  So the decline in NODs is probably a bigger reflection of this trend as opposed to the actual market suddenly turning some proverbial corner.
Keep in mind that the housing market still sucks.  I'm not sure how else to put it especially for California.  Things are so bad, that people actually think 47,000+ recorded foreclosures in Q2 of 2010 is some sign of progress.  Let us put this into context for you: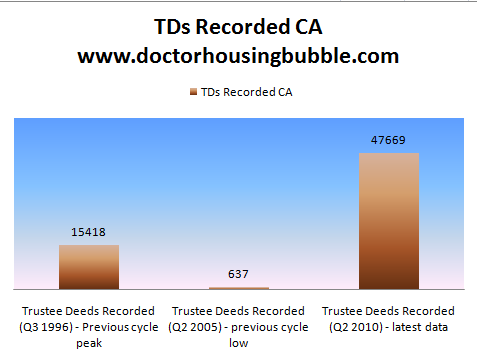 In the aftermath of the last California housing bubble, the apex of recorded trustee deeds occurred in Q3 of 1996.  At that time, 15,418 foreclosures were actually recorded.  In Q2 of 2010 we actually recorded some 47,669 foreclosures.  So we are foreclosing at a rate of 3 times what was being experienced at the peak point of the last real estate crisis.  Yet this is somehow good?  For absurdity purposes, look at how low things got in Q2 of 2005 at the height of insanity.  Only 637 foreclosures were recorded during the entire quarter!  This is absolute insanity.  I mean think of how out of sync things had to be.  People always lose homes for a variety of reasons including divorce, loss of job, or medical illnesses.  Did life suddenly come to a pause in this quarter?  Actually, anyone and everyone could qualify for a loan so it is surprising that we even had 637 foreclosures.
There is still a large contingent that thinks housing is all of a sudden gearing up for housing boom 2.0.  Keep in mind that we are only tasting a tiny respite thanks to the Federal Reserve flushing over a trillion dollars down the toilet to buy mortgage backed securities and has also artificially kept the interest rate low.  Add to this the expensive and horrible policy blunder of the home buyer tax credit and the market was juiced on easy money steroids.  What more can we do?  Give homes away?  As absurd as that sounds, not really because the big gimmick is that banks need to keep homes valued at bubble levels and have home borrower suckers making their payments to keep the massive debt current.  Banks need an army of debt slaves.  So what if you stop paying on a $500,000 loan even though the home is valued at $250,000?  The bank still pretends the loan is valued at that level and this is where the gigantic gap appears: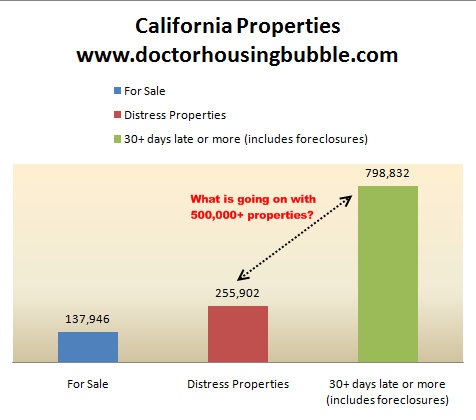 Source:  MLS, MBA
This is where the excitement over the drop in NODs is basically hot air.  Currently on the MLS California has 137,000+ homes for sale.  This is what the public can see.  This does include some distressed properties but not many.  If we look at distressed properties including those currently in foreclosure, we find that the market has 255,000+ homes.  Some of these appear on the MLS, most clearly do not.  Yet the next column is where the sham is really happening.  Nearly 800,000 loans are 1 payment behind or even worse, already in foreclosure.  Naively some think that many of these won't enter into foreclosure.  Actually, recent data shows otherwise.  Of loans that get behind one payment roughly 90 percent enter into foreclosure.  But let us be generous and say that only 80 percent will go into foreclosure.  We are talking about 640,000 properties here.  So much for the drop in NODs (it was a drop of roughly 11,000 from Q1 to Q2 of 2010).
I'm highly suspicious of the data because the actual real economy, you know the thing people use to pay their mortgage with, is actually still in a big mess.  California is flying off a budget cliff even though people pretend all is well.  We still have no budget for the next fiscal year and the gap of $19 billion still lingers (even as we give tax credits to those to buy homes!).  So we are in for some serious financial issues going forward.  Not much has changed.  If I saw wages increase by 50 percent in one year and all of a sudden high paying jobs were available for many unemployed Californian then maybe we can jump on the recovery bandwagon and justify high home prices.  But this is the reality: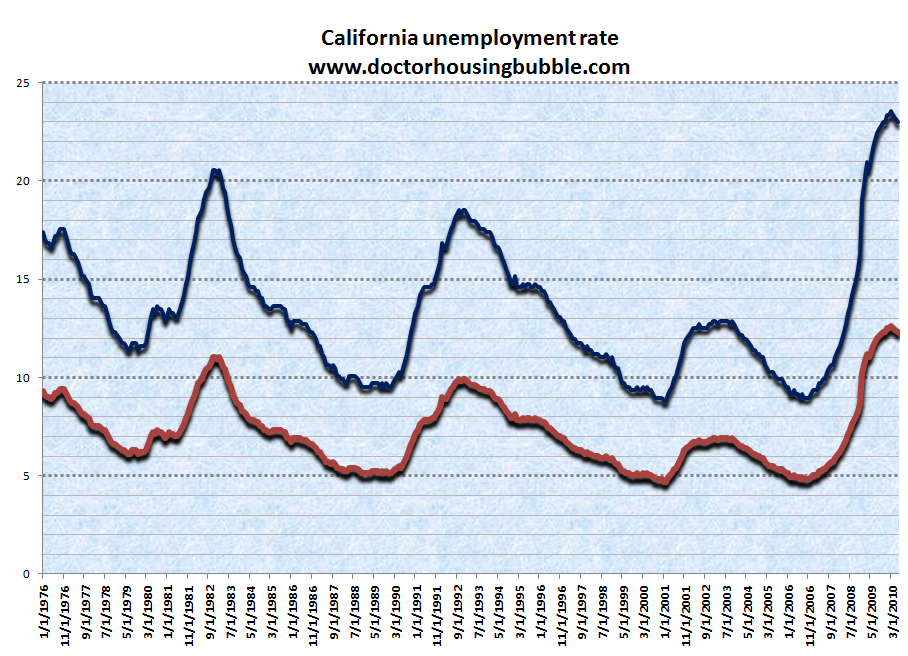 Source:  BLS
In other words, the drop with NODs is largely based on funny math.  Banks are not moving on homes which is something that is already documented.  Extend and pretend programs also took some of these homes out of the NOD landscape.  But this is largely a distraction because the housing market is still in a giant toilet bowl.  I vividly remember talking about the massive rise in housing inventory in 2007 right before the market imploded.  People were laser focused on price and ignoring the major headwinds.  Home prices peaked at the moment we were heading for a rollercoaster price decline.  We are in a similar position today.  Ignore the data at your own peril.

Did You Enjoy The Post? Subscribe to Dr. Housing Bubble's Blog to get updated housing commentary, analysis, and information.