I know some people have this notion that somehow California real estate prices are going to miraculously recover simply by sheer determination and the belief in late night infomercial catch phrases. Instead of focusing on larger macro economic trends they will use limited data that doesn't capture the larger emerging trend. We've all seen those TV ads yet data is going in a very different direction. Inventory is increasing in California. Prices are dropping. Problem loans are still filling the pipeline. These are facts and as stubborn as they are, they tell us a more provocative story about real estate in the state. That story revolves around the fact that a large shadow inventory is lingering and the artificial dams of government intervention are having a tougher time holding back the flood. Today, I wanted to focus on the higher end markets of Los Angeles County to show that contrary to a handful of anecdotal cases, overall there is a bigger trend emerging. The mid-tier market is now entering its correction.
Before we look at Santa Monica our targeted city today, I wanted to provide you with 35 specific examples of million dollar prime location foreclosures in Southern California. These are all in Los Angeles County: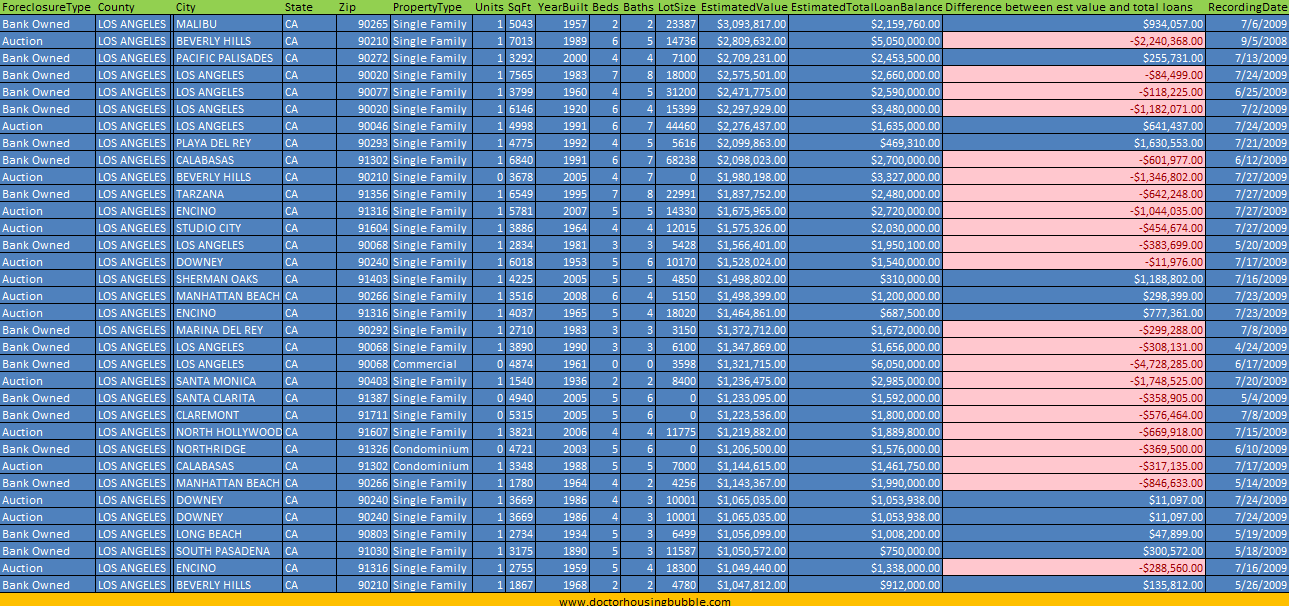 Keep in mind that the estimated value is optimistic and is merely a stab in the dark at what the home would sell for in today's market. Take a look at the pink highlighted cells. This shows the difference between the estimated value and the amount of outstanding loans. One place in Beverly Hills is underwater by a stunning $2.2 million. It is also interesting to note in some high priced areas people do at times buy with all cash. It is not uncommon for a wealthy individual to purchase a million dollar home with all cash. This happens many times over in places like Beverly Hills. When we talk about the mid-tier this is not the area we are looking at. We are talking about areas like Culver City or Pasadena. The above data is to highlight that even he luxury housing market is getting hammered in this market as well.
So that brings up the question about the health of the overall housing market. These luxury homes are swimming underwater yet many don't show up on the MLS. Looking at the list we see famous names like JP Morgan Chase, WaMu, Bank of New York, and Wells Fargo to just throw out a few. What will this do to their balance sheet? Hard to say but the strategy right now is to pretend these loans are not underwater. In the high priced luxury market, good luck trying to find some of these homes listed. I was driving down one of these neighborhoods with a couple of foreclosures and life was going on as usual. What is your neighbor not telling you? The driveway was loaded with your typical European foreign cars but the place is underwater by over $1 million and hasn't had a payment for over a year. The place did have a nice view of the Hollywood sign. Good times in California!
So you want to see a specific example of the bubble bursting in Santa Monica. Let us take a look: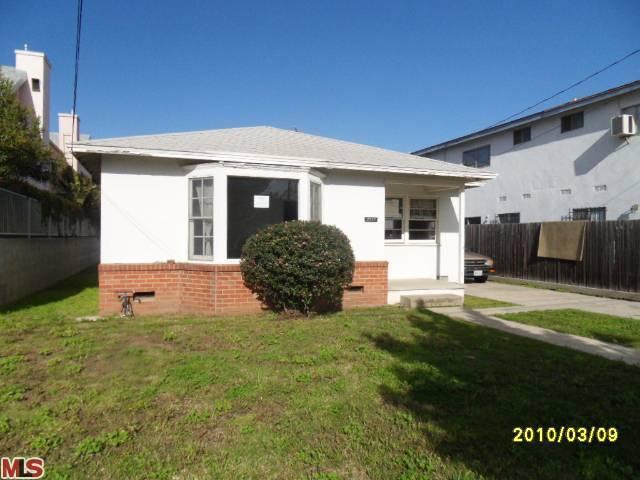 1931 22ND ST, Santa Monica, CA 90404
Beds: 3
Baths: 2
Square feet: 1,282
Built: 1953
Status: Foreclosure
Listing price: $636,000
Does the above home look like it is worth $636,000? To some it will because it is in Santa Monica. Contrary to the belief that any place is moving in these markets including the Westside here is some details on the listing action:
Price Reduced: 04/12/10 — $722,900 to $708,900
Price Reduced: 05/04/10 — $708,900 to $689,900
Price Reduced: 05/27/10 — $689,900 to $675,900
Price Reduced: 06/21/10 — $675,900 to $659,900
Price Reduced: 07/23/10 — $659,900 to $636,900
Sure doesn't seem like things are moving for this place. The price has been dropped by close to $100,000 since April. I pulled up some older data and it looks like someone even attempted to sell this place for $1 million!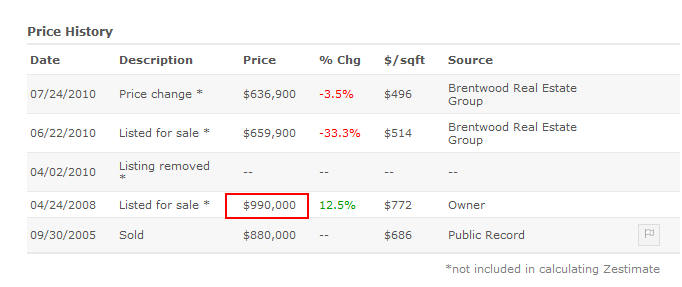 Missed the insanity of the bubble by one year or so. You can even see that it last officially sold for $880,000 back in 2005 which is pure madness. Even at the current price this place is incredibly overpriced. Let us run the numbers to see what a typical housing payment on this place would run:
Down payment: $63,600
Mortgage amount: $572,400
Monthly payment (PITI): $4,002
Someone will be shelling out $4,000 net each month to live in this place. Some make the tax savings argument but keep in mind you need to still come up with $4,000 each month because this includes the principal, interest, insurance, and taxes. So how much income is necessary to purchase this place? Assuming our 3 times annual income rule, a household would need $212,000 in annual income to buy this home. Now run the numbers for this: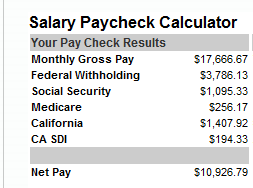 Only in a state like California will $200,000 not seem like a lot of money. Yet the above is to drive home the point that many homes in "prime" areas are in bubbles but you can see that the market is taking its corrective action. These places would be a Real Home of Genius anywhere else but merely carry the favor of being in a "desired" location. But now, the caveat has shifted to a desired home in a desired location with the right amenities. These places still have a market, (at least today they do). You notice that there are now fewer places to hide from this correction?
Let us run the numbers for Santa Monica even further. As of the 2008 Census there were 45,919 total households in the city. The income breaks down as follows:

Keep in mind this data is for a very well off area. Only 14 percent of all current households in the city can even afford this place to begin with. No wonder why the shadow inventory is so large. Without a doubt, these areas will be correcting in the next 1 to 2 years. Some say "well we've been looking at X home/city and prices haven't come down in one, two, or even more years." To that I say broaden your horizon. We're in a new world folks especially when it comes to real estate. Using old formulas and metrics is not going to work this time. State representatives are already bringing up the idea of new taxes as we have hinted to. If you buy, be prepared to stay put for many years. The buy and hold for 5 to 7 years and sell to another bigger home was simply a widget in the bigger scheme of things. It was a long term bubble. People mistake success in the housing market with actual skill. I'm sure Bernard Madoff's investors for the 15 year haul thought they were all experts with 15+ percent annual returns until the fund blew up and they lost everything.
Real estate has distracted our economy for too long and the government has artificially supported this market. Those that claim real estate is in a "free market" are delusional and have drunk their own Kool-Aid. Mark to market suspensions, bailing out banks, the Fed buying up trillions of dollars in mortgage backed securities, $8,000 home buyer tax credits, and generous tax write-offs for owning a property. Sure sounds like a free market to me. Even with all that, the overall health of the economy is still suffering but someone is clearly getting the taxpayer bailout funds. Real estate is in for a long haul going forward and we know that other countries have had decades of stagnant real estate prices.

Did You Enjoy The Post? Subscribe to Dr. Housing Bubble's Blog to get updated housing commentary, analysis, and information.