The rumbling that you are hearing is the sound of an echo boom in the housing market.  Mark Twain was absolutely correct in observing that history may not repeat itself but it certainly rhymes.  I don't even need to dust off economic books from the Great Depression for this evaluation since what is occurring in the current market only happened in the 2000s.  It is an interesting parallel especially for California but for places like Arizona and Nevada investor action is off the charts.  You might have noticed that the mixture of home sales has now pushed the median home price in Phoenix Arizona up by 30 percent in the last year.  This kind of shifting and erratic behavior is part of the odd management of the housing market.  Since the shadow inventory is being leaked out courtesy of modified accounting regulations, you now have a limited selection of homes on the market and a feeding frenzy occurring from investors.  The numbers are worth noting and the stories are reminiscent of the early days of the bubble.
The big jump in Arizona
The big price jump has occurred in both resale houses and condos:

I don't think people realize the amount of big money flowing into the real estate market for the tough business of landlording and flipping purposes.  It is certainly tougher than trading derivatives when it comes to sweat equity.  There is little doubt that big money is now in the housing game.  I love the title of this Bloomberg story:  Phoenix Picked Clean, Private Equity Descends on Atlanta:
"(Bloomberg) Wall Street has got billions and billions of dollars they need to place and it has been determined they want to come into this segment. There are only handful of markets that that's going to go into. This is one of them that has not seen the appreciation. If I had another chance to go back to Phoenix and wind the clock back 12 months, that's what I think this is."
This psychology behind the notion that you've missed the boat is exactly what led us into the housing crisis in the first place.  Those 30 percent gains are simply a result of a shift in inventory mix but many fly by night investors are looking at these gains and are going to be playing yesterday's game today.  This mentality is largely present again except this market is completely managed and these short-term gains are largely built on unsustainable lower interest rates.  The Fed will need to commit to buying nearly $500 billion of MBS in the next year to keep this thing going but as the story above indicates there is plenty of hot money willing to enter the game.
 Is the game getting too hot?
It is interesting that investors are shifting their interest as well:
"Phoenix investors Chris Hanson, 29, and Ofir Levy, 35, slowed purchases of houses in Arizona in June because prices were too high and yields too low. They flew to Atlanta this month with the goal of buying about 100 homes, which they hoped to flip to the large investors within the next year. They were looking largely in fringe areas where the funds are less active."
In place like Arizona you have more room to navigate but in places like California people are in it for the very quick hipster flipping opportunities.  Now here is an interesting observation:
"In Phoenix, owning is 49 percent cheaper than renting, narrowing from 55 percent cheaper a year earlier. The gap narrowed even as 30-year mortgage rates fell by an average 1 percentage point to 3.5 percent, according to Trulia economist Jed Kolko."
So you have to ask why would someone rent when they can buy for much cheaper?  Of course the problem is the market is flooded with an insane amount of investors outbidding your average John and Suzy.  Last month in Phoenix over 40 percent of purchases were for all cash.  So when you look at the current sales count plus the lower cost of owning versus renting you have to wonder why sales are not even higher?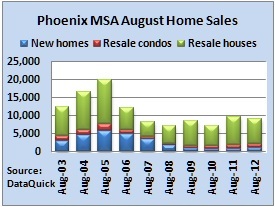 In Phoenix investor purchases have been hovering around 50 percent for almost three years.  Investors are understanding this is unsustainable and are pulling out of markets and going to other places like Atlanta that saw home prices crash on a later trajectory compared to places like Arizona.  At the peak some 20,000 homes were selling each month.  For the latest month of data we have 8,979 homes sold, a drop of 4 percent from the last year.
Mind you that the median home price went from $118,000 to $154,000 so it is unlikely to break many investors unless they over leverage or simply purchase in weaker areas.  Yet many are going in with all cash.  It is also interesting noting the large number of FHA insured buyers in the mix.  There is little reason for prices to surge this much this quickly and we are already seeing people salivating thinking this game is going to last for a very long-time.  In places like Arizona you also have very sensitive household budgets that depend heavily on cheap energy.
I had to write about this topic because this is the first time in many years that I have seen e-mails coming in with headlines of "30 percent annual gains" coming in.  The fact that a large number of these investors are already getting tired in certain markets tells me they were never in it for the long haul.  Let us not even address the reality that household incomes have been stagnant in Arizona for well over a decade.  What happens when half of your buying pool begins to pull back?  As far as I can remember, we now seem to be in a perpetual cycle of boom and bust.  Try to time your entrance on the financial rollercoaster.  Some are already getting off.

Did You Enjoy The Post? Subscribe to Dr. Housing Bubble's Blog to get updated housing commentary, analysis, and information.