There is little mystery as to why home values remain depressed.  Real household incomes have fallen for well over a decade and no amount of shape shifting of interest rates by the Federal Reserve is going to make home values spike up without a subsequent increase in household incomes.  We have a few relevant stories and trends that have come out in the last few weeks to close out 2011.  One of those stories comes from a top housing arm overstating sales for multiple years.  Not so much of a shock here but you have to realize that one of the top associations for real estate basically is saying they were off on their bread and butter business for years.  This is like a doctor saying he over diagnosed 15 to 25 percent of his patient with a severe illness.  Next, reports are flowing out preemptively about the impact of the shadow inventory in 2012.  This wave will hit and will have an impact on the market just as it has over the last few years.  Finally we have a reader submitted home sale ad that provides some comic relief in the vertigo of the housing bubble bursting.
A picture of a picture is worth?
I realize it is a hard business fixing a home up and getting it ready for sale.  With some Real Homes of Genius we have seen sellers, agents, and bank handlers flat out disregard the basics of good staging with leaving trash bins in full view or having grass so high that a California mountain lion could be living there.  But it takes a special amount of creativity to take a picture of a picture for a real estate ad: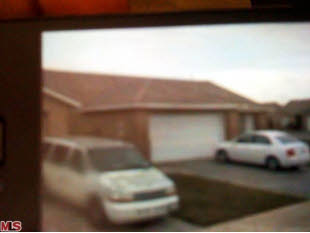 Source:  Ad for property
Now this home is listed for sale for $100,000 in Rosamond, California so we don't expect some elaborate staging or Beverly Hills like Photoshop images.  But snapping a photo of a photo?  Using a scanner would take two seconds.  Good times in the California housing industry.
NAR comes out with official restatement of sales data
This isn't really a shocker here:
"(CNBC) Data on sales of previously owned U.S. homes from 2007 through October this year will be revised down next week because of double counting, indicating a much weaker housing market than previously thought.

The National Association of Realtors said a benchmarking exercise had revealed that some properties were listed more than once, and in some instances, new home sales were also captured.

"All the sales and inventory data that have been reported since January 2007 are being downwardly revised. Sales were weaker than people thought," NAR spokesman Walter Malony told Reuters."
The emphasis was added above but that may be an understatement of the month.  Anyone tracking housing data in their own respective niche markets realized that home sales have been in the toilet.  Yet the above official revision is a big deal because this is coming from the top organization in the housing industry when it comes to tracking overall home sales.
People are a fickle bunch and move in big waves when it comes to trends.  My sense is that there is now a big distrust in the financial and real estate industry in general and it will take a very long time to regain the gangbuster years of the last decade (if they ever come back in this generation).  This is why home prices even in the over inflated region of Southern California are flat and moving down in some cases: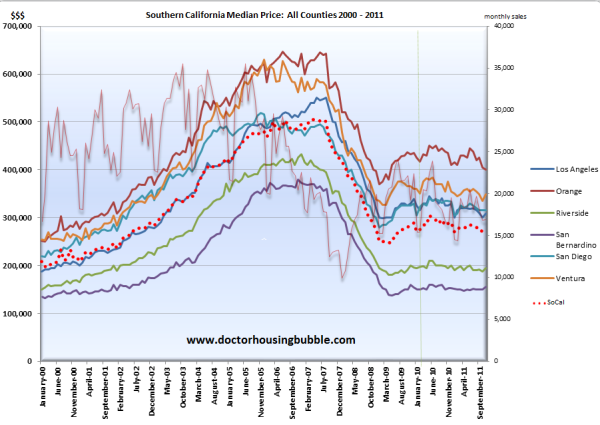 No spike is visible here.  And when we break out the typical home mortgage payment we realize that households can only afford to cover what they covered in a mortgage payment from 2000: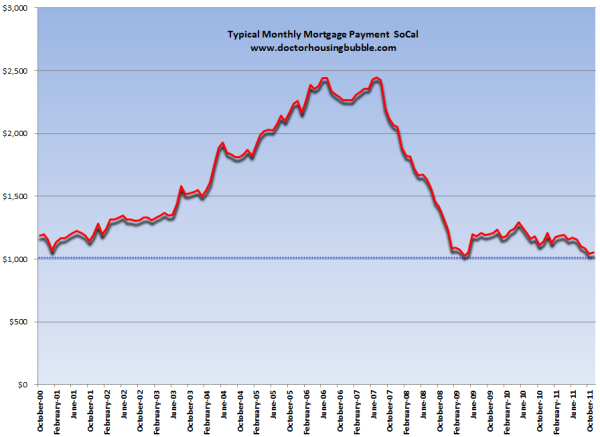 The inflated price buffer comes from artificially low interest rates from the Federal Reserve.  What people can pay out of pocket each month hasn't changed much over the last 10+ years so higher home prices are coming from non-income based sources (i.e., bubble dynamics).
Which leads us into the foreclosure wave for 2012.
2012 foreclosure wave with 4 million delinquent loans       
The foreclosure wave is going to continue into 2012 with the clearing out of shadow inventory:
"(CNBC) Despite a seasonal slowdown in overall foreclosure activity, and a process still bogged down and backed up by the "robo-signing" processing scandal, the U.S real estate market is about to be hit by another surge of bank repossessions, according to a new report from the online foreclosure sale site RealtyTrac. As banks resubmit millions of documents and courts begin hearing cases again, the backlog of over four million delinquent loans will start surging through the pipeline again."
In other words the lull that is occurring is because of legal problems from the fast and loose paperwork from bankers and also the typical seasonal slowdown.  Yet the numbers will be moving up again:
"November's numbers suggest a new set of incoming foreclosure waves, many of which may roll into the market as REOs [bank repossessions] or short sales sometime early next year," said James Saccacio, co-founder of RealtyTrac. "Overall foreclosure activity is down 14 percent from a year ago, the smallest annual decrease over the past 12 months, and some bellwether states such as California, Arizona and Massachusetts actually posted year-over-year increases in foreclosure activity in November."
There are some holiday wishes from the governments sponsored mortgage monsters:
"Troubled borrowers will get a reprieve over the holidays, as mortgage giant Fannie Mae says they will not evict anyone until after the new year. A spokeswoman, however, stressed that foreclosure processing would continue through the holidays, so as not to slow the system down any more than it already is."
In other words, the foreclosure process will continue to be a mish-mash of whatever the financial sector wants to do.  Read the above statement again.  You may or may not be kicked out of your house over the holidays.  Happy holidays from the American banking sector!

Did You Enjoy The Post? Subscribe to Dr. Housing Bubble's Blog to get updated housing commentary, analysis, and information.