It is hard to tell why the Federal Reserve moved so quickly into QE3 this past week.  The move into QE3 was very specific in that it targets $40 billion a month of MBS purchases.  It certainly caught markets off guard.  Yet as some astute observers have pointed out, the nationwide housing market has been picking up and steady signs of inflation are now creeping in so why the sudden move in?  Was this move necessary with mortgage rates already in negative territory?  One camp believes that the fiscal cliff is very real and potentially will render a $500 billion gap in output next year.  So $480 billion in MBS purchases nearly plugs that gap.  Yet as we will highlight, the markets are probably missing the bigger picture just like they missed the timing on QE3.  With the stock market reaching levels last seen in 2007, what has changed in this past half decade?
Measuring 2007 to 2012
I wanted to pull up some key data on overall measures of economic health from 2007 and 2012.  The S&P 500 is now back to levels last seen in December of 2007 so let us take a look at some key points:

Let us go down the list item by item.  The Case Shiller Index is 23 percent lower than it was in December of 2007.  As previously noted, home prices have started moving up in 2012 but this is largely a function of low interest rates (probably another reason for QE3) and stifled inventory.  The same issues of weak household income are popping up this time around.  That is why FHA insured loans are so popular during this recent move up with housing values.  Do not confuse this with a booming economy.  This is merely a system that is allowing more leverage with stagnant household incomes.
Take a look at the U6 measure of underemployment between 2007 and 2012.  In December of 2007 this was at 8.8 percent and today it is at 14.7 percent.  Again, you need to try to examine where this recent stock run has come from.  Take a look at government debt.  From 2007 to 2012 the Federal Government went from $9.4 trillion in debt to over $16 trillion.  A 70 percent increase in national debt resulted in GDP going up 9 percent over this half decade.
Take a look at the Fed balance sheet.  This is up a stunning 220 percent over the last five years.  So much for that being a temporary move.  With QE3 on the horizon they are likely to push this above $3 trillion.  This is why you are now seeing inflation stick in items like food, healthcare, education, and energy.  However household incomes are not moving up.
New home sales are down 39 percent from where they were in December of 2007.  Total household debt has deleveraged by 6.5 percent in this exact period.  Does this justify the current move in stock values?  Domestically it would appear this is not the case but remember many US companies now largely derive profits from abroad.
Fed targets employment via interest rates
The Fed has some lofty goals in pushing the unemployment rate lower: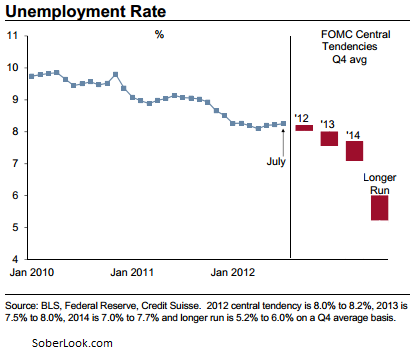 Their longer run goals it to get unemployment down to 5.2 percent but that seems like a very difficult task to accomplish merely by buying up MBS and suddenly becoming the entire mortgage market combined with the GSEs and FHA.  What will this really do?  Well, first of all it will funnel more economic activity into housing but is that necessarily good?  This was an issue in the early 2000s with the housing bubble.  Many of our college graduates went into the FIRE side of economy because so much money is directed in this industry.  Does the Fed with QE3 exacerbate this problem?  It is also very likely that some of this higher unemployment is structural.  For example, will all those lost FIRE jobs come back with the government basically running the housing market?
One thing is certain and that is housing has reacted in 2012: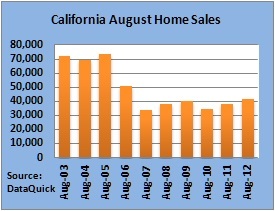 California home sales in August reached levels last seen in 2006.  Is this a sign that things have turned?  In reality what has occurred is an unlocking of leverage via very low rates and dwindling inventory.  Read any real estate forum and you can view the feeding frenzy again.  Some of the comments seem to place blind faith in the Fed and ironically, these were the same comments that were hitting back during the housing bubble.  It is true that people are laser focused on monthly payments and low down payments but when you are dishing out $500,000, $600,000, or even $700,000 you are still paying a hefty sticker price.
The Fed is betting on confidence picking up and capitulation to hit.  Yet the irony is there is little prodding that needs to be done as demonstrated by the results in 2012.  People will spend here even if it means going into massive debt to do it.  If you doubt this look at the prices being paid for homes in SoCal or the prices still being paid for many colleges.  This can only happen because of massive access to debt and not some hidden storage of money.  Instead of the private sector being leveraged to the hilt it is now on the government side of the equation that leverage is running high.  Ultimately, the financial sector and government sector are one in the same.  The Fed has stepped deep into uncharted waters.

Did You Enjoy The Post? Subscribe to Dr. Housing Bubble's Blog to get updated housing commentary, analysis, and information.